Nothing says spring like an Easter egg hunts, pictures with the Easter bunny, enjoying time outdoors and fixing up the garden. Lewis County has plenty of diverse activities for your whole family for the next couple weeks leading up to Easter on April 16. With so many of them spread throughout the month, you are sure to get your fill of Cadbury creme eggs and chocolate bunnies. After Easter, spring toward summer with some fun spring events that can help you decorate your home and fix up the garden.
Bethel Church Easter Eggstravaganza
132 Kirkland Rd, Chehalis
Saturday, April 8, 10:00 a.m. to 4:00 p.m.
This is one of the biggest events in our area and one of the favorites among community members. They have two eggs hunts – one at 10:00 a.m. and one at 2:00 p.m. with more than 70,000 candy filled eggs. More candy than you can ever imagine will be on hand, as well as a Predators of the Heart Animal Show, inflatable bouncy houses, pony rides and even a petting zoo.
Yardbirds Easter Egg Hunt
2100 N National Ave, Chehalis
Sunday, April 9, starting at 12:00 p.m.
The annual Yardbirds Easter Egg hunt is not to be missed! Perfect for stormy spring weather – this hunt is inside! It will be held in their Party Room, located on the east side of the store. In addition to dozens of candy-filled eggs, there will also be several special eggs with big prizes and Easter baskets. The Cat's Meow will be doing face painting and, of course, the Easter Bunny will be making an appearance for photos. The following are the times for each age group:
0-3 years starts at 12:00 p.m.
4-6 years starts at 1:00 p.m.
7-9 years starts at 2:00 p.m.
10-12 years starts at 3:00 p.m.
NewLife Eggstravaganza
420 Silver St, Toledo
Wednesday, April 12, 6 p.m.
An Easter egg hunt for ages 2-12 held across the street from the NewLife building in the school sport's field. Expect tons of candy-filled eggs for your children to find. Afterward, the families are invited back to church for refreshments.
Teen & Adult Flashlight Easter Egg Hunt
Mossyrock
Friday, April 14, 8 p.m.
The Mossyrock Soccer Club is in desperate need of goals and so they are holding a fun teen and adult flashlight Easter egg hunt as a fundraiser. Ages 13 and up are invited to hunt eggs in the dark and help out a great youth sports team. Location to be announced, visit the club's Facebook page for up-to-date information.
Easter Steam Train Ride and Egg Hunt
1101 SW Sylvenus St, Chehalis
Saturday, April 15 – 11 a.m., 12:30 p.m., 2:00 p.m., 3:30 p.m.
The whole family will enjoy riding the Chehalis-Centralia Railroad in early spring – plenty of blossoms and wildlife to be seen. Kids up to age 12 will hunt eggs in a farmer's field before the return trip to the station. They will have egg hunts for three age groups and thousands of candy-filled eggs to find. Some of the eggs will have special tickets for prizes that can be redeemed at the depot. Advanced tickets are required and can be purchased here. Trains do sell out!
Spring Fling
Downtown Chehalis
Saturday, April 15, 12:00 p.m. to 2:00 p.m.
Spend a nice spring Saturday in downtown Chehalis with plenty of activities for all ages. Participating businesses will have signs signifying they are involved and will be handing out Easter eggs to families that stop in. The Easter Bunny will also be making an appearance at the Lewis County Historical Museum for pictures.
Easter Beer Hunt
21000 Old Hwy 99 SW, Centralia (The Junction Sports Bar & Grill)
Saturday, April 15, 9:30 a.m.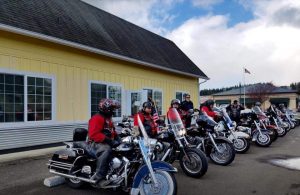 The Tenino Motorcycle Drill Team is holding an Easter "beer hunt" as a fundraiser for their scholarship fund and operating expenses. Cost is $10 for the poker ride with stops at Artic Tavern, Knotty Pine, Pe Ell Pub and Old Hwy B&G. Last bike out at 10:30 a.m.
The Carnival
Evergreen Christian Community
901 Johnson Rd, Centralia (Centralia Middle School)
Saturday, April 15, 1:00 p.m. to 3:00 p.m.
This free event is fun for the whole family. They will have an egg hunt (of course), as well as bouncy houses, face painting, games and more.
Spring Garage Sale
Southwest Washington Fairgrounds
2555 N National Ave, Chehalis
Saturday, April 15, 9:00 a.m. to 4:00 p.m.
This is a great event to go to if you are looking for anything. Vendors galore, you are sure to find the perfect springtime treasure – maybe some new lawn art, planters or new curtains for your kitchen. Whatever it is you are looking for – tools to fix the fence perhaps? – you will probably find it here. Admission is $1 for adults, children 12 and under are free. Early bird admission is $5 and starts at 8:00 a.m. Parking is free in fairground lots.
Free Day at Washington State Parks
All Washington State Parks
Saturday, April 15, all day
Nothing says spring like a walk in the park when all the blossoms are popping out. On April 15, all Washington State parks have free admission all day so you can enjoy the great outdoors. You have many to choose from in Lewis County alone, or venture a bit farther and visit a park you haven't been to before.
Easter Brunch at Jeremy's Farm to Table
576 W Main Street, Chehalis
Sunday, April 16, 11:30 a.m. to 4:00 p.m.
Don't feel like cooking on Easter? Just head on over to Jeremy's Farm to Table. They will be open and serving up a scrumptious Easter brunch just like mom would have made. The best part, you won't have any dishes to do afterward. Make your reservations by calling 360-748-4417.
Country Chicks Spring Market
Southwest Washington Fairgrounds
2555 N National Ave, Chehalis
Friday, April 21, 10:00 a.m. to 6:00 p.m.
Saturday, April 22, 10:00 a.m. to 4:00 p.m.
This is a shabby chic gardener's or decorator's dream come true. They will have more than 125 vendors filled to the brim with vintage and repurposed treasures, yard art and decor (including "rusty gold"), potting benches, shabby chic furniture, industrial and metals, and other unique handmade items. They will also have food on hand. Admission is $5 or $4 with a canned food donation.