It's not often that you find a for-profit business that is so dedicated to giving back that it's one of their core values. Yet you will find these very words in Security State Bank's values statement: "We volunteer our time and resources to support the community in meaningful ways through participation in charitable organizations, events and programs. We have an interest in building strong communities in which our customers and employees live and work."
Security State Bank is a locally owned institution with a passion for helping their community. The 110 employees who work at branches throughout Lewis, Pacific, Grays Harbor and southern Thurston counties passionately embrace this culture and are incredibly generous with their time, talents and money.
"Our core values include being caring neighbors – a bank is only as good as the communities we are involved in, so stronger communities make stronger banks," explains Stacy Engel, Human Resource Director at Security State Bank. "We all have an interest in having strong communities and it's part of our culture here."
Amy Howlett, manager at the West Centralia Branch, has been a board member of the United Way of Lewis County since 2008. "It's easy to believe in United Way because they do their due diligence," she says. "They want to make the biggest impact in the community and they want to do it the best way possible. This year is an exciting one as we are re-evaluating our mission to make sure we really are making the biggest impact and that we are doing what the community wants."
She is not the first Security State Bank employee to be on the board – they have had several other employees serve as board members over the years. In fact, Amy got involved with United Way because of her fellow employees. She started working at the bank in 2007 and they encouraged her to help as well.
"It's grown from there. Every year, the employees see the difference they can make with just a few dollars," she adds. "I like the way United Way does things because they really check things out and make sure the money is doing what they say it is." In addition, the bank has supported United Way for decades in many ways, including sponsoring their campaign video presentation the past several years.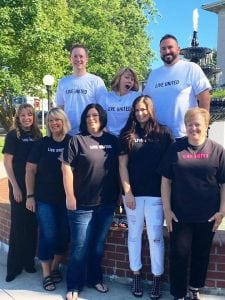 Each year, the bank supports in-house fundraising for United Way. The bank is so into giving that each year they select a chair and a co-chair who organize the event. They go to each one of the branches, show the United Way video and encourage support of the program. They even have a payroll deduction option to make it easy to give.
During last year's in-house campaign, the company had a soup cook-off and dessert auctions. Both of these events were just for employees – the employees made the soups and desserts, and they also paid to enjoy them, with all funds raised going to United Way. The dessert auctions were done before Halloween and before Thanksgiving.
"We do things to make it fun for our employees too, but also to raise money and to bring light to the organizations we are supporting," says Kay Logan, marketing director at Security State Bank.
These events, plus employee donations through payroll deductions, raised $15,982 in just one month. This does not include the bank's monetary donation. This is just what their 110 employees gave.
"Along with our monetary donation, we also support our employees giving of their time by being flexible," adds Kay. "So, for example, we make sure Amy can attend the United Way meetings and things like that. And it's not just United Way. We have employees supporting countless organizations throughout the counties we live and work in."
Employees Caring for The Community
Security State Bank also has a project called Employees Caring for Our Communities (ECC), which began in 2001 as an off-shoot of the Employee Stock Ownership Plan (ESOP) Team. The ESOP is more than just a retirement plan because members are employee owners with a stake in the bank. The ESOP team includes representatives from each bank branch and department. Aside from educating employees about the ESOP, the team is also in charge of the ECC.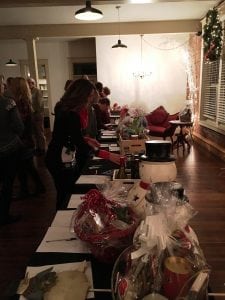 "It started as a way for the employees to work together to give back to the community and give input on where the funds should go. The money that is raised through the ECC is allocated at team meetings," says Kay. "The representatives from each branch bring in ideas based on the needs of their own communities."
The bank has some unique fundraisers for the ECC. They have "Jeans Day" where employees can give a donation to wear jeans. Jeans Day raises funds for the ECC, but also United Way, Relay for Life and many more. In November, they have a Jeans Day designated just to benefit local food banks. And at their holiday party, the ECC did a silent auction where employees put together baskets, which they then bid on to raise funds for food banks as well. Last year, these events added up to $4,115 for the food banks.
Throughout the years, they have done other unique fundraising for the ECC in addition to Jeans Days. For example, the employees have contributed their own recipes to make cookbooks. In 2002, the cookbooks benefited Pope's Kids Place and local food banks in 2008. These were sold to customers as well as families of employees.
"It's time for another one I think," says Stacy. "We have some really talented employees with some amazing recipes to share. My copies of the old books are very worn out."
Currently, the bank is selling thermal tote bags, with all the proceeds going to local food banks. They even have Seattle Seahawk colors!
In the last five years, these employee-run ECC fundraisers have amounted to over $40,000 that has gone to local charities.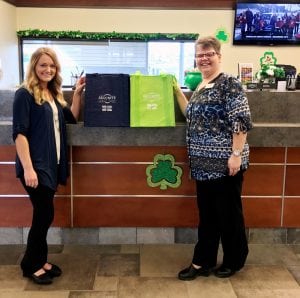 The employees do so much, it's impossible to name it all. Right now, they are in the process of organizing their Relay For Life of Lewis County team, headed up by bank employees Jenie Knopfler and Teri Lopez. They will do several fundraisers for the event, as well as have a team of about 15 employees participate in the actual relay.
Best of all, the employees are happy to give of their time and money. "We have a lot of fun and it's a good feeling. We're like a family," says Amy.
"Everyone here likes to have fun and give back. It's really a great place to work," adds Stacy.
Be sure to stop in and say hi, buy a tote and thank them for helping our community be a better place.
For more information, visit Security State Bank's website or call 800-242-2036.
Sponsored