If you are hankering for a back-road Sunday Drive with rich history, consider driving the Hanaford-Tono Loop. This 23-mile scenic drive meanders through farmlands with old barns, remote wildlife areas, riverside parks, industrial zones and faded towns that once thrived with industry. Here's our experience driving the loop and what not to miss.
Lewis County's Schaefer Park is located at the start of our loop drive at the junction of Highway 507 and Hanaford Valley Road. Schaefer Park offers sprawling lawns, which are ideal for Frisbee and volleyball. The play area is limited, but the river access makes up for it. There is a sandy beach with both shallow and deeper areas for swimming. This is a popular fishing spot as well so make sure to wear river shoes if you dip your toes in. There is no lifeguard on duty so be prepared. As you approach the river, notice the beautiful arching footbridge. Beyond the bridge is a small network of nature trails consisting of one larger loop and smaller interconnecting trails. This short and easy woodland hike features an abundance of licorice ferns, big leaf maples and rush-filled wetlands.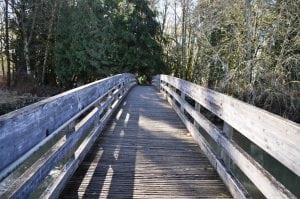 Driving down Hanaford Valley Road, you can't miss TransAlta's Centralia Power Plant. You'll come around a bend in the road where the waterways off to the left are commonly filled with ducks and geese, while the plant looms ahead with great plumes of steam rising into the air. It's a breathtaking juxtaposition of nature and industry. Signs along the route advise no parking so it's best to enjoy the view from your car, but don't worry, you will get a closer look as the road passes right through the plant's property.
Beyond the power plant, the loop continues around what was once the Centralia Coal Mine operation. The greater part of the valley was strip mined for coal. At one time, along this route, great seams of coal lay unearthed while massive earth-moving machines and excavators worked in the pits at all hours. Today, the land is part of a major reclamation project to return the area to natural forest and wetland. For much of the drive, the landscape is interspersed with reclamation, waterways, logging and forests making many areas along the journey excellent points for bird watching.
At the junction of Tono Road and Hanaford Valley, turn left to head west toward Bucoda. Along Tono Road, let your imagination take flight as you pass near the ghost town of Tono. One local resident recounted that Tono was quite the town in its day and even had its own landing strip, but by the time he moved to the area there was only one house left, which was the home of John and Lempi Hirvela, who according to Wikipedia left Tono in 1967. Now there is nothing left to see and the land that was once Tono has since been largely obliterated by the Centralia Coal Mine. Wandering into Tono is considered trespassing.
Next stop is Bucoda's Volunteer Park. As its name suggests, this small-town park was built through the efforts of local volunteers who were members of the Ladies Auxiliary and the Volunteer Fire Department in the years 1958-59. This little park has a lot to offer as it has a baseball field complete with cages, an outdoor kitchen, swings and tractor tire, a fire ring, a horseshoe pit, the famous hollow maple tree, picnic tables and beach access to the Skookumchuck River. Seasonal camping is another option at Volunteer Park. There is power and water hook-up and restrooms for those interested in camping at the park (contact Bucoda Town Hall for details).
If you are interested in delving deeper into the history of Bucoda then another park to visit is the site of the notorious Seatco Prison and the Mutual Lumber Company. For directions, head south on Main Street then turn left on 12th Street. In the midst of a residential neighborhood is a park with a memorial to the Seatco Prison, which was the first Territorial Prison before Walla Walla and was described by former inmate George France as "Hell on Earth." There is also a memorial to the Mutual Lumber Company with its "million-dollar payroll" harkening back to a time when Bucoda rivaled its neighboring towns for population size and industry. From the memorials, there is a short walk down to the river where there are swings and a picnic area.
At the other end of town on 3rd and Nenant Street is the Old Bucoda Gym, home of Scarey Night's Haunted House. The gym is a beautiful old building covered in cedar shakes
After your journey, you might just be hungry. A visit to Joe's Place won't be forgotten. Joe's Place is a tavern and eatery famous for its curly fries, baskets, burgers and soups. Stepping into Joe's Place is literally like stepping back in time. The front area is for all ages. There is a 21+ area beyond the swinging doors where there is a museum of sorts as the walls are filled with historic town photos. Joe's place has been owned by the same family since 1898, and the place has changed very little in that time. Known locally as the unofficial town hall, it's worth a visit to treat the kids to curly fries hot out of the fryer. And if you are feeling adventurous, you can also try deep fried onion rings, mushrooms or even deep fried pickles.
From Bucoda, head south on Highway 507 to complete your loop drive. This stretch of road takes you through farming country and has some notable barns and countryside along the way.