It stung at first. And it should. No one wants to get routed, and certainly not by 22 points to a Black Hills team you're in a full-on battle with for 2A Evergreen Conference supremacy.

But Shasta Lofgren called it the wake-up call the W.F. West High School girls basketball team sorely needed.
Four days after the Wolves' dominating victory against W.F. West, the Bearcats returned to the court, hosting the state's top-ranked 2A team in White River, which had been hammering teams by an average of 30 points a game.
Yet another lopsided affair took place. Only this time, W.F. West was the hammer and not the nail. White River had opened the year winning 16 of their first 17 games with their only loss coming to talented Lynden Christian, last year's 1A state champ.
The most notable win for the Hornets so far during the year had been a five-point victory over the same Black Hills squad that had just roughed up W.F. West a mere days before.
It was a daunting task for the Bearcats – forced to follow up a loss to Black Hills, the state's second-ranked team, with a game against the top-ranked team, and W.F. West coach Tom Kelly figured his group had two choices – simply go through the motions again and suffer another setback or pick yourself up and learn from the loss.
"We're definitely going to find out what kind of basketball team we are," said Kelly, the day before the White River game.
Kelly received his answer almost immediately as the Bearcats took control of the game from the jump and cruised to a 20-point cushion at the intermission. "We didn't play well at all [against Black Hills] and everyone on the team knew it," Lofgren said. "We just wanted to get back out on the court and show everyone we were better than the team that lost."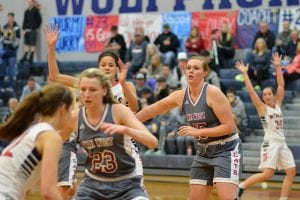 It wasn't all surprising that W.F. West had notched a win over White River – few programs have been as successful as the Bearcats over the last handful of years. It was how they won. The Bearcats simply dismantled the state's number one team, winning by the eye-popping score of 71-38.
Junior guard Julia Johnson paced the Bearcats with 24 points, while Lofgren and Strasser scored 13 and 12 points respectively. While it didn't completely remove the sour taste left in the Bearcats' mouths following the aforementioned blowout loss at Black Hills, this game showed the squad exactly what they are capable of doing once a fire is lit under them.
"It definitely was a boast to our confidence," said senior Lexie Strasser, who shares team captain honors with Lofgren. "It showed what we could do when everyone goes all out."
White River, which sits atop the 2A South Puget Sound League, was held to a season low in points – nearly 30 below their average as the Bearcats' defense was out in full force. For Lofgren and Strasser, the plan now is to parlay this victory into more triumphs and return W.F. West to the top of the 2A mountain.
"The goal is to get back to state and win," Strasser said. "Looking back on last year it was a disappointment that we didn't make it to state. We want to change that."
The Bearcats' remarkable run at the state tournament, which resulted in three straight title game appearances and a championship in 2014, came to a head last season, snapping a five-year span where they placed every season.
This marks the final season of playing together for Lofgren, a 5-foot-6 guard, and Strasser, a 6-2 post, who began their basketball journey together in middle school. Lofgren had already been playing for a number of years before Strasser even expressed interest in turning out. Fastpitch had always been Strasser's sport of choice.
A standout starting pitcher for the Bearcats' dominant program, she has committed to play next season at Central Washington University, but during her eighth grade year she caught one of Lofgren's games and immediately knew, even though fastpitch would always be her first love, there was enough room to add basketball into the mix.
"I remember watching Shasta play and thinking, 'That's what I want to be doing," Strasser said. "She's a freaking stud out there. I wish I could do what she's able to do with the basketball. Fastpitch has always been my thing, but seeing her motivated me to give it a try."
The duo has been successful ever since they joined forces. They were members of the W.F. West program that won state during their freshmen year and helped the Bearcats finish second in state as sophomore. Now they are attempting to right last season's wrong.
The Bearcats only other loss this season also came against top-ranked 1A school Lynden Christian.
The team closes out their regular season schedule by hosting the rematch with Black Hills, which now assumes the title of 2A's top-ranked team thanks for the Bearcats' big win.