Submitted by SCJ Alliance
The morning bell rings at 8:10 for elementary students in Chehalis, Washington. The journey to get there may have been smooth, rainy, bumpy, sunny or all of the above. Maybe the school bus picked them up right on schedule and continued an easy morning routine. Maybe a parent dropped them off, rushing from a late wake-up, with a forgotten library book still at home and more than a hint of bedhead.
No matter what happens before students arrive, the engineers and architects designing two new elementary schools for the Chehalis School District hope that arrival will be warm and welcoming.
"We put ourselves in the students' shoes when designing for schools," shares Ross Jarvis, senior project manager at SCJ Alliance. "We also put ourselves in the parents' shoes, those of the staff and everyone else who uses the facilities. We strive to create a space where kids feel welcome and parents feel safe."
The district is building two new elementary schools to replace three schools that currently serve students from pre-K through fifth grade. The 42-acre site was donated by long-time Chehalis schools supporter Gail Shaw and is adjacent to the currently operating middle school. The design incorporates the middle school, creating an integrated, single-campus feel.
SCJ Alliance is providing both civil engineering design and landscape architecture services for the new schools, which have a total footprint of 99,800 square feet. The site will also include a dedicated bus loop, parent parking and drop-off areas, and frontage improvements. SCJ's role also includes water main design, sanitary sewer extension, and a stormwater detention system that alleviates downstream impacts for residents to the north.
"Having all three schools on one campus will foster a strong sense of belonging and continuity," Ross said. "The site has a clear point of entry and is designed to provide a cohesive feel and intuitive pathway from place to place."
SCJ Principal Landscape Architect Jeff Glander added, "Since the elementary school uses the middle school for music classes, maintaining a walkable route between the two was imperative. The design incorporates pockets of explorable landscape areas with native plants and seating rocks, allowing students to engage in outdoor classroom activities and interact with the landscape."
The opportunity to incorporate the middle school and elementary school experience together is unique and was part of the reason this location was chosen.
"The relatively flat parcel of donated land features a large, central pasture space that was preserved to reflect the past agricultural use of the land and context of the site setting," Jeff continued, adding that the campus will also serve as a community gathering space.
The new schools mirror each other's design, and the central plaza area ties the two together. The linear plaza encourages social interaction and allows clear sight from one school to the next for teachers and students traveling between them. It also creates separate areas for car and bus pickup and drop-off, which is important for minimizing confusion for younger students. Seating areas, a covered walkway, and concrete walks allow students to continue to interact between the separate areas.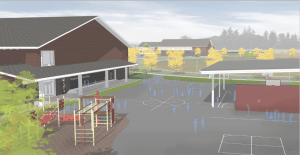 "Whether they get the chance to bring their lunchbox outside in the middle of the day, or race to the covered waiting areas at the end of it, we want students to grow up appreciating, enjoying and caring for the natural world around them," Jeff said.
The afternoon bell rings at 2:25 for elementary students in Chehalis, and their journey from there will be as unique as the students who hear it. But the people involved in designing the space for their hours in between, hope it will be a place they want to be, whether their days are smooth and sunny, bumpy and rainy or everything in between.
SCJ is a nationally-recognized, multidisciplinary consulting firm specializing in civil engineering, transportation planning and design, environmental and urban planning, landscape architecture and design, and public outreach.
The company, celebrating a 10 year anniversary this year, has grown steadily from three employees in one location, to a dynamic team of more than 80 employees in five locations: Seattle, Vancouver, Lacey, and Wenatchee, Washington and Denver, Colorado. The privately-held, majority women-owned firm recently expanded into the Seattle-area market and is the recipient of two top places to work awards in the last 12 months.