For several years, George Votaw drove by the space next to K-Mart that had been sitting empty since the 2007 flood. Every time he would think, "Boy, what a great spot for a car lot." So finally four years ago, he left his job of 12 years as used car director for Titus-Will in Olympia to start Community First Auto Center (CFAC). But he didn't go at it alone. His son, Ryan, and daughter, Brianna, joined him. "Working with them every day is the best part," George says with a smile.
They started this family business with the intention of putting a different twist on the business of selling cars. The family feeling is enhanced by the presence of Bogie, the bulldog, who greets you with his little tongue sticking out, ready for a quick pet.
But selling cars is above all a great way for CFAC to have a part in their greatest joy—supporting area youth. They have helped out countless youth participating in 4-H and FFA at the Southwest Washington Fair. "It started when I was working at Gootee [Chevrolet] and they were big supporters, so I got to represent them. Then when I moved up to Titus-Will in Olympia, they were supportive as well and were represented down here the whole 12 years I worked there," explains George.
Now son, Ryan, acknowledges, "Any kid that brings in a letter and asks for support will get something from us." This can be buying the animal at the livestock auction at the fair, or as an "add-on," which is given to the youth to help support their project. "Most kids show up in person doing the 'ask' by themselves," says Ryan. "The little ones are cute as heck. They'll be so nervous trying to talk, to give their prepared speech," he says.
Last year CFAC supported around 90 kids and their livestock projects. George goes to the livestock sale and buys as many animals as possible, then typically turns them back to be sold at the sale barn the following day. "It's my favorite time of the year. Kids come up after and thank me for coming to the sale. You'll see parents peeking from behind a post to make sure their kids are following through. Often tears are flowing as the kids realize they are saying goodbye to the animal they have raised almost a year," he explains.
CFAC has also helped many Lewis County families with the Night Out with Santa raffle truck, another project that started while George was working at Titus-Will. He has continued it the past four years at CFAC. Every year they get a vehicle such as a truck or Jeep, and with the help of other local businesses such as Tires Inc., Linex and Thunder Autosound, the vehicle is upgraded. Raffle tickets are sold all summer long at places like promotional events, auctions and fairs. Then the vehicle is given away the week before Christmas.
"Last year, we were able to reach 70-75 families by raising nearly $17,000 with the raffle," George happily reports.
Unfortunately, the raffle may not continue due to some community partnership changes, but George vows to continue putting forth other efforts to help local kids. A quiet man, George's true passion comes out when talking about kids. "I'm a soft touch, pretty much any kid that comes in here asking for support—whether it's for baseball, equestrian, softball, 4-H—I'll support them."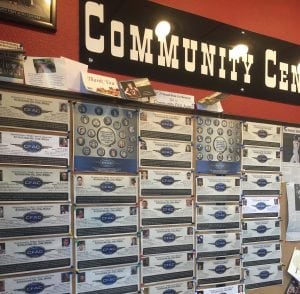 CFAC has already increased that support this year when they started sponsoring the Athlete of the Week program. "Working with Aaron Van Tuyl, Sports Editor at The Chronicle, we collaborate at the end of each weekend to choose a male and a female athlete," explains George. "They get announced on KMNT and get a presence on our reader board for a full week. They come in to have their picture taken for social media, and receive a hooded sweatshirt along with a $25 Papa Pete's Pizza card. It's pretty successful. The kids like it and parents like seeing their kids recognized. It's a work in progress. We hope to do an end-of-the-year recognition of a senior boy and a senior girl Athlete of the Year."
CFAC has grown substantially every year, both in numbers of sales and in sales crew. "We ran the first three years with just me, Ryan, Brianna, and a couple of staff. Now there are four full-time sales people and another sales manager that fills in for Ryan, who does all the financing, and me, when I'm off buying cars," explains George. "We've got a full running shop now and it's going really well. Everyone here is local Lewis County. We just enjoy selling cars and having fun."
And while they're having fun, they truly are putting the Lewis County community first.
Community First Auto Center
1051 NW Louisiana Ave in Chehalis
360-748-3512
Hours: Monday – Saturday from 9:00 a.m. – 7:00 p.m.
Sunday from 11:00 a.m. – 6:00 p.m.
Sponsored