Even a quick conversation with Max Vogt will confirm his love of history. Owner of Windermere Centralia, a real estate company, Vogt believes that land will always be valuable because it can't be manufactured.
Vogt's beliefs were put into action when he restored a historic Centralia home into a thriving commercial building.
"I have a life long involvement in real estate. It's important to understand the value of things that can't be replaced," explains Vogt.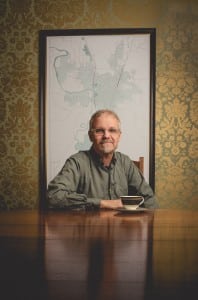 Vogt's interests in history extend to his involvement as a board member at the Fox Theatre and as a leader in the theater's restoration. The theater was originally built in 1929 and when Scott White returned to tackle the renovation project, Vogt quickly jumped on board. "I am excited about this project because it shows that history can contribute to the current economy and be valuable to a community," he says, indicating that he plans to see the renovation project through to completion.
As Vogt talks about the numerous historic homes in Centralia, he points out that many of the brick buildings were left in tact because during times of economic depression. It was simply too expensive to tear down vacant buildings. As a result, the brick buildings were saved, in a sense, by accident.
Vogt also parlays his fascination with history into his current role on the Centralia City Council. "Once I learned about the past, I wanted to be involved in the future of the town," he explains. "Centralia is my life and livelihood and I feel that it's worth improving for myself, family, friends, customers and the community."
"Real estate is all about improving the community," Vogt continues. "We benefit from having a vital community and good economy, so it was a natural fit to move into city government to help however I can, to continue our rich history."
When Vogt tackled his major renovation project in 2005, he knew that it wasn't the most sound financial decision he could make during tough economic times. But his tenacity won out and Windermere Centralia survived during the hardest times in real estate history. Vogt opted to "invest in the past and bring it into the future."
Windermere Centralia recently completed one of its best months financially in the company's history. "The economy and real estate prices are improving in Lewis County," says Vogt. Vogt says recently a client sold a Seattle home for close to $1 million. The customer bought a $200,000 home in Lewis County and banked the difference. Vogt predicts that Lewis County will see more transplants choosing to commute or work remotely in the quiet neighborhoods. Situated between Seattle and Portland, Vogt explains that Lewis County sees growth when the urban metropolises are also booming.
Vogt credits Centralia College for also stabilizing the economy. With a gradual shift to a four-year college, Centralia College continues to be well funded. Investment in new buildings is growing the college campus and Vogt suspects that Centralia will soon be known as a college town.
Vogt is also optimistic about the arts and culture scene in Lewis County. "There is a small, but active, group of people that are promoting artists and culture," he shares. "Lewis County folks are really involved and invested in our community. They are here to stay and are going to make things happen."
"We have a wonderful new art gallery opening here in April," adds Vogt enthusiastically. "My customer bought a beautiful building on Tower Ave in the historic downtown core and will be opening Centralia's first, complete art gallery with studio and classroom space."
To learn more about Windermere Centralia and real estate in Lewis County, visit an agent at 411 West Main Street in Centralia or online at www.lewiscountyrealestate.com.
Sponsored