Whenever episodes of The Hunger Games comes out, the interest in archery explodes. But that's fine with Theodore (Ted) Schindler, owner of Lucky Shot Archery. "Whatever brings them in," he says. That's because for himself, he doesn't know the exact reason he is in the archery business except that, "The Good Lord did it, 100%."
Schindler and his wife bought the property that holds the house as well as the store and indoor and outdoor ranges, knowing they wanted to start a business. They just weren't exactly sure what that would be. Schindler had worked in construction and then at what is now Land O' Lakes Feed Mill for almost 20 years. Then, he says, "Things just fell into line to open this place."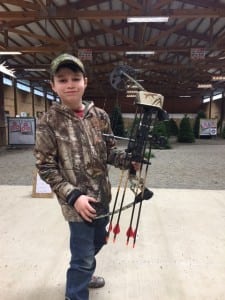 Schindler had hunted all his life, using bow, muzzleloader, and rifle, but had no particular expertise in archery. Now in his tenth year, Schindler confesses, "I was miserable and terrified the first two years, not knowing what I was doing. But bow hunters really helped me. Every time I got stuck on something, someone would walk in the door who knew about it, and would help me out."
Now, even without a website presence, Lucky Shot Archery is known nationwide. Part of that is the unique setting, with a store, indoor range, outdoor range, and comfortable sitting area by a roaring wood stove, also known as the "Lying Section," Schindler laughs. Jack, the Boston Terrier, hangs out at the store all day as well, welcoming everyone who enters, taking them his ball to throw, and even wrestling around with children.
Archers can shoot between 10 and 40 yards in the indoor range. Schindler makes it fun by holding events such as the "Brush Shoot," which is a six-week event starting in January each year. Schindler uses discarded Christmas trees to create a realistic experience for shooters. They must shoot between branches creating obstacles. Schindler changes the stage set-up every week so that shooters have a different experience throughout the event. Later, from May to August, archers have an opportunity to be outside and shooting at 3D targets along a meandering trail through the woods.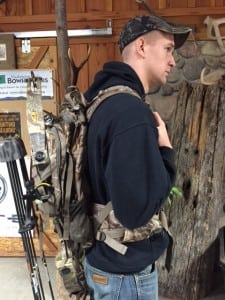 Customers at the range agree Lucky Shot is a great place to hang out. Families can all participate together. This day, Sargent First Class Matt Deakin was in with friends. "We come down from DuPont every weekend and just hang out," he reports.
Nick Buchanan says, "There's nothing more relaxing than taking that walk through the woods at the outside course." Deakin agrees, explaining, "It's the truest, closest form of stalking prey." Deakin tells how his wife, daughter, and daughter-in-law also shoot. His wife became interested in it as she was curious about the different skills and mechanics involved in archery. She also likes that if you live in an area that allows it (such as outside city limits) you can set up an archery target in your own yard. Then you can just walk outside with your bow, shoot for 20 or 30 minutes and go right back into your home.
Another benefit of archery is that once you buy your equipment you don't have to keep buying more. For instance, with guns you have to keep buying more ammunition, but in archery you usually don't have to keep buying more arrows.
Deakin also says he notices that more women are getting interested in archery, thanks to the rise of well-known female archers like Eva Shockey and Tiffany Lakosky. "Women also help bring in the kids," he notes.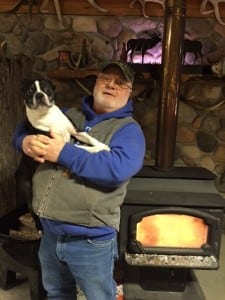 However, Schindler says, shooters also come in for "date night" or to get away from the kids. He smiles mischievously as he tells how he played matchmaker, introducing a couple of young archers to each other, thinking they may enjoy their shared interest.
Schindler welcomes anyone wanting to learn about archery. "It happens every day," he says. He tells them, "You've come to the right place because I don't know anything either, so we can learn together," he jokes. The range has a small private area where he will work with a customer, helping them to learn the technique, measure them to get the right fit and right size bow, and they can take their first shots with no one else watching. Schindler enjoys all his customers but has great appreciation for the military members like Deakin and Buchanan. "They can come in and shoot everything for free except the 3D shoot."
When asked about his future plans for the business, Schindler is philosophical, "There was zero doubt when God wanted me to get into it and there will be zero doubt when God wants me out of it." Until then, Schindler and Jack will continue welcoming customers and introducing new archers to the sport – and maybe even playing matchmaker a few more times.
Lucky Shot Archery
470 Coal Creek Road in Chehalis
360-740-7464
Hours: Tuesday – Friday from 11:00 a.m. – 9:00 p.m.
Saturday from 9:00 a.m. – 6:00 p.m.
Follow Lucky Shot Archery on Facebook to keep up on all the archery fun.