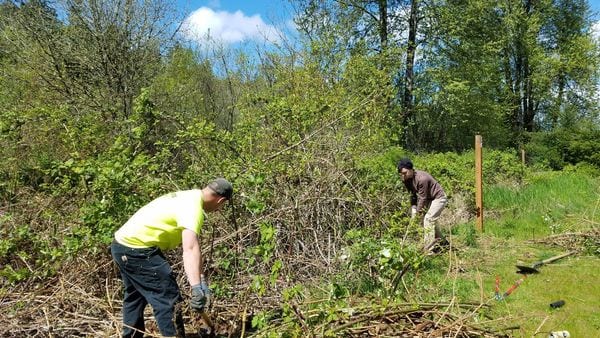 When:
04/22/2021 @ 9:00 am – 12:00 pm
2021-04-22T09:00:00-07:00
2021-04-22T12:00:00-07:00
Where:
Discovery Trail, Centralia
Goodrich Rd
Centralia
What: Earth Day Land Restoration and Trail Maintenance Event.
Snacks and drinking water will be available (bring your own bottle).
You must pre-register for this event; see the link below.
Where: Centralia's Discovery Trail, at the end of Goodrich Rd, Centralia.
Parking for volunteers will be at the old barn (look for signs).
When: 9 AM until 12 Noon on Earth Day, Thursday, April 22nd, 2021.
The Chehalis River Basin Land Trust will be hosting an Earth Day land restoration and trail maintenance event along Centralia's Discovery Trail from 9 am until noon on Earth Day, Thursday, April 22, 2021. (See: Discovery Trail along the Chehalis River (lewiscountytrails.org)) Please arrive early to sign the waiver.
We will be removing invasive plants, including Himalaya Blackberry vines. Sturdy gloves, long pants and long sleeves are recommended. We will have facemasks as well as some tools and gloves available at the site, but please feel free to bring your own preferred hardware for dealing with invasive plants.
Covid-19 Precautions:
The number of participants for this event will be limited due to Covid-19 concerns and restrictions. Face masks and social distancing will be required.
Please use the following link to pre-register.
https://www.chehalislandtrust.org/events/volunteer