K9 officers, also known as police dogs, play a crucial role in local law enforcement. These highly trained dogs work long days and sleepless nights alongside police officers to detect drugs and other illegal substances, track missing persons, apprehend suspects, and put their lives on the line. With their exceptional sense of smell, hearing, and speed, K-9 officers are invaluable to law enforcement agencies. But what does it take to become a K-9 officer, and what is a typical day like for these remarkable dogs?
Who is Pax and What are the K-9's Certifications?
You may have heard of Pax, Centralia Police K-9 Association's stunning Belgian Malinois K-9 officer. Pax, meaning "peace," came to the United States from Holland and began his career at the Centralia Police Department in 2017. After months of grueling training, Pax was chosen out of 40 other dogs for his exceptional aptitude to adhere to training methodologies.
From the beginning, it was clear to Officer Ramirez that Pax was no ordinary dog. His sharp mind and unwavering loyalty made him an exceptional asset to the Centralia Police force. In just one year, Officer Ramirez and Pax became inseparable, and Pax had graduated from his narcotics training.
"Pax is not only environmentally sound but also a loyal protector with a keen sense of prey drive," says Ramirez, "I feel fortunate to live and work with him."
There's much more to the job than mental agility, and Pax's large size is not just a physical characteristic but an essential trait for his job as a K-9 officer. 
"As a working dog, he needs to be able to handle various situations and people, sometimes much bigger than he is," says Ramirez, "His size and strength give him an advantage when it comes to tracking and taking down suspects."
Pax is a highly skilled and dedicated canine officer who has undergone extensive training in patrol tactics. His training includes handler protection, tracking, building searches, area searches, and evidence detection — all essential skills that make him an invaluable asset to law enforcement. Pax's certification through the Washington State Police Canine Association and Washington Administration Code is a testament to his unwavering commitment to excellence. He has also undergone various training sessions throughout Washington, constantly honing his skills and keeping current with the latest techniques and technologies.
Pax's Typical Day On and Off the Job
A typical workday for Pax always starts with a good belly rub, a groom, and a healthy breakfast before setting out for a long day's work.
Pax vigilantly patrols the streets of Lewis County from his spacious back seat with his human partner behind the wheel. With his keen sense of smell and unwavering dedication to his job, Pax eagerly awaits commands from Officer Ramirez, ready to protect his handler and put his training and skills to the test.
Officer Ramirez knows that Pax's verbal training is crucial for his effectiveness as a K-9 officer. Therefore, he takes every opportunity to keep Pax's training sharp. During each shift's downtime, Officer Ramirez implements two to three play sessions focusing on ball tosses and obedience training. These sessions not only help Pax to stay alert and focused, but they also serve as a way for Officer Ramirez to strengthen his bond with Pax.
"It's a great way for Pax to release some energy and have fun," says Ramirez. "However, it also serves as a way for us to practice certain commands and ensure that Pax is still responding appropriately."
Pax typically works four days on and four days off, but despite his duties as a police dog, Pax is also a much-loved family pet. When not on duty, he spends time at home playing with his young family members and lounging in his spacious grassy backyard. 
"He loves it out there, and it's where he will spend most of his time when he is home."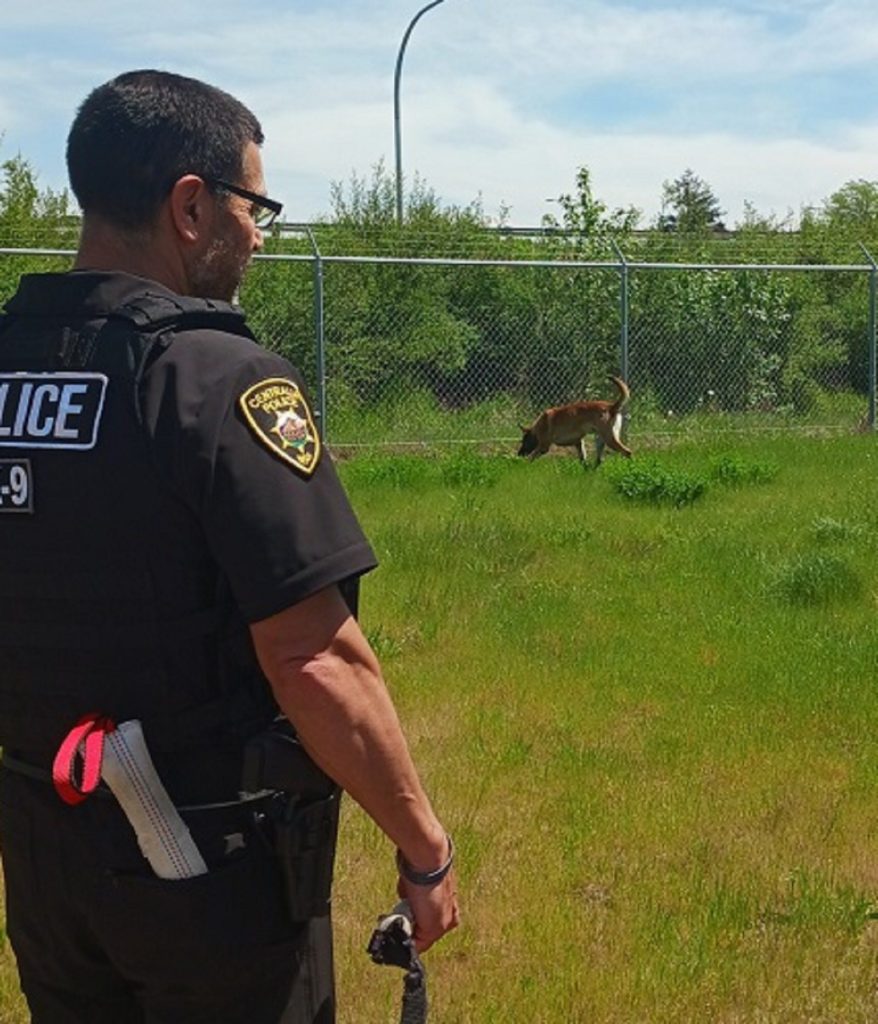 How to Give Back to Pax and the Centralia K-9 Association
Supporting the Centralia Police K-9 Association is one of the best ways to show your appreciation for the invaluable services provided by Officer Ramirez and his K-9 partner, Pax. And what better way to do that than by shopping at one of the many local businesses that make their work possible? By doing so, you'll not only be helping a great cause but also supporting the local economy.
So why not start by checking out Three Dog Night and Tractor Supply, who have generously donated food to the K-9 unit? Or browse through the Centralia Police Department K-9 Association's website to purchase some fantastic items made by Awards West Printwares, with the proceeds going directly to support the Centralia Police K-9 Association. Together, we can make a positive difference in our community and show gratitude to Officer Ramirez and Pax for their service.