Food preservation is a skill that has been handed down through the centuries. What was once an essential way of extending the harvest season during the colder months now seems somewhat obsolete in these modern times. So, why should we preserve our food, then? Some people would say it gives them a sense of pride, and some just find it enjoyable, but the Parypa Family of Chehalis do it because the alternative is a cost they don't see itemized on a grocery receipt.
The family behind Dirty Man Soap Company does not want to miss out on the hands-on involvement with their food or the lessons they can pass down to their children by preserving the things they grow.
The Beginning of the Parypas Preservation Journey
Shortly after Hannah and Ryan Parypa moved onto their approximately one-acre lot, they began inspiring one another to grow their food. With little experience, they conquered each hurdle they faced and, over time, turned their grassy plot into rows and rows of strawberries, beans, pumpkins, squash, berry bushes, and so much more! As their garden grew, so did their family, and what started as nothing more than a yard and a dream has been transformed into a massive (and still expanding) garden oasis of produce for their family of six. Quite a bit is grown on their property at little or no cost. Apple trees found sprouting from their compost pile have been moved to the perimeter of their property and have produced dozens of pounds of apples they have turned into cider, sauce, and pie filling.
Tips and Tricks from the Parypas on Preservation
All of us are a little nervous when we first begin preserving but "Start with freezing your food, then move to water bath canning. As you go, you will learn and get more comfortable", says Hannah. "The first step is picking something you like to eat. If you don't have time or space, then local farmers' markets are a fantastic alternative".
Onions have become one of the most useful crops the Parypas grow on their farmstead. Hannah and Ryan agree, "They store well, so start with those." However, you don't have to grow your own produce or buy it in Lewis County. There are dozens of publicly accessible blackberry bushes, plum trees, and apple trees scattered about the county that are ripe for the picking in the late summer months and great for jams and jellies, which is one of the easiest things to store in your freezer. Hannah and Ryan suggest setting your jams and jellies with Pomona's pectin. "It's our favorite because we don't have to add any sugar," says Hannah. So, Pomona's Pectin is a healthier alternative for your family and budget.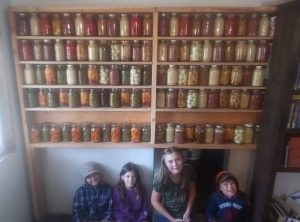 Get the Kids Involved in Preserving the Bounty
Now, I know what you are thinking. Keeping the kids involved can seem like a daunting task in the beginning. Still, it can be as simple as letting them learn how to grow potatoes in a 5-gallon bucket. "It isn't impossible, especially if the kids love to eat what they pick and you give them the freedom to grow what they want," says Hannah. "We like to give each of the kids their own garden plot to plant and have fun."
Where to Buy Food Preservation Supplies in Lewis County
There are a few local businesses you could go to buy canning supplies in Lewis County, but Hannah and Ryan Parypa would like to suggest, "If you are trying to keep costs low, first try reaching out to your neighbors for anything they might have sitting around their house, and keep an eye on garage sales." If you would like to skip searching for canning supplies and buy them new, Visiting Nurses Thrift Stores in Chehalis and Centralia occasionally have canning supplies or Sunbirds, now Chehalis Outfitters has canning supplies during the fall and winter months.
Not many people know that the Parypas offer their produce to the community by donation when they have extra to share. Offering extra to the community means there is little waste.
While providing produce for the community wasn't something they expected at first, they love what they are doing. "People just started stopping by and asking to buy produce," Hannah laughed. "The kids love putting out things from their gardens, so we decided to put up a produce stand for people to donate to alongside our soap stand, and it's been great."
Join the Parypas this year in preserving your own food. Just imagine popping open your family's favorite variation of jam on a cool January morning, spreading it on toast, and immediately being transported back to your summer garden in all its ripened glory — remembering each day you spent with your family, tending the plants, watering them, picking the fruits and vegetables, and preserving them so that they would provide them with nutrition throughout the year.