The holidays are upon us and we all want to make the most of them! That includes spending more time with our family and friends doing the things we love best. Bayview Catering, Bayview Thriftway and Ralph's Thriftway are pulling out all the stops to help you have a wonderful Thanksgiving and usher in the holiday season with joy and smiles…and maybe fewer dishes!
Fall Festival at Ralph's Thriftway, November 12
There is no better way to kick off the holiday season than with Ralph Thriftway's Fall Festival on November 12! The next two months are all about family, food and festive decorations – and Ralph's is helping you get ready at their free community event. Sample specialty food and drinks around the store from local businesses including Ila's Foods, Seattle Chocolates, Dancing Goats Coffee, Claddagh Cold Brew Coffee and Mama Scott Gourmet BBQ Sauce. This way, you will know just what to have on hand for when the relatives visit!
While there, shop early for any gifts you need and save with 15% back in your rewards wallet on all houseware and gift items, plus 20% off wine – this will definitely make you feel merry! And to make sure your house is as merry as you are, look for unique mini centerpiece creations in their floral department. Ralph's Thriftway is your place for holiday grocery shopping in Olympia, plus a whole lot more.
Pre-Order Thanksgiving Dinner from Bayview Catering
Some of us like to cook, and some of us don't. If you're the latter, take the stress out of the holiday by ordering a pre-made, ready-to-eat Thanksgiving Dinner from Bayview Catering. Their top chefs have pulled out all the stops to create a meal your family will love. And since it's ready to eat when you pick it up, you don't have to turn that oven on at all! This means more time to spend with family and friends and less time cooking and cleaning up.
Their scrumptious Thanksgiving dinner includes a 10- to 12-pound turkey, cranberry-orange relish, mashed potatoes with turkey gravy, herb bread stuffing, roasted corn with peppers and onions, and of course freshly baked rolls with butter. Each meal feeds 8 to 10 people.
Need a dessert? Stop by Bayview or Ralph's Thriftway stores and pick up your family's favorite pie. And don't forget the ice cream or whipped cream to go with it!
Ready-made Thanksgiving dinners cost $199. Orders must be placed by November 17. They have a limited supply, so it's best to order early! Order your Thanksgiving Dinner now by calling Bayview Catering at 360.357.8016.
Turkey Bowl at Bayview Thriftway, November 19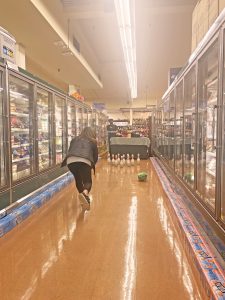 How's your bowling game? Come have some fun at Bayview Thriftway on November 19 starting at 11 a.m. and you just might go home with a great prize! It's Turkey Bowl time!
Chuck a frozen turkey down the aisle – come on, who hasn't wanted to do this??? – and see if you can get a strike! If you knock down all the bowling pins, you go home with a free turkey! Get a spare and you win a bag of groceries! The Turkey Bowl will run until all 12 turkeys and 12 bags of groceries have been awarded. One prize per family.
No need to sign up, just show up at Bayview Thriftway on November 19 with a non-perishable food item for donation to the Thurston County Food Bank. Then it's time to show off your turkey bowling skills!
The holidays are upon us. Make the most of them with family, friends, and a little help from Bayview Catering and Ralph's and Bayview Thriftway stores. For more information, visit the Bayview Catering or the Thriftway website.
Sponsored