When Twila Collins was in elementary school, she saved little bits of her lunch to take home and feed the stray cats that were left on her parents' property in Toledo. "Probably that was foretelling that this is where I would end up," she says. Now, Twila is the director of The Cat's Meow Spay Neuter and Adoption Project, a non-profit organization dedicated to eliminating euthanasia as a means of population control for cats in Southwest Washington. She spends her days facilitating spay and neuter surgeries, educating the public on the importance of altering cats, and offering health and safety tips for trapping and caring for stray kitties.
Twila started The Cat's Meow in the summer of 2009 after the flood of 2007 and the housing crash of 2008 closed two companies in a row where she had been working. "I was taking a civil engineering tech course, and one of my assignments was to write a recommendation report in my technical writing class," she says. "So, I did my report on spay and neuter, specifically for feral cats."
Then, in June of 2009, she came across a field behind a gas station near Exit 72 that was home to a colony of 30 feral cats. "I decided I was going to trap them and get them fixed," she says. On the 4th of July, Twila and her then-16-year-old daughter went back to that field and began trapping cats. "And then in August, I went to the Secretary of State and became incorporated," she says.
At first, Twila continued to travel around the area trapping feral cats herself and taking them to local vets for surgeries, but as the number of cats she worked with increased, it became cost prohibitive. "I started taking cats to Lynnwood, to the Feral Cat Project, in 2011," she says. "I did that consistently for eight and a half years, and I took over 9,000 cats there, up until COVID."
In early 2020, with spay and neuter services temporarily shut down and so many local cats still needing to be fixed, Twila began remodeling the Cat's Meow's current location to become a surgery facility. On April 3, 2021, they did their first surgery, and since then, they have had four veterinarians work with them, although they now have one part-time veterinarian, Dr. Annika Iverson.
Besides the veterinarian who performs the surgeries, The Cat's Meow is entirely volunteer based. From helping with surgeries to cleaning, doing paperwork, and working in the garden, there are many things volunteers can do to help keep The Cat's Meow running and working towards its mission. Those interested in volunteering can find a registration form through the Get Involved page of their website, where there are links for many ways to donate financially or purchase items from the organization's wish list.
The most crucial volunteer task that needs to be done right now is fundraising. "That is one of our biggest challenges, is funding," Twila says. "We don't have a steady, strong source of revenue." She encourages anyone interested in helping with fundraising to contact her directly via text at 360.623.0820.
With so much need for spay and neuter services, and many stray and feral cats needing medical care and safe homes, Twila must be careful to take on only as much as the organization can realistically handle. "In the past, we rescued anything and everything that everybody needed us to, which becomes problematic when you can't effectively care for all of those cats and get them what they need," she says. "We try really, really hard to just focus on the kittens because they're the ones that need more help." Often, this means that Twila is bottle-feeding some litters in the spring. "I'll do one or two litters of bottle babies a year. That's about what I can physically handle," she says. "But that being said, if someone has bottle babies that I can't take, I'm more than willing to help them understand how to do it."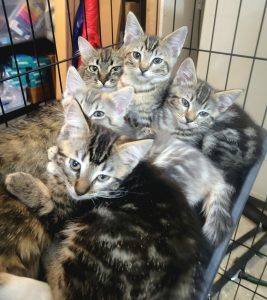 Education is another big part of how The Cat's Meow works toward its goal of eliminating euthanasia. Twila no longer goes out to trap stray cats herself, but she can teach people how to trap, as well as how to assess if a cat is feral or just a scared stray without getting scratched or bit. Once it has been caught, it is also essential to quarantine a stray cat for ten to 14 days to watch for signs of rabies, distemper, ringworm, or other infections before introducing it to the household and to do everything possible to determine its ownership status. "Have it scanned for a microchip," Twila says. "Post on Facebook and even go so far as to take pictures and post pictures at local stores to see if somebody's missing the cat and be sure to contact your local shelter with information about the cat."
Also, determine whether the cat is fixed already and arrange to get it fixed if it is not. The Cat's Meow can help with feral cats as well as felines belonging to low-income families. "If it is their cat, they do need to meet the income guidelines set out by the Department of Health," Twila says. "If it is a feral cat, then those guidelines don't apply. But we ask people to be honest about the ownership or status of the cat and not try to abuse the system because it could jeopardize our program."
Getting cats spayed and neutered is important because unfixed male cats are often aggressive and have tendencies to scent and urine mark their living spaces. Unfixed female cats can get pregnant as young as three months old and as early as one month after giving birth. "It just takes one friendly mom to get dumped and have kittens to have a feral colony develop," Twila says.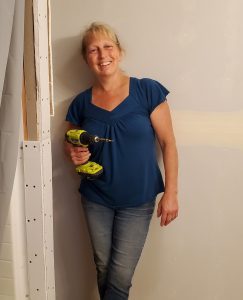 In the beginning, Twila operated The Cat's Meow all by herself, but now she has a team of volunteers who assist her in helping the area's feline population, and she is grateful. "I want to say thank you to everybody," she says. "Honestly, thousands of people through the 13 years of our existence have donated time, materials and money. There's no way we would be here without those people. And Patty Kaija with the Almost Home Project. This building and this project that we are doing here are in partnership with her program, and if it weren't for her program, this wouldn't exist today here in this building."
People seeking spay and neuter services can fill out a registration form on The Cat's Meow's website. The Cat's Meow SNAP is also be found on Facebook, and kittens up for adoption are listed on Facebook and Petfinder in the summer.