Looking back over the last 20 years brings memories of many things. This emerald anniversary is a time to showcase change, growth and the wild ride of togetherness. For Foot & Ankle Surgical Associates, with clinics in Centralia, Lacey, Olympia, Tacoma, and Tumwater, the summer of 2022 is a festive time to reflect, reminisce and plan for the future as they celebrate two decades of keeping Washingtonians on their feet.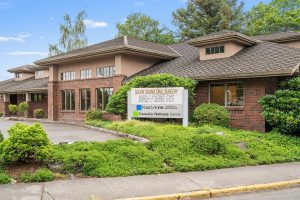 "It is amazing to see how much the community has grown as we have," says Jayden Gilmore, marketer for Foot & Ankle Surgical Associates. "Starting out with one office and growing all the way to five shows how far we have come. Unless you go to a big corporation, many of the offices around here are one-location type stops. We take pride in knowing that we can provide advanced medical services here in our community. We love that our patients can come to our offices knowing they are going to have a trusted, caring and compassionate experience with our team."
Whether for podiatry diagnostics and services, wellness and education, orthotics or outpatient surgery, Foot & Ankle Surgical Associates is dedicated to helping us live an active, pain-free life. They can help care for common diabetic foot issues, provide lapiplasty bunion treatment, provide running tips and even sell Vionic shoes to enhance support and stability.
To celebrate their anniversary, staff hosted a celebratory lunch in early July. The mid-day luncheons were held at each local office and featured food, drinks, ice cream sundaes and lots of fun.
They hosted an after-hours event with the Thurston County Chamber on Thursday, July 21. The evening with the Chamber at their Tumwater office and promised photos, mingling galore and social media shout-outs on Facebook, Instagram and Tik Tok. "We had food, drinks, prizes and giveaways for people to come to check out our decorated office, meet our providers, make connections and network with a bunch of local businesses in our community to help support local," says Gilmore.
Foot & Ankle Doctors Give Back in Thurston and Lewis Counties
Partnering with groups like the Chamber is just one way the Foot & Ankle team remains vibrant and informed. They feel that membership isn't just for business owners to rub elbows, "It's about the support that we can all give to each other," says Gilmore. "We feel that it's our mission to invest in our community to help it grow, which is why we want to support the businesses around us. When we can make connections through places like the Chamber at our events, it gives that instant gratitude of caring for one another."
Beyond Chamber activities, the Foot & Ankle team support, sponsor and attend events, teams and activities throughout our region. "To highlight some of the work that we have already done this year, we are sponsors of Raise for Rowyn, Big Brothers Big Sisters, and Oly Town Artesians partners," says Gilmore. "We will be at the South Sound BBQ Festival, Capital Lakefair and its parade and the Big Brothers Big Sisters Big Swing Golf Tournament on July 29. We will also be at the Lewis County Fair and Oly on Ice later this year."
More than just a way to find relief for your foot, ankle and leg pain, Foot & Ankle Surgical Associates offers a variety of services to patients. "We have physical therapy for all over the body at our Lacey and Tumwater locations," says Gilmore, "And you don't have to be a patient of Foot & Ankle to see them."
They also offer a surgery center in Tumwater that facilitates outpatient procedures using your regular on-staff doctor. Having the same person throughout the process reduces stress and anxiety and means they understand your medical history, current status and fitness goals. Outpatient surgery also utilizes the clinic's physical therapy team so pre- and post-operative services are all under one roof.
You can read plenty of helpful tips and tricks through their News & Recent Events blog or learn more about their diagnostic approach including digital x-rays, ultrasound and pedCAT 3D imaging. Get your life back in motion this summer so you too can enjoy long days and balmy nights with those you love dancing, hiking, wandering the Farmers Market, swimming in the lake or playing 18 holes at your favorite golf course.
If you're ready to start living a pain-free life with increased mobility, reach out to the Foot & Ankle team today. "Fill out a contact us form on our website under the location of the clinic nearest you to get started," suggests Gilmore, "or give us a call at 360.754.3338. Let us help you put your best foot forward today!"
Sponsored