It's time for all things red, white, and blue as Lewis County gears up to celebrate the summer's favorite holiday — the 4th of July! It's also time for barbecues, fireworks, and festivities. To help celebrate Independence Day 2022, check out these local events in Lewis County for the 4th of July.
Centralia Summerfest 4th of July Parade
Presented by Windermere Real Estate, the community-favorite Summerfest 4th of July Parade is back and better than ever after a two-year hiatus. With a theme of Red, White and Boom, don't miss this exciting event on Monday, July 4th at 4 p.m. Catch the parade in downtown Centralia from Centralia College Boulevard to Tower Avenue, north to Center Street, East to Pearl Street, South to Main Street and west to Ash Street.
But wait, there's more! Summerfest starts on Sunday, July 3, at the Southwest Washington Fairgrounds. Find safety city and a bicycle traffic garden for the kiddos all day. From noon to 4 p.m., participate in fun contests and activities. At 4:30 p.m., the grandstands open for the always-exciting 6 p.m. demolition derby. Stick around after the derby for the grand event of the weekend, the fireworks!
Also, on Monday, July 4, get ready for the "I Ran From the Cops" run and SWAT challenge at Fort Borst Park.
Mossyrock Freedom Festival
The Mossyrock Freedom Festival is a free, family-friendly celebration on July 2 and 3. Featuring live music, a quilt show and vendor displays all weekend, also enjoy a pancake breakfast, skydivers and a blueberry pie-eating contest. Also, don't miss the parade dog show, demonstration of proper flag retirement and loads of fun. For a complete list of events with times, check out the Mossyrock Freedom Festival website.
Mossyrock Independence Day 5K & 8K
As a Mossyrock Area Action League event, in partnership with Arbor Health, the former Blueberry Walk/Run is now the Mossyrock Independence Day Run! On Sunday, July 3, at 9 a.m., participants can choose between a 5K and 8K route to run or walk. This rare chance to cross the Mossyrock Dam while taking in the beautiful landscape, including amazing Riffe Lake views, is a fantastic way to get outside. Awards will be given to top finishers!
Annual Packwood Chicken BBQ, Music & Fire Department Fireworks 
Packwood Community Hall Park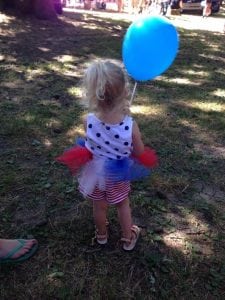 The 4th of July fun continues in Packwood with the annual Packwood Chicken BBQ from 11 a.m. until 2 p.m. While enjoying your delicious food, hear live music with Bryson Evans from 11:30 until 1:30 p.m. Stay until dark and marvel at the spectacular firework show by the Packwood Fire Department.
July 4th Fireworks and Freedom
The All In
1783 State Highway 508, Onalaska
Join The All In for food, fireworks and freedom this July 4. Opening around 5 p.m. for food and drinks, stick around for the firework show at about 10 p.m. Parking is limited, so they will be going with a fountain-heavy display this year for people to enjoy around Onalaska. Plus, sparklers will be provided for the kiddos, so come out and celebrate!
Pe Ell Parade and Fireworks Show
Come join the fun in Pe Ell for the annual Parade and Fireworks Show. This free event features food, crafts, balloonists, live music and vendors. Catch the parade at noon and come back at 10 p.m. to enjoy the fireworks at the school grounds.
Vader Fireworks
The City of Vader is sponsoring a fireworks display starting at dark on July 4. A few games and food vendors will also be present before the event. Bring your folding chairs or blankets to 704 D Street, at the corner of Hwy 506 and D Street to celebrate.
Are you planning on having a firework show at home? Be sure to check out the Washington State Patrol's guidelines and information resources for more information. WSP encourages those celebrating with fireworks to check their local jurisdictions as well.
Have a fun 4th of July event happening in Lewis County? Send us an email at submit@lewistalk and tell us about it!