Art moves its viewers. The Koresh Dance Company's "La Danse" performance is an interpretation of the famous painter Henri Matisse's "The Joy of Life" and two versions of his "La Danse." Artistic director Roni Koresh's dance company, along with a refreshing musical composition and poetry, brings movement, sound and verse to an inspired rendition of these renowned and historic paintings. On April 16, the dancers from the internationally acclaimed company take to the stage at The Washington Center for the Performing Arts in Olympia.
Though the performance is rooted in an interpretation of Matisse's three paintings, like all art, the performance will reach everyone in their own way. "I want to allow the viewer to interpret it into their own lives," says Koresh, "to connect it to what they want. It is meant to inspire people to have conversations. It's important not to rob the audience of their own interpretation." The Koresh Dance Company's promotional video allows a glimpse of the original music score and moments on stage with the dancers. Music spans genres from classical to contemporary and has notions of European folk, western and Caribbean.
Henri Matisse's "La Danse" and "The Joy of Life" oil paintings are large-scale depictions of people dancing. "The Joy of Life," or "Bonheur de Vivre," is an oil on canvas including a circle of dancers in the background. They are bracketed by trees in a natural setting with nude figures in the foreground and lively spring colors throughout. "La Danse" is a close-up of the circle of dancers. Their bodies are in positions of movement. Matisse painted "La Danse" a second time as a commissioned piece. The second painting had different coloring in the dancers' bodies, changing them from previous nude shading to red and blue, and he made the second set of dancers both men and women. The performance begins with an interpretation of Matisse's "The Joy of Life" and then moves to the two versions of "La Danse."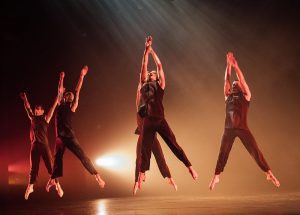 With all of that said, the live stage is a fitting medium. The imagery of people dancing in each of the three paintings transfers to the fluid movements in dance. Lighting by Peter Jakubowski, an original musical score by John Levis and poetry and spoken word by Karl Mullen highlight and accentuate Koresh's choreography. "La Danse" is the second of three productions that Levis and Koresh have worked on together. Their first was "Inner Sun," and their newest, "The Muse," premiers in June of 2022.
Koresh has a personal connection to the "La Danse" piece. "I found the latest version to be most impactful to me," says Koresh. "This painting has hung in my home ever since I was a child. At a young age, I admired it, but did not explore the hidden meaning behind it. As an adult and a choreographer, I started to investigate the reasons why I am so fascinated by this image. As an artist who constantly seeks inspiration, the evolution of this painting and Matisse's choices in that development intrigues me. For instance, why had he added men into the painting?" Exploring perception, change and relationships are a focus of Koresh's work. "What I see in that particular painting is a circle of life," explains Koresh. "I wanted to try and touch all of those struggles and emotions that we have throughout our lives, from the innocence to the dramatic to the loss. The show itself is very uplifting and very inspiring, very joyful and extremely elegant. It really is the celebration of life."
His work reflects life experiences in two cultures. Koresh, an Israeli American, was taught by his mother, a folk dancer, and he joined a dance company before entering the Israeli army. He later went to the United States to study ballet in New York and jazz dance in Philadelphia. His career repertoire now includes over 60 works.
Koresh's dance company was founded in 1991. The company's school was established in 1993 for adult instruction and offers more than 35 different varieties of levels for ballet, modern jazz and hip hop. The company includes multi-talented and educated dancers who each have an impressive list of accomplishments themselves. Dancer Melissa Rector is also the assistant artistic director. The additional dancers include Paige Devitt, Micah Geyer, Mikal Gilbert, Michaela Harrington, Callie Hocter, Devon Larcher, Sarah Shaulis, Kevan Sullivan and Robert Tyler.
Effective March 16, the Washington Center for the Performing Arts no longer requires face masks to be worn, though wearing them is encouraged. Patrons will also no longer be required to show proof of vaccination or a negative test to enter. Practices such as cleaning procedures and screening for symptoms will be continued, and the requirements for backstage access will remain the same.
The Washington Center box office is open Tuesday through Friday from noon to 5:30 p.m. and two hours prior to any event. Call 360.753.8586 or email boxoffice@washingtoncenter.org for more information about the show. Check out the performing arts center's Koresh Dance Company – La Danse webpage for seating and ticket information. Admission for the Saturday, April 16, 7:30 p.m. show ranges in price from $25 to $57.
Sponsored