Winter weather is no hindrance to the joys and delights of the Thurston County's Bountiful Byway, where authentic culinary and cultural exploration abound. This road trip delivers adventures and beauty for all ages. Glorious Mt Rainier pops out in one direction and the Black Hills in the other as you drive the backroads. Spirits, coffee, treats, exquisite clothing, jewelry, antiques and short walks await you. No reservations are required. A bit of light planning is all you need. Here's a brochure.
Start your trip in Tumwater right off I-5 with an invigorating stroll through Brewery Park at Tumwater Falls. The grounds feature walking paths, a fish ladder, and stunning waterfalls. The location is also family-friendly, offering picnic tables and bathrooms. Visit the nearby Schmidt House, built in 1904 for Leopold F. Schmidt, founder of the Olympia Brewing Company.
Pack everyone up in your vehicle and head south to Tenino via Capitol Way. The 25- minute drive to Sandstone Distillery (off Tilley Road) rolls along easily. The family business produces spirits and sipping vinegars. Sandstone is dedicated to using natural, locally-sourced ingredients including clean water from its property and Washington-grown grains that are freshly ground, artfully fermented, and lovingly distilled. Ask about the whisky with cranberries from nearby Black River Blues Blueberry Farm mixed with yellow transparent apples from Wright Farm next door. Yes, you can experience a tasting.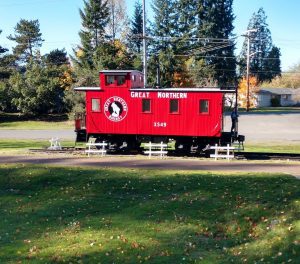 Historic downtown Tenino is now only a short distance away. Did you know you can park on the main street, which is also Highway 507, for free? Walking along the main street is a little like going back in time with inviting storefronts with friendly people inside.
The Tenino Depot Museum is open on Fridays and Saturdays during the winter. Curator and Director Jessica Reeves-Rush help people learn history with a plethora of artifacts and information. Be sure to check out the exhibits behind the main building. They are somewhat under cover and light up when you get close. The Ticknor School is right next door and worth a look. The wooden desks are reminiscent of primary school. Look for the caboose parked out front where people will eventually be allowed inside, but in the meantime, just peek through the windows.
Tenino offers plenty of stops for shoppers. The new destination in town is The Shiplap Quilt Shop and Coffee House. (Also look for an additional location in nearby Yelm). It's packed with bolts of fabric and products from Riley Blake Designs. The Iron Works Boutique is another noteworthy shopping location. With floor-to-ceiling items to investigate, it is truly 2,000 square feet of shopping bliss. Thoughtfully selected clothing items include tops, sweaters, gloves, scarves, and dresses interspersed with dishes, lamps, and home décor. (This writer found an immaculate, tailored wool, previously owned Christian Dior coat for under $50: a lucky find!) Venture into the Tenino Antique Mall and Tenino Time Machine. Pro tip: Check out Aunt Kate's Chocolates Facebook page before you leave home, so you can order ahead and pick up a selection of delicious fudge during your Tenino visit.
Eleven minutes from Tenino is Monarch Sculpture Park. Head east, exit 507 on to Military Road traveling north. Turn left onto Waldrick Road SE. The park's rustic grounds are located within scenic prairie lands and are open to the public from dawn to dusk.
Consider winding down at Stottle Winery. It's directly north about 30 minutes and the drive along Rainier Road and Spurgeon Creek is peaceful. Stottle Winery is the largest winery in the South Sound area, and the most awarded. "There's something for everyone," says Josh Stottlemyer, owner. Look for a variety of wines here including whites, reds, sweet and sparkling. Taste wines in the indoor or outdoor seating areas. Stottle Winery uses grapes from some of the oldest vines in the state, ranging from 24 to 45 years old. The deep roots provide more consistency in the wines and add distinctive terroir. If beer is more to your liking, Top Rung Brewing Company is nearby.
During winter, plan to arrive back in Olympia before 3 p.m. on Saturdays so you can visit the Olympia Farmers Market. Even at this time of year shoppers can expect fresh produce like micro-greens, squash, and root vegetables. Chat with arts and craft vendors as well—these folks love to visit with customers about their work.
Be sure to look at your map to see what other stops you might want to make. The odds are you will need more time. Be sure to make lodging reservations at a local hotel or perhaps an owner-operated bed and breakfast such as The Marie Bed and Breakfast or the Swanton Inn & Spa. Downtown Olympia is also home to a multitude of locally-owned eateries like Cynara. Depending on your timing and planning, you could grab a show at the Washington Center or Harlequin Productions.
Road-tripping on the Thurston Bountiful Byway is the perfect way to link together all manner of excursions and once you've made the trip, you'll no doubt leave planning to come back soon!