Aquatic Therapy, or "pool therapy" as it's commonly referred to, can make all the difference for many people recovering from injuries or complex illnesses. It's the buoyancy, warmth, and water resistance of Aquatic Therapy that adds up to "amazing" and immerses patients in healing.
Debi Cole, physical therapy assistant at Arbor Health, Morton Hospital, knows this well. With 36 years working in physical therapy and 13 years in pool therapy, she is an authority in the field. Her recent training and certification through the Academy of Aquatic Physical Therapy are deserving of a capital "A" on her status.
When patients first come to Rehabilitation Services, they are evaluated by a physical therapist, who, in conjunction with recommendations of the referring physician, creates a plan of care or a "program" for the patient to follow in their therapy. Depending on the diagnosis, this program could include pool therapy. Likewise, when patients are admitted into Morton Hospital's Transitional Care Rehabilitation program after a complex injury or illness, the physical therapist creates a personalized program that may include Aquatic Therapy.
"We have a good pool program for all sorts of patients," Debi says. "Pool therapy takes the load off the joints, and patients are able to do in the water what they would not be able to do on land." She points to one patient group that receives exceptional benefits from exercising in the warm water, those suffering from "tone," meaning those with neurologically rigid muscles. "The thermal effect helps reduce tone," she explains, "allowing them to move more easily." This can be helpful for both pediatric and adult patients with neurologic diagnoses.
Debi, along with the other therapists at Morton Hospital, typically works with their aquatic patients two times weekly, working on strength, balance and coordination. For people with weight-bearing restrictions, the buoyancy of the water makes all the difference. Debi explains that patients who enter the water up to their chest have a 50% offloading of their body weight, and those who go into the water up to their neck have a 90% offloading.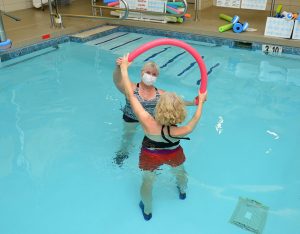 Debi is enthusiastic about the growing Aquatic Therapy Program. Having gained the knowledge and experience required to complete this aquatic therapy certification has opened many new and exciting advanced techniques, some of which have already shown great benefits to Arbor Health patients.
"There are very few therapists in the state that have training in these techniques, so I think it is awesome that we are able to offer the services here for our community," she says. "It helps the community members, so they don't have to travel out of town for services."
Debi reports their pool therapy patients love the experience of the pool, and many want to continue utilizing it after their therapy has ended. For that reason, patients who have graduated from aquatic pool therapy can return to the pool independently to continue working on their program for a nominal per-visit fee. "We've had people in the community say, 'The only thing that keeps me moving is being in the pool,'" she said, adding that it is especially good for people who suffer from arthritis.
Like most everything else, the COVID-19 pandemic has curtailed some of the Rehabilitation Service Department's plans. Until the pandemic is over, they are limited to only two to three people in the pool at a time.  Debi looks forward to offering aquatic classes such as "Pool-ates," based on pilates techniques, as well as a Parkinson's class and Ai Chi class, which is similar to Tai Chi. "We just need to get through the COVID pandemic," she says wistfully.
Until then, the Rehabilitation Services Department offers twice-weekly pool exercise classes for $10 each. The total cost for the six-week program is $120 with a $20 discount if paid in advance. As with prior aquatic therapy patients, those who have participated in a pool exercise class have the opportunity to continue on their own for a $5 fee.
When asked if she had a favorite diagnosis to work with, Debi loves working with everyone but pointed to stroke patients as a particular group. She enjoys helping the patient realize they can still have a quality of life. "There is still so much they are able to do, and we can help people to get back to their daily living."
For more information about the Aquatic Therapy Program at Arbor Health, call 360.496.3593.
Sponsored