Submitted by Centralia College
Centralia College East in partnership with the Centralia College Foundation is hosting a three-part lecture series that features presenters from the Humanities Washington Speakers Bureau. The speakers are professors, artists, activists, historians, performers, journalists, and others — all chosen for their expertise and their ability to inspire discussion with people of all ages and backgrounds.
The following virtual presentations are free and open to students and the community. Visit the website to register.
Why Deny Science?
Michael Goldsby
6:30-7:30 p.m. Wednesday, October 27
Have you ever had a conversation with someone who denies a scientific finding? Perhaps that conversation was about something as big as climate change or something as small as the health effects of eating chocolate. But in most cases, there is a pattern to how people argue against scientific findings, no matter the scope of the issue at hand.
In this talk, philosopher Michael Goldsby sorts through the tactics and reasons many people use to argue against scientific claims. Michael Goldsby is an associate professor of philosophy in the School of Politics, Philosophy, and Public Affairs at Washington State University.
Redefining Protest Through Music
Ben Hunter and Joe Seamons
6:30-7:30 p.m. Wednesday, November 3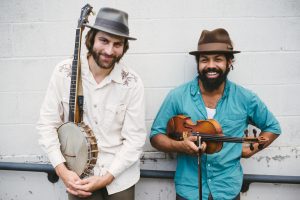 Acts of protest tap into layers of our heritage and identity that strengthen the foundations of what we are fighting for. So how can we root ourselves more deeply in our heritage and identity, thereby strengthening our fight against injustice?
Using roots music as a lens, Ben Hunter and Joe Seamons draw on stories, songs, and the people behind protest movements from around the world, connecting them with layered conceptions of heritage. Hunter and Seamons are nationally touring and award-winning acoustic blues songsters.
One Second of Hate: A Story of Forgiveness
Rais Bhuiyan
6:30-7:30 p.m. Wednesday, November 10
Rais Bhuiyan was shot by a white supremacist on a killing spree in Texas shortly after September 11, 2001. Despite being shot in the face, Bhuiyan survived, but two other victims did not. Remarkably, Bhuiyan spent months trying to save his attacker from death row. In the process, his attacker renounced his white supremacist beliefs and expressed deep regret for his fatal actions. In his final words before his execution in 2011, Stroman said, "One second of hate will cause a lifetime of pain."
As divisiveness continues to permeate our communities, Bhuiyan shares his story of resilience and reconciliation. Bhuiyan is the founder of World Without Hate, a nonprofit focused on preventing and disrupting hate and violence and restoring peace and understanding through storytelling and empathy.
Visit the website to register for any or all of the lectures.