Casey Cep of the "New Yorker" said, "The crime was striking a match. Never mind that the match broke before it caught, or that the fire was already burning."


The path to American Women's suffrage was a battle fought long and hard, with differences over strategy threatening to ruin the movement on many occasions and taking activists and advocates close to 100 years to secure the right to vote — proclaiming for the first time that they, as women, just as men, deserve every one of the like rights and responsibilities of citizenship.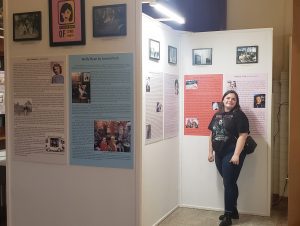 Executive Director of the Lewis County Historical Museum Jason Mattson recently opened an exhibit on various inspiring women in Lewis County, both past and present. Deriving from the idea, "In 2020 was the 100th anniversary of women's suffrage, so a lot of museums were doing similar exhibits," Mattson explained. Recently I went to the museum, and as a 19-year-old woman who has lived in the area my whole life, it was very exhilarating to see this display.
The exhibit includes some remarkable women who have helped found the towns we have now, like Eliza Barret, the Forgotten Founder of Chehalis, and our women of today who continue to outstand and make our communities a more wholesome place, such as Dr. Alicia Spalding.
Past Influential Woman – Judy Anne DuPuis
One notable woman from the past who I found inspiring was Judy Anne DuPuis, who had recognized early on how crucial her love for books was — leading to her tenacity of becoming a librarian, which she would later come to be and continue to do until she retired.
Mattson fondly recalls DuPuis as "someone I remember from my youth. She would come and tell stories during assemblies at the elementary schools. She was a librarian at Centralia for 30 some years. Her daughters got together and wrote the story about her. She was a great storyteller for Native American Tales." DuPuis was renowned for her 'book talks' that consisted of both voice and bodily gestures, bringing her tales to life, captivating not only children but also adults — which to this day can be reminisced throughout the region.
What I found most motivating about DuPuis was her consistency and way with people. She was set on what she was most passionate about and went for it while also influencing those after her to do the same — which stirred me as a young woman today to go after what I'm most ardent about instead of settling for what is conventional. She may have passed away, but her stories live on.
Present Influential Woman – Dr. Alicia Spalding
Another prominent woman I found inspirational was Dr. Alicia Spalding, a naturopathic doctor and founder of Nature Nurture Farmacy. The non-profit organization's mission is to build community health using herbal medicine, sustainable food cultivation and empowering education — laden with the ideology that food is medicine and health and wellness is a right, not a privilege.
I found Spalding highly inspiring because she had left the area to further her knowledge and then returned with "big plans and intentions to help people heal, grow and flourish." She didn't only see what her community was, she saw what it could become and chose to make it better.
Other Notable Influential Women
A few other women I found moving were Holly Ryan, who balanced raising small children and being a downtown Centralia entrepreneur. Matilda Jackson, a pioneering woman of the Washington territory who also lost her husband and partner on her journey along the way. Gladys Taylor was a Mossyrock adventurer, world traveler and castaway who had 'a fire inside her, and just wanted to see the world'. Eliza Barrett, the Forgotten Founder of Chehalis who was an impressively independent early developer of Chehalis.
I'm grateful for the women who have battled for me to have the freedoms I have today and the women who have grasped that and moved above and beyond to progress our community. As I walked through the exhibit and read through the many histories of these acclaimed women, I felt heartened to be a young woman with them as an inspirant. Therefore, you should take a trip to the Lewis County Historical Museum and decide for yourself who you find most inspiring. Mattson plans to expand the exhibit with more women in the future.
Over a hundred years ago, women lit the match, and the women acknowledged now keep that formidable fire burning by sharing their passions with our community.
The Lewis County Historical Museum is open Tuesday to Friday from 10 a.m. to 4 p.m. and Saturday from 10 a.m. to 2 p.m.
Lewis County Historical Museum
599 NW Front Street
Chehalis