Centralia offers many great things to do, and it's easy to hop on Twin Transit to get in on the adventure. With fixed-route bus service throughout the Twin Cities, Twin Transit can get you where you need to go. They offer weekday service from 6 a.m. to 7 p.m., and weekend service from 7 a.m. to 4 p.m. And their door-to-door transportation program, DARTT, operates from 8:00 a.m. to 5:00 p.m.
Explore Historic Downtown Centralia
Historic Downtown Centralia is an antique shopper's dream with a plethora of quaint and eclectic stores to wander through. You won't believe all the treasures you'll find! And more contemporary shoppers will find an array of delightful new shops with everything from art to clothes, toys and home décor. Here's a quick run-down of all the fun local spots:
Looking for a treat? Grab some frozen yogurt at Holley's Place, then stroll down Tower Avenue to discover some lovely local spots.
Don't miss the low-cost movies at McMenamin's Olympic Club.
See glassblowers in action at Central Glassworks or explore the art park at Hubbub.
Plant and animal lovers alike will enjoy the unique plants, pets and supplies found at Pioneer West.
A new addition to downtown Centralia is The Juice Box, a locally owned craft house serving brews from all over Washington State.
During the summer, cool off with the kiddos at the Pearl Street Splash Pad.
During the winter, keep warm skating at the Centralia Rollerdrome.
Play some vintage arcade games at Insert Coin.
Bowl the day away at the newly renovated Fairway Lanes.
Swing by the Centralia Timberland Library and pick up some good reads or take advantage of one of their many community-centered classes. And be sure to spend some time in George Washington Park, an area graced with many historical statues.
Enjoy Centralia's Natural Spaces
Were you looking for time in nature? Fort Borst Park offers acres of fun, easily accessed by Twin Transit's Orange and Yellow Line routes. Stroll the trails, explore the gardens, or step back in time and check out the historic Borst Home Schoolhouse. Kids will love the fun storybook trail, playground and wildlife-watching on Fort Borst Lake.
Need more outdoor time? Take a hike in the beautiful Seminary Hill Natural Area, a short walk from Historic Downtown Centralia.
Getting Around Town
Kids 18 and under, and those still in high school, ride free on Twin Transit! Children under the age of 10 must be accompanied by someone 16 years of age or older.
Adult riders can use Token Transit to purchase daily and monthly passes directly from your smartphone. It's only $2 for a day pass in the Twin Cities or $20 for the whole month.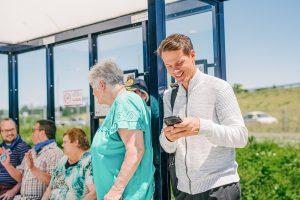 Plan your route beforehand – it's easy with route maps online at TwinTransit.org. You can even see where the bus is in real-time with Find Your Bus. This webpage allows riders to access individual bus stop timetables and track their bus location. Or, plan your journey in advance with Google Maps Transit Directions. Simply open up Google Maps and enter your origin, destination and departure time. Then select the public transit option (located between the driving and walking icons). Your route options with detailed instructions will appear. Plan to arrive at your stop five minutes before the expected departure to ensure you don't miss your bus!
Do you still need help? Just ask your friendly driver and they will be sure to get you where you need to go.
If you'd prefer to book a DARTT ride, simply call 360.330.5555 by at least 4 p.m. the previous day.
If you have any questions, give the Twin Transit office a call at 360.330.2072; their helpful team will happily assist you in planning your trip!
Sponsored