Starting the first Friday in August, shoppers at Ralph's Thriftway and Bayview Thriftway can feel the heat of grilled Hatch chiles during the annual Hatch Chile Fest. Grown in New Mexico and roasted locally, grilled Hatch chilies are a once-a-year specialty in the Olympia area. And during the month of August, lines gather around the block for a case of Hatch chilies fresh from the grill.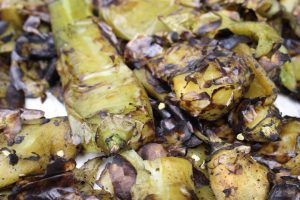 Each Friday in August, the Hatch Chile Fest roasting station will alternate between Ralph's Thriftway and Bayview Thriftway. On August 6 and August 20, the roasters will set up outside of Ralph's Thriftway, and on August 13 and August 27, the roasting will take place outside Bayview Thriftway. Roasted on-site, both Ralph's and Bayview shoppers will be able to witness the roasting process and purchase grilled Hatch chiles from 10 a.m. to 6 p.m. Chiles can also be preordered from the Olympia Thriftway website.
Named after their home soil, Hatch chiles are cultivated in Hatch, New Mexico. And during Hatch Chile Fest, chiles of varying spice levels will be available, from mild to searing hot.
"When you roast them, the flavor of these peppers is absolutely amazing," explains Nate Conat, produce manager for Ralph's and Bayview Thriftway. "They go from mild, to medium, to hot, to extra hot. And let me tell you, the extra hot will burn your mouth. They're grown in Hatch, New Mexico, and hence, they get the name Hatch. They look like an Anaheim, but the flavor when they're roasted, there is nothing better."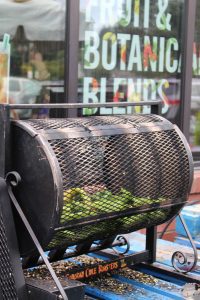 This year, samples of the grilled Hatch chile varieties will be available, so that shoppers can assess their preferred heat level. Conat recommends that shoppers sample the batch they plan to purchase because heat variations can occur from case to case.
"Each box can be different," says Conat. "It just depends. Everybody's taste buds are different, their heat levels are different, and so we want to give them that opportunity to taste them first."
Known for their unique depth of flavor and varying levels of heat, grilled Hatch chiles can be used in a range of main dishes or side dishes, or can also be enjoyed on their own. And during the festival, several featured recipes will be available both at the Ralph's and Bayview grilling stations and on their Facebook page to help inspire those purchasing grilled Hatch chiles. Conat says that chiles are versatile and can be incorporated into a wide range of recipes, from soups to dips, and even drinks.
"This year, we have three recipes that we're promoting," says Conat. "They're going to be on clear stand ups. People can take a picture with their phone of the recipe. This year, it will be Hatch chile corn pudding, Hatch chile cheesy dip, and then we're doing Hatch chile margaritas."
Since Hatch Chile Fest only takes place for a limited time each year, many shoppers purchase grilled Hatch chiles by the pound, or by tens of pounds. And throughout the festival, Hatch Chile Fest roasters will grill dozes of cases of chiles to meet the demand. Since large orders are a common occurrence, the festival will also display best practices to preserve the chiles for later use.
"We have big signs of how to process your peppers," explains Conat. "Because I have people who come up and get 50 pounds of chiles. It's a big deal. They take them home, so they're hot and they skin them, the skins almost fall right off. And then they usually cut the end off, where the stem is, and then they freeze them. Some people chop them up so they have diced green chilies and they use them in all kinds of recipes from soups, like a white bean tortilla soup, or they'll use them in enchiladas. Breakfast eggs are really popular. There are hundreds and hundreds of recipes out there."
The Hatch Chile Fest will take place at Ralph's Thriftway on August 6 and August 20 and at the Bayview Thriftway on August 13 and August 27. Chiles will be available for purchase from 10 a.m. to 6 p.m. Preorders for grilled Hatch chiles can also be made on the Olympia Thriftway website.
Sponsored