Put on your red, white, and blue, it's time to celebrate the Fourth of July in Grays Harbor County! There is nothing like seeing fireworks set off over the ocean, or taking dinner by the sea before heading to your favorite firework show. Many places throughout Grays Harbor are pulling out all the stops to give you a wonderful holiday, making the trip to the coast definitely worth it. So, pack up the car and take a day trip to see the 2021 4th of July Fireworks in Grays Harbor County.
Have a Safe and Responsible Fourth of July in Grays Harbor
Before heading out, be sure you come prepared to make your Fourth of July a safe and responsible one. Bringing along personal fireworks? Check with Grays Harbor County and the city you will be visiting for current rules on setting off personal fireworks. While most of the cities follow state laws, some have their own rules on when you can light them off. Westport does not allow any fireworks in town, restricting their usage to the beach along Half Moon Bay, at least 200 feet west of the beach grass line.
You can light personal fireworks July 3-4 in Ocean Shores. They will have extra firefighters standing by to make sure everyone stays safe. Ocean Shores does not allow you to set off fireworks within the city, except on the beach Between Marine View Drive Beach Access and Damon Beach Approach. You must be a minimum of 100 feet west of the dunes.  "Just prior to 4th July there will be marker flags placed out on the beach to mark the 100-foot buffer zone where people cannot set up on the beach," shares Crystal Dingler of the City of Ocean Shores. If you are staying in an Ocean Shores hotel, ask the front desk to see the flyer with more details, or visit the Fourth of July webpage and contact the City if you have questions about what is allowed or not allowed.
Remember to be responsible visitors and pick up after yourself! Just as you should "leave no trace" when visiting our parks, the beach towns are often littered after major holidays. Remember to pick up all pieces of fireworks, and any other garbage, and take it with you when leaving. Help keep our beaches clean, as well as safe for animals and people! It's a good idea to bring your own garbage bags and even gloves to help you clean up. Since most of us are celebrating until after dark, bring a flashlight to help you see.
Of course, if you don't want to have to clean up (and who does on a holiday!), leave it to the experts! Go to a local restaurant for dinner and then head to a professional show to see all the beauty without all the work!
Wanting to stay the night? There are many places in Grays Harbor that are wonderful to stay at, from the Quinault Lodge to the Tokeland Hotel and many more.
Check back here or with the event coordinators for any changes that may occur due to COVID mandates.
Where to See Fourth of July Fireworks in Grays Harbor
Oakville Independence Celebration Parade & Car Show
Saturday, July 3
Highway 12, downtown Oakville
The Oakville Independence Celebration Parade and Scoot the Route Car Show is back! The Parade will begin at 11 a.m. along highway 12, right through the middle of Oakville. Want to join in? Registration is now open! Save $5 by registering in advance here. Parade check-in and staging for participants will take place from 8 a.m. to 10 a.m.
After the parade, stick around for vendors and to take a look at all the cool cars in the car show! If you need to cool off, there will be a beer garden for adults as well on the lawn between Park Street and School Streets. For more information visit the Oakville Chamber of Commerce Facebook page.
Oakville Junior Rodeo
July 3-4
Oakville Regional Event Center
7000 US Highway 12, Oakville
Also happening July 4 weekend in Oakville is the Junior Rodeo! The rodeo riders will appear in the parade, and event participants can easily travel between the festival area and the rodeo grounds, which are just on the other side of the school. Check the Oakville Regional Event Center Facebook for upcoming details.
Westport Booming Bay Fireworks Display
July 4
The Westport Fireworks will start at dusk and will be shot off over the marina! This is something you just can't see inland. It's well worth the trip to see the fireworks go off over the ocean. Come early and get a bite to eat at a local seaside restaurant and then park your car and watch the show!
Aberdeen Splash Festival
July 4
10 p.m.
Morrison Park: 1301-2527 Olympic Hwy, Aberdeen
Aberdeen's Splash Festival on the 4th of July will be a firework show only due to COVID. Bundle up in your car, brings some snacks and maybe a card game or two to play while you wait for it to get dark. You are sure to enjoy the evening! Fireworks are set off over the river at  Morrison Park around 10 p.m. There are many spots for you to park and enjoy the show! For more information, call the City of Aberdeen at 360.537.3229.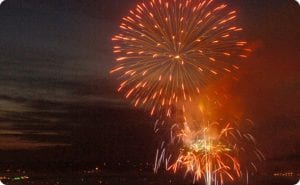 Q Mart Fireworks and Mid-Season Championships at Elma Grays Harbor Raceway
July 10
32 Elma McCleary Road, Elma
Busy on the Fourth? You can get a second round of fireworks by heading out to the Grays Harbor Raceway Q Mart Fireworks and Mid-Season Championships! It's a great day trip the entire family will enjoy. See 360 sprint cars, limited sprint, modifieds, super stocks and hornets all compete for titles. Then, get ready for a giant fireworks show you won't soon forget! Purchase your tickets in advance on the Grays Harbor Raceway website.
Aberdeen Tall Ship Tours
Canceled. This year there will be no events with the Tall Ships at the Grays Harbor Historical Seaport due to COVID. They are hoping for next year! For more information, visit the Grays Harbor Historical Seaport website.
Quinault Beach Resort and Casino
78 State Route 115, Ocean Shores
The Quinault Beach Resort and Casino has not announced yet whether they are doing their fireworks. Please check back here for updates!
Sponsored