As the winter chill melts into sunny skies and as boot weather transitions into sandal weather, Foot & Ankle Surgical Associates (FASA) is equipped with a wellness team that is ready to help patients achieve spring-ready feet. Throughout the South Sound, several FASA locations provide both surgical and noninvasive podiatry services for injuries and ailments of the foot, ankle and toes. Using a multi-step approach, FASA treats a wide range of chronic foot conditions, including fungal infections of the toenail.
If a fungal infection has developed in a patient's toenails, there are multiple courses of treatment that could send patients on a path toward happy, healthy, spring-ready feet. Dr. Casey Bowles, a provider at FASA's Olympia Clinic, says that the first sign of a fungal infection may be the formation of a white or yellow spot on the toenail. After the initial sign of infection appears, symptoms can escalate to include discoloration or flaking of the toenail.
"Sometimes there are dark colors and debris building up underneath the toenails," says Bowles. "And then if they get really thick like that, sometimes the brand-new toenail gets kind of smelly. Those are the main things to look for: thickness, discoloration, brittleness, and they stop growing long and instead start growing up."
For fungal infection of the toenail, treatment options vary, depending on the severity of the infection and its response to topical treatment. Bowles says that at the first sign of infection, the patient can try an over-the-counter topical medication. But if the infection continues after a week or two, the next step would be to visit the podiatrist for more individualized care and a more accurate diagnosis.
"After more than a couple weeks of over-the-counter treatment, see a podiatrist for further intervention or biopsy," explains Bowles. "Then, we can see if you need prescription medications."
When fungal infection sets in, treatment may be multi-faceted, including the use of laser therapy, medication, medical pedicures and thinning out the nail to make other treatments more effective.
"It's a combined approach to treating fungus," says Bowles. "But there are things you can do to treat it, and things to prevent it like wearing shoes, changing your socks and cleaning your feet. But if it doesn't work, you can see a podiatrist and get a medical pedicure. You can use the topical medications."
If a topical medication alone is insufficient, the next course of treatment could include laser therapy or oral medication. Laser therapy is a popular next step because it is non-invasive, doesn't require any internal medication and has fewer side effects. Laser therapy can also be a more effective option when combined with additional treatments, like a topical medication.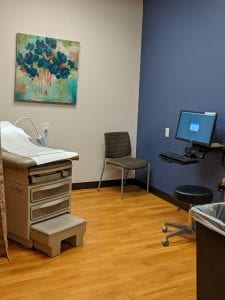 For severe infections, a patient might also be prescribed an oral medication, which could help to clear up the infection. The use of laser therapies and oral medications depends on the severity of the patient's infection and their medical history. "Options include topicals, laser, and then oral medication," says Bowles. "Which is kind of the last line for chronic, really bad infections."
For patients interested in laser therapy, the FASA Family Wellness is home to the Cutera Laser, which helps to treat fungal infections of the toenail. This laser treatment is administered by friendly and well-trained staff, including Andrew Gallwas a FASA wellness coach and laser technician. Gallwas works with each patient to create a safe, comfortable and effective laser treatment by answering patient questions and by providing step-by-step information along the way.
"A lot of people do get nervous, but it's nothing to worry about," says Gallwas. "Once a patient has come in and they've seen the doctor, then essentially the laser is just pointing a light at the nail for a certain period of time. Some people like to talk, some people like to play on their phones. If it's one nail, it takes maybe 5 minutes or so, if it's all 10 of them, it can take a good hour."
Sometimes, a patient may only have a few toenails that are infected. If that is the case, Bowles says a possible course of treatment is to remove the infected nails. By removing the nail, it allows for better treatment of the infection, while also helping to prevent further infection.
"If it's one or two nails, like the big toenail, for example, the best way to get rid of that is actually to take the whole toenail off," explains Bowles. "It is a minor procedure in the office. And then, as the toenail grows back, we can put antifungal medication right on the new nail that grows back."
A patient's risk for contracting a fungal infection depends on a number of factors, including age, medical history and each individual's immune system. In addition, there are steps a patient can take to prevent infection. This includes proper hygiene, like washing hands and feet regularly, and changing socks often. In addition, disinfecting areas with heavy foot traffic, including pools and showers can help to reduce infection.
For patients who enjoy nail salons, it is important to choose a location that follows proper sanitation procedures. "For people who get pedicures, it's very important to go to a place where they actually sterilize the manicure tools," says Bowles. "A lot of places don't. They put tools in cold sterile and you have to make sure that tools are actually sterilized versus being thrown in some solution that they use on everybody. Nail salons with autoclaves are very important."
To learn more about the services FASA offers, or to schedule an appointment, visit the Foot & Ankle Surgical Associates website.
Sponsored