The year was 1921. Rookie Centralia policeman Louis Sonney was newly appointed to the force by Chief A. C. Hughes. Hughes was impressed by Sonney's ability while refereeing a wrestling match to make an unpopular call stick regardless of the rumblings of a disgruntled crowd. Sonney's confidence and ability to maintain law and order was exactly what the Chief needed. Meanwhile, there was a manhunt in the Pacific Northwest for the escaped train robber, Roy G. Gardner.


Gardner grabbed headlines. Famous not only for his ruthlessness but also for his cunning and charismatic personality, he was called the 'Smiling Bandit,' 'Mail Train Bandit,' 'Gentleman Bandit,' and the 'King of Escape Artists." From 1920-1921 Gardner went on a spectacular spree of robberies which led to his arrest, capture and escape twice before he encountered Sonney.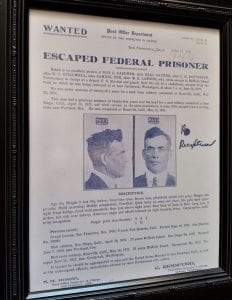 During his second transport to McNeil Island, he eluded his captors and jumped on a train in Castle Rock. With a $5,000 bounty on his head, Gardner arrived in Centralia heavily disguised as a burn victim, his face plastered and bandaged.
Despite his efforts, he aroused suspicions at the Olympic Club in Centralia. At the Oxford Hotel, now part of McMenamin's Olympic Club, he was recognized by proprietor Gertrude Howell and "Louie the Cop." When Louie Sonney saw a firearm in Gardner's hotel room, a fight ensued. Gardner was arrested, and after a doctor removed the bandages, the Smiling Bandit's identity was confirmed.
A chain-laden Gardner finally arrived at McNeil Island. However, Gardner went on to escape McNeil, Leavenworth and nearly escaped Atlanta Federal Prison. He was eventually sent to Alcatraz, where he served alongside Al Capone.
As he was affectionately called, 'Louie the Cop' collected the $5,000 ransom for Roy Gardner's arrest. It seems that Gardner made quite the impression on Sonney, and they became fast friends. Not only did Sonney regularly send cigarette money to Gardner in prison, but he also turned over half his $5000 reward to Gardner's wife.
The Spectacle Continues
Louis Sonney gave up being a cop, moved to Los Angeles and started his own entertainment company. One has to wonder if his brush with the Smiling Bandit's fame inspired the move. Sonney Amusement Enterprises, which specialized in making a spectacle of crime, always carried the message that crime doesn't pay.
Sonney even has a biography on the entertainment website IMBd that reads, "Louis Sonney was born in 1888 in Bellingham, Washington, USA. He is known for his work on Hell-A-Vision (1936), Capital Punishment (1925) and The Wages of Sin (1938). He was married to Dorothy K. Sonney. He died on June 25, 1949, in Portland, Oregon, USA."
According to the 1920 U.S. Census, Louis S. Sonney was actually born in Italy in 1887. He became a naturalized U.S. Citizen. His first wife was Rose Sonney, and the couple had five children together. By the 1930 census, the family had moved to Los Angeles. Their sons Daniel and Edward went into the entertainment business with their father. Rose died in 1941, and that same year Louie married Dorothy K. Sonney.
Gardner was paroled in 1938. He wrote an autobiographical book titled Hellcatraz in 1939. He and Louis Sonney collaborated on projects like stage appearances on the old Pantages vaudeville circuit and a re-enactment short film called 'You Can't Beat the Rap.' However, their collaboration didn't last long as Gardner died by suicide using poison gas in his hotel room in 1940.
The McCurdy Corpse
Another strange story linked to Sonney's entertainment company is that of the corpse of Elmer J. McCurdy. McCurdy was another train robbing outlaw who was rather inept. In 1911 he died in a shootout with police. He was embalmed using arsenic by an undertaker who refused to release the body or bury it until he was paid for his services. The body went unclaimed. So, the undertaker put it on display. Spectators came to see it with the admission of a nickel put in the corpse's mouth. Patterson Brothers bought McCurdy and took the 'embalmed bandit' on the road in a traveling sideshow.
Enter Louis Sonney. According to the Bangor Daily News, "In 1922, the Pattersons sold the mummy to Louis Sonney, who operated a traveling "Museum of Crime," featuring wax figurines of famous criminals."
Louie Sonney died in 1949 of a cerebral hemorrhage while traveling through Portland. His son Daniel continued to loan out the mummified McCurdy from time to time.
By the 1960s, the identity of the McCurdy mummy was forgotten. The body, believed to be a dummy, spent years in a haunted house hanging from a noose and covered in neon paint until a worker went to move it and the arm came away, revealing human bone and muscle. After a forensic investigation, a ticket stub with 'Louis Sonney's Museum of Crime' was found in McCurdy's mouth.
Always Called Centralia Home
According to Sonney's 1949 obituary, which ran in the local newspaper, "His widow, who was with him when he was stricken, said he regularly 'dropped in to see his friends in Centralia—the policemen and firemen.'" He always considered Centralia his home town.
Several pieces of Roy Gardner and Louis Sonney memorabilia and artwork are found in the Olympic Club Hotel. You can even book a stay in the Roy Gardner Room and see it firsthand.