Submitted by Twin Transit
Dial-a-Ride Twin Transit (DARTT) is expanding! The door-to-door transportation program now serves Centralia, Chehalis, Napavine, Morton, Pe Ell, Tumwater, Mossyrock, Toledo and surrounding areas. DARTT even offers rides to Olympia!
Where is the new DARTT service area?
DARTT helps you get where you need to go, including medical appointments, the grocery store, the pharmacy, and more. The DARTT service area map is broken into three zones, differentiated by colorful circles, as pictured below: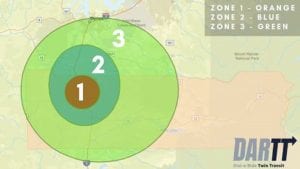 How do you book a DARTT ride?
Simply call 360-330-5555 to book and pay for your ride, by at least 4:00 p.m. the previous day. Once your reservation is made, a van will pick you up at the appointed day and time and take you where you need to go.
How much does it cost?
The price of each DARTT ride is determined by the originating zone, plus the number of additional zones that the ride passes through. To price a specific ride, call 360-330-5555. A pricing chart and examples are also available at TwinTransit.org.
Connecting with fixed-route bus service
If you choose to connect your DARTT ride with Twin Transit's fixed-route service, you will receive a free bus pass for that portion of your trip.
Please note:
All DARTT rides are one-way. To book a round-trip ride, simply schedule two one-way trips – one to the destination and one return.
Reservations must be made by 4:00 p.m. the previous day (although more advance notice is appreciated).
Rides are available Monday through Friday, from 8:00 a.m. to 5:00 p.m.
Pickup and drop-off points must be located within the DARTT service area.
At least two hours' notice must be given for any cancelations or rescheduling of appointments.