Free cooking classes and community outreach are not two things commonly thought of relating to hospital cafeterias. In fact, the old days of stereotypical grimace-inducing "hospital food" is a thing of decades past, or at least this is true for Arbor Health, Morton Hospital's cafeteria.
Morton Hospital has good food. In fact, prior to the pandemic shutdown, the cafeteria had earned an esteemed reputation in the community, especially among senior citizens. Many local seniors came into the hospital for their daily mid-day meal. The food was delicious, inexpensive and prepared in a healthy manner.
Knowing how important the cafeteria was to the local residents made the decision to close to the public at the onset of the pandemic a difficult one. However, the cafeteria layout and staffing levels made it near impossible to ensure social distancing. The department's leadership team of Dietary Manager Kevin Conger and Dietary Supervisor Madyson Counts came up with a solution for the seniors as well as a healthy-cooking outreach for the community.
Curbside-Pickup Senior Meals
Kevin and Madyson realized that while we could not host the seniors for their meals, we could get the food into the seniors' hands for home consumption. Each day, Kevin and Madyson package the pre-ordered meals and wait at the designated parking spots in front of the hospital for the curbside pickup. The updated menu is posted each week on the organization's Facebook page and website for the following week. The meals, complete with a beverage and dessert, are just $5 and available for pickup Monday-Friday between 12:30-1:30 p.m. The weekly-changing menu includes such meals as popcorn shrimp, fries, salad and a jam bar or meatloaf, mashed potatoes & gravy, green beans and a crispy rice bar. Meals are required to be pre-ordered, preferably at least one day in advance, by calling 360.496.5112 ext. 4230.
Free Virtual Cooking Classes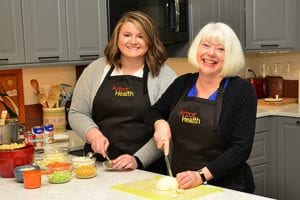 Another outreach idea is kicking off on Wednesday, March 31. Once per quarter, Kevin and Madyson will offer a free virtual cooking class. Minestrone soup will be the first class, set for 5:30 p.m. on Wednesday, March 31. There are only 12 spots available. Online pre-registration is required. Once the cooking team receives your registration, they will email you the list of ingredients and the Zoom link.
The class will be recorded for those who are unable to attend the live class.