Many Easter and springtime activities are back for 2021 after COVID-19 caused the cancelation of most events last year. With a bit of creativity, Easter celebrations are happening in Chehalis, Centralia and Lewis County. Nothing says spring like Easter egg hunts, the Easter bunny, and enjoying time outdoors.


Chehalis
See the spring season in all its glory with The Chehalis Centralia Railroad & Museum. The 30 minute Eggspress Train is Saturday, April 3, with departs at 11 a.m., 12:30 p.m., 2 p.m., and 3:30 p.m. This family-friendly spring train ride offers indoor and outdoor seating, a chance to see the Easter bunny, and an Easter egg hunt after for the kiddos. Tickets for this special event are $16, and kids under two ride free with an adult.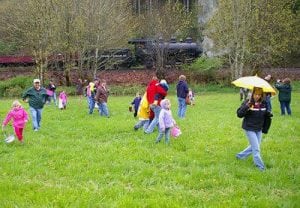 The Easter Egg hunt is divided up by age groups with up to 3 years, 4-7 years and ages 8-12. Bring your own baskets and enjoy the fun — rain or shine! Reservations for general seating must be made online before the event. Please arrive a half-hour prior to departure. The Chehalis-Centralia Railroad & Museum is at 1101 SW Sylvenus St. in Chehalis. For more information, call 360.748.9593 or email info@steamtrainride.com.
In place of the massive Easter egg hunt at Bethel Church, don't miss the Easter Eggstravaganza To-Go from 10 a.m. until noon on April 3. At this fun drive-through event, families can come to Bethel Church at 132 Kirkland Rd. in Chehalis and pick up a filled basket. The great folks at the church are giving away 2,000 Easter baskets filled with candy, teddy bears, small toys and other fun things. Easter baskets are first come, first serve while supplies last.
Jeremy's Farm to Table hosts a yummy Easter Brunch Buffett featuring Prime Rib, roasted leg of lamb, omelet and egg station, gluten-free desserts and so much more. The brunch is on Sunday, April 4, from 10 a.m. to 4 p.m. Make reservations now by calling 360.748.4417. Adults are $39, seniors and Veterans are $34, kids age 6-12 are $17 and kids under 5 eat for free. Find Jeremy's in Chehalis at 576 W. Main St.
Centralia
Don't miss Easter fun and candy with Life Center. The church is sponsoring a socially distanced candy chute at Washington Elementary at 800 Field Ave. in Centralia. The fun starts at 11 a.m. on April 3, until the candy runs out.
Are you looking to make some home improvements this spring? Check out the 56th Annual Home & Sportsman Show featuring vendors far and wide to help with all your home improvement and sportsman needs. The experts are on hand to help create a beautiful landscape or display garden for any home or business. Find what's new in outdoor hunting, fishing, sports, and more.
Sponsored by The Centralia – Chehalis Chamber of Commerce, admission is $2 for adults, $1 for kids and seniors or $5 for a family of five. The Home & Sportsman Show is at NW Sports Hub at 701 Pioneer Way in Centralia. The show begins on April 2 at 9 a.m. and ends on April 3 at 6 p.m.
Don't want to cook? Make the holiday easy and delicious with Dawn's Delectables Easter Brunch! This yummy brunch option features three quiche choices in packages sized to feed two or four people. Included with the quiche are bacon or sausage links, cinnamon rolls, truffles by Moonstruck Chocolate Co. and fresh fruit salad. Add a side of Mediterranean quinoa salad or seafood pasta salad for an additional cost.
Just call or stop in to reserve a brunch order, choose options, and pick it up on Easter morning between 8 a.m. and 9 a.m. Gluten-free options are available with gluten-free carrot cake substituted for cinnamon rolls. Reserve your order by calling 360.807.4393. A limited number of takeout brunch orders are available.
Pe Ell
On April 3, starting at noon, find the Easter Bunny in Lewis County Fire District #11's fire truck driving around Pe Ell. The furry friend will drive by houses and deliver a special treat to kids!
Mossyrock
Mossyrock Fire Department hosts their annual Easter Egg Hunt on April 3 at 10 a.m. on the Mossyrock School front lawn. For kids ages 1-12, find the golden eggs for prizes!
Get outside and enjoy local state parks like Rainbow Falls, Lewis and Clark or Ike Kinswa on April 3 for free day at all Washington State Parks. The Discover Pass is not needed in recognition of Spring Day. Pack a picnic and bring the whole family for outdoor fun. Don't have a yard to hide eggs? Bring the eggs and baskets to the park for your own egg hunt!
Appreciating springtime in Lewis County is easy with so much fun happening. Spend some time with your family and create new Easter or spring traditions with one or more of these exciting events.