Imagine being a child in the foster care system. You are in turmoil over being taken from the only family you know. Anxious and scared, the only thing you have is a big black garbage bag to carry your belongings in. Karin Bailey was a volunteer at CASA (Court Appointed Special Advocates) and witnessed this scenario many times when she decided to take action. She and three of her friends took $100 and bought duffle bags and delivered them to DCYF.
From that compassionate act, Luggage of Love was born with a mission to provide hope and dignity to foster and vulnerable children in the midst of sadness and uncertain situations beyond their control.
Six years later, the non-profit organization Luggage of Love has helped over 1,000 children. Realizing many times belongings are left behind when children enter foster care or a homeless shelter, the wonderful people at Luggage of Love work to make the transition more comfortable for kids in unfortunate situations. The amazing volunteers prepare what is called a comfort bag. The signature comfort bag includes things many of us take for granted daily. The duffel bags are filled with a brand-new pillow and case with a blanket to match, a new hairbrush, flashlight and other items specifically chosen for the child.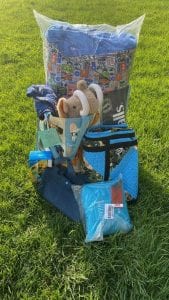 "We created our signature comfort bag to help foster children feel loved and to give them some hope and dignity," President and Founder of Luggage of Love Karin Baily says. What a great triumph it would be if children in foster care never had to carry a garbage bag of their belongings again.
Typically, Karin does not get to see the child's reactions, yet one encounter holds a special place in her memory. The eight-year-old girl she was advocating for showed her the comfort bag she had received. The child not knowing that Karin was involved in the non-profit pulled out all the contents of the bag item by item. With tears in her eyes, she showed Karin her new hairbrush, comb and mirror set and said she had never had a hairbrush of her own. She wrapped the blanket around herself and tried to read her book even though she had never been to school or learned to read. "Her question to me after all in her bag was shown was, who would do this for me?" says Karin. "Do I get to keep it?"
All children want to feel safe and loved. Luggage of Love's goal is to help whenever foster parents need them, even filling special requests when possible. If a child did not go through DCYF, Luggage of Love is not notified so that's when foster parents need to reach out to them on their website or  Facebook.
While foster parents do get a stipend, often it does not come until days and sometimes weeks later. Sometimes the foster parents are at capacity or are in situations where they are not prepared. Luggage of Love is there to help on those first and often the hardest nights.
When board member Brandon became a foster parent and took his first child in, the Lewis County DCYF office gave him a comfort bag. "The pure joy on the child's face made me realize this was an organization I absolutely wanted to be a part of," he says. Brandon is now playing an essential role with Lewis County Luggage of Love. "This organization has brought so much happiness to each child I have had in my home," Brandon says.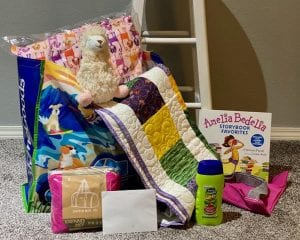 Everyone can help Luggage of Love heal little hearts. The positive effect of donating or helping to assemble and deliver the bags is enormous. While they rarely need to purchase blankets or pillows because individuals and groups spend a significant amount of time sewing and quilting so the children get beautifully handmade items, there is an urgent needs list.
Interested in helping? Check out the You Can Help tab on the website. Anyone can assist by making handmade motivational cards to include in the bags, and books (new only) and bookmarks are always needed. Luggage of Love is also looking for a larger pool of on-call volunteers. The Lewis County Luggage of Love is also in need of a dry, clean storage space to store completed bags and other items. It does not have to be huge — just accessible to the volunteers.
The children in Lewis County are our future regardless of their story or situation. With a community focused on kindness and inclusion, all children will feel safe and loved.
You will never regret the investment of time, love, and compassion you have sown into the life of a child. – Sarah Dumas, A Heartland for Children foster parent.
Luggage of Love
Phone or text 360-430-0173
info@luggageoflove.us
P.O. Box 367
Kalama, WA 98625