The doors of the WSU Lewis County Extension office are closed, but Master Gardeners, one of the volunteer arms of WSU Extension, are still active and working in the community, according to Jason Adams, coordinator of the WSU Lewis County Extension Master Gardener Program.
"WSU is not allowing any in-person training which is a real challenge for us because we do a training every single month," Adams said. Normally he has an average of 14 people in training throughout the year. Now, there has one applicant since COVID-19 started to spread in March.
What is a Master Gardener? "WSU Extension trained volunteers are prepared to help the community by giving advice on growing plants, insect identification, sustainable landscaping and managing disease problems," Adams said.
A Master Gardeners' certificate requires a minimum of 10 hours of continuing education and 30 hours of volunteer service such as answering garden, insect and landscape questions in the plant and insect clinics and offering educational outreach to schools and the community. It also entails helping with activities sponsored by Master Gardeners. In addition, Master Gardeners care for one of four demonstration gardens scattered throughout the county.
Normally the course would cost $214 for either the hands-on class or the online course. Training typically starts in January and runs through November and can be joined at any time of the year. That has all changed until Phase 4 conditions have been met for COVID-19.
"Cowlitz and Snohomish counties were using online technology, but the rest of us were still doing in-person training," Adams said. "Developing online programming is one of my biggest goals."
When COVID-19 restrictions hit, a class was currently in training. "Some students told me that they don't have the patience to sit in front of a computer for six hours," Adams said. "I'm going to have to cut some of the non-essential training topics."
There are 25 chapters in the Master Gardener's manual. Core topics will stay and students will work on projects at home.
Adams is open to change. He is in a weekly Zoom group with all the state coordinators. They discuss best practices, share what they're doing and what works best for them. "There are a lot of good ideas out there," Adams said.
"I'm looking for something, so I don't have to re-invent the wheel," Adams said. All his quizzes and some of his modules are already online. Students will have a lot of things to do at home. Class discussions will take place over Zoom. "You get a lot of your instruction through class discussion," Adams said.
Tours are another way to learn through observation. Adams had some "neat" tours lined up for this year, but they had to be canceled. Another hands-on activity that will have to change is the competition among the students to bring in the most insects or types of weeds. "We do a lot of hands-on that is really going to be hard to duplicate," he said.
Yet, Adams is working hard to make that happen. The WSU has an online learning platform called Blackboard. He's busy gathering links, trying new functions and learning how to use the program to create presentations and projects online. "Turning hands-on class projects into something online is what I wanted to do before COVID," Adams said.
"Internet access is going to be the most important thing," Adams said. "Trainees should have high-speed internet to access videos and other things on Blackboard. They also need computer skills to go to the website and take their tests."
Adams encourages interested people to join the team of skilled Master Gardeners in the area to help promote public interest in gardening and home horticulture through education and other activities. "I tell other Master Gardeners the idea of teaching classes online can seem scary and uncomfortable because it's new to Lewis County. We have to do it and once you do it's not that bad," Adams said. "I tutor and mentor people along the way. During the private orientation, I'll show trainees how to access all the training and volunteer resources."
About 75% of the Master Gardeners are seniors or retirees. Master Gardener classes is often their way to stay active and engaged. The Master Gardener program offers many opportunities for younger and older adults to learn, serve, and interact with the public and other Master Gardeners in a safe environment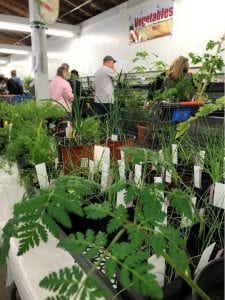 The work is important, especially now with many families starting gardens for the first time. According to their website, "The foundation works closely with community leaders, home gardeners and federal, state and county agencies to provide home horticulture information to the public and to protect our environment."
"Right now, I want to train leaders," Adams says. "We want community-minded people, who will train others and feel comfortable giving a workshop or maybe a demonstration, take on a project, join a committee or do something to promote the community all while learning."
The Master Gardener first came about in Pierce and King Counties. WSC extension offices were inundated with questions from clients and the agents couldn't help everyone. The first Master Garden started in 1973 and Lewis County followed shortly afterward in 1980. Now, Lewis County is celebrating its 40th year.
"This is a perfect time to get into the program," Adams said. "I think it will make us a tighter group. This is a scary but exciting time."
Online Master Gardener training will begin on Monday, January 4, 2021. Training will be held every Monday from 9:00 a.m. to noon on Zoom until June 7, except for federal holidays. Training brochures and applications are available at the WSU Lewis County Extension office at 17 S.W. Cascade Ave. in Chehalis or via email at jason.adams@lewiscountywa.gov. Applications must be submitted no later than December 15, 2020.