As we cautiously begin to gather in places outside our homes with people outside of our households, Phase 3 of Washington's Safe Start program has us brimming with possibilities. Small backyard weddings, belated graduation ceremonies, religious gatherings, or even a socially-distanced face-to-face celebration "just because" – and because we no longer take in-person gatherings for granted anymore. Now, the need for tents, chairs and supplies is greater than ever, and renting pre-sanitized equipment is a great solution for our new-found quandaries.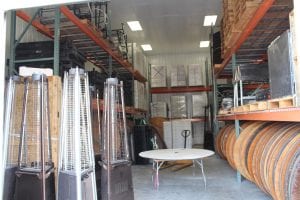 Celebrations Events and Party Rentals never stopped operating in quarantine. You would think that a party rental store would be the first to go, but the stay home order had the opposite effect on the business. Shari Godwin, the store's assistant manager, recounts how the store sprung into action in the early days of quarantine. "We went to an emergency services protocol," Shari says, "which means we were on-call to provide tents for any of the hospitals and the Department of Veteran's Affairs for COVID-19 testing."
She shares that Celebration's was able to cover a lot of territory, erecting tents locally, but also in Seattle, Mason County and Centralia.
"When this all started," Shari says, "we were only doing government and hospital requests." But once Governor Inslee stated in his order that religious services could take place, including weddings and memorials, Shari says "that's when we really started getting some calls."
Celebrations works hard to fulfill a special niche in our community. The comforting and often heart-warming act of gathering is a time-honored tradition that most people find hard to give up. Just as Celebrations has been committed to our community for decades, they are also committed to the health and safety of our community when it comes to party rentals.
"We've got all of the social distancing markers up," Shari says, "and are limiting people in the showroom." So far, Celebrations hasn't met the need to require appointments for visits to the showroom but does ask guests from different parties to wait their turn for assistance outside or in their cars.
Their entire staff is trained in social distancing protocols and wear the proper protective equipment. They've created a system for their entire operation, even down to the returns where clients remain in the car and Celebrations staff unloads the returned rentals.
"We have 5,000 of the dining white chairs," she shares. "So, we are able, very able, to just rotate through them."
But not only that, Celebrations has created an area where returned rentals "quarantine" for a period of time and then are sprayed down with sanitizing chemicals. The Celebrations facility encompasses over 9,500 square feet, with the majority of the facility smartly packed floor-to-ceiling with wares that are high-quality, unique, chic, and most-importantly, rentable. Renting items during a pandemic is a cost-effective, and environmentally-friendly solution to purchasing disposables. Five dishware patterns, three silverware patterns and endless glassware options provide the ability to highly-customize.
"We are client-centered," says Dave, Celebrations long-time store manager. "And not only do we have a good relationship with our customers, but with our competitors, too. We re-rent products, so if we don't have it, we'll source it and re-rent it to the customer."
It's rare that celebrations do not have what's being sought after. Aside from the band covers, large and small tents, PA systems, tables, chairs, etc., that are commonly rented for corporate events, they also have unique items to elevate any party. Red carpets, gaming wheels, BINGO sets, volleyball sets, stanchions, fountains of all varieties and temporary power, a very popular item. "Temporary power is huge," Dave says, "because it opens up the landscape of where an event can be held and doesn't limit it."
In today's landscape where being outside is not only safer but during a Pacific Northwest summer is the preferred option, Celebrations can help you achieve your outdoor, socially-distanced event goals. If you can dream it up, they can likely bring it to life.
While the staff at Celebrations are not party planners, they are party coordinators, and Dave says many are choosing to forego the fancy and costly venue in lieu of hiring Celebrations to bring the glitz and glam. "We can put together something really glamorous for half the cost," he says.
What sets Celebrations apart from others is their deep knowledge of local venues. Dave and his team are familiar with almost every venue in our county (and neighboring ones) and are a great resource. Shari explains that they haven't heard from venues specifically on whether or not they are open for business, but the folks at Celebrations have great ideas on lesser-known facilities if you need more places to look. This intimate knowledge, and the ins and outs of party and event planning only comes from experience. Celebrations gain much of this local knowledge by their faithful and robust repeat clientele.
As we slowly begin to infiltrate further afield from our homes and gather together in our beautiful South Puget Sound, Celebrations is at the ready to help you safely plan your next event. Get a free quote and browse their rental catalog on the Celebrations website.
Celebrations, "The Party Store"
4614 Lacey Boulevard SE, Lacey
360-754-RENT (7368)
Sponsored