The 4th of July is about patriotism, food, fun and – best of all – fireworks in Centralia. We may not be able to congregate for parades or fireworks, but there are other creative options when it comes to having a fun and safe 4th of July. Here's a complete guide on how to celebrate America's birthday locally.
Centralia
Start the celebration off with style and purchase $5 flag shirts from Alderson's Awards West Printwares. With many different colors, sizes and styles, stop by Thursday, July 2 from 9:30 a.m. to 5:00 p.m. and get patriotic gear for the whole family. Alderson's Awards West is closed on Friday, July 3.
Since Summerfest is canceled, the City of Centralia is holding a fireworks display at Borst Park on July 4. Sponsored by Uncle Ando's, this large show starts around 10:15 p.m. With both 8-inch and 10-inch shells, the display will be visible from all over the community to enjoy the event while social distancing.
To accommodate the fall zone, Borst Park, all sports fields and surrounding parking areas will be closed during the fireworks. Residents of Centralia are encouraged to watch from home or people can watch from open parking lots in the vicinity.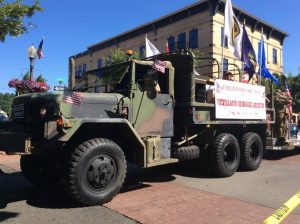 Before the fireworks check out the Patriotic Parade and Display in historic downtown Centralia. On Saturday, July 4, see historic military displays from 10:00 a.m. to 1:00 p.m. at America's Team Museum. At 2:00 p.m. view a patriotic drive including historic military vehicles, vintage autos and street rods following the normal parade route. Spectators can line the roads to watch from a socially acceptable distance or park and watch from the car.
Celebrate America with these beloved traditions even if they are a little different this year. Enjoy time with your family, see fun fireworks displays, explore local history and eat yummy food for a festive 4th of July.