The heart of downtown Chehalis is intersected by Market Boulevard (also known as Market Street by locals). The route is home to many local culinary favorites residents love and visitors enjoy. Everything from the Bearcat Burger to Tarragon Chicken Toast is waiting to be discovered. Venture into some of the best food in Lewis County at these wonderful restaurants on Market Street.
The Royal Buffet offers a family dining experience that can be customized for every mouth at the table. The buffet includes classic Chinese favorites, some American staples and a fresh salad bar. Their coconut shrimp is divine. There are options for seating large groups and kids eat for a discounted price. Recently, they started offering takeout service that charges by the pound – a great option to spice up that workweek lunch. It's no wonder this tasty and well-staffed option is a community staple.
As soon as you open the door to Market Street Pub and Grill the extensive collection of tap handles on display draws you in for a closer look. It's worth the trip to discover for yourself. A beautiful floor to ceiling bar on the opposite wall makes the environment feel modern and historic at the same time. Outside of drinks, a full menu is also offered that includes a selection of mouthwatering burger options like blue cheese jalapeno, Hawaiian and the signature Market Street Burger.
Looking for something casual, comfortable and cozy then look no further than Sweet Inspirations. The unique, solid wood, tall-back upholstered booths offer an intimate dining experience. A heartwarming collection of farmhouse style wall art covers most of the walls. A large chalkboard reads "Ice Cream Bar" and lists 40+ kinds of treats, including banana splits and homemade ice cream. Besides ice cream, this homey restaurant also offers a full menu of country classics that are sure to comfort your belly and heart.
A darling stained-glass window greets you as you arrive at Market Street Bakery and Cafe. The picture-perfect tarts, freshly made croissants and individual cheesecakes lining the glass display look as though they are straight from a storybook. The homey menu includes sandwich and soup options made with fresh ingredients. Try the decadent Roasted Vegetable Panini for a yummy lunch. In the back of the small cafe is a large viewing window where you can watch the staff turn eggs, flour, butter, and sugar into edible art. Transport yourself to a simpler, more delicious time with a stop at Market Street Bakery and Cafe.
Mackinaw's is probably the most elegant option available on Market Street. Its located in a historic hotel. However, the menu is far from traditional. Each night the Chef creates a new menu from locally sourced ingredients. A favorite is the parmesan crusted white fish with potatoes and veggies. The bold red, classy tablecloths and ironwood stove create a passionate atmosphere. If you are looking for someplace special, find your way to Mackinaw's.
M&K Town Store still has caramel apple pops for individual sale in their candy section. Can you believe they are still only 15 cents each? I snatched one of those up for my daughter. When I went to pay, the clerk saw it was for my daughter and didn't even charge me. "Welcome to downtown Chehalis," he said. The store offers a substantial collection of liquor, local beers and wine options, as well as all the grab-and-go snack staples. If you aren't looking for a full meal but want something quick and fun M&K Store is the place to go.
Entering Black Sheep Creamery, the sunlight pouring in from the large windows and natural decor gently pulls you into a space of relaxation and creativity. Sip on one of their beautiful loose-leaf teas or try a Wellness Latte at Breakwell Cafe. The lunch menu includes seasonally inspired soup made from scratch with local ingredients and love. Relax and start a new cozy project as the creamery shares its space with Ewe and I, a yarn paradise. An inviting circle of chairs is welcoming so sit a spell and chat with other creative community members. Don't forget to take home a block of their locally made artisan cheese.
This pizza central hosts weekly contests for families to call in and give the name of their child's school teacher with their order. The class with the most votes earns a free pizza party. The walls of the store are covered in adorable thank you posters created by students from local schools. Their gourmet pizza menu includes the Cheese Burger Paradise, Caribbean Crunch and several vegetarian options. As an added bonus Sahara delivers. A community favorite, you don't have to be around Centralia or Chehalis very long before someone asks, "Have your tried Sahara yet?"
Established in 1951, Dairy Dan Drive-in is just as much a part of the community as it was when it opened. After a local high school game, stop in but expect a crowd. The burger bar style menu includes burger staples, sandwich options and baskets of chicken, fish, prawns or oysters. The real star of the menu is their ice cream cones which are famously loaded with six inches of ice cream. The drive-through window is a perfect place to pick up one of the many milkshake options. Historic photos of local sites are displayed on the walls and remind us that Chehalis is a special place to grow up and make memories.
El Sabor de Mexico means "the flavor of Mexico" and they deliver on their name! My husband is from Mexico City and I had him taste test the authenticity of the food. We were impressed that the menu offered so many traditional favorites such as Sopes and Tortas Cubanas. They even served pineapple with their Pastor which is something my husband misses from home. The fresh masa for the corn tortillas took him right back to the streets of his childhood. If you like Mexican food this is definitely a place to visit.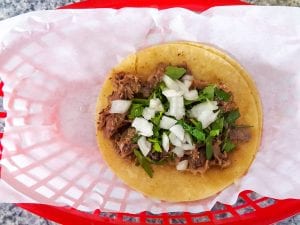 Have you ever had a taco de Lengua? It is a pretty common Mexican treat made of cow tongue served on a corn tortilla. They can be hard to find locally. I had my husband, who grew up eating tongue tacos, taste test the tongue tacos at Burrito Vaquero Taqueria and they earned a solid thumbs up. Along with tongue tacos, find a whole menu of traditional Mexican options. Mix and match with your favorites on the homemade tortillas.
If chocolate has a special place in your heart, Katie's Candies has you covered. For 32 years, they've made high-quality chocolate treats. Their best sellers include Lemon Bark, Dark Sea Salt Almond Butter Toffee and Jumbo Peanut Butter cups. The small brick building at the end of Market Boulevard before it turns to Jackson Highway may look unassuming, but sweet treasures await within. All of Katie's sweet treats are manufactured right here in Chehalis. Looking for a classy gift to celebrate a holiday or just a special someone? Katie's has a wonderful selection of decadent candy.
From one end to the other, Market Boulevard offers amazing options for food lovers. There are even more wonderful options not listed on the nearby streets as well. Celebrate local small businesses and explore someplace new for your next meal out. Lewis County has some hard-working people making delicious food you don't want to miss.