Best-selling author Og Mandino said, "The greatest legacy we can leave our children is happy memories." The owners of Shankz 3D Black Light Mini Golf Guy Steele and his family are on a mission to help strengthen the bond of families in Lewis County.
After struggling with addiction, Guy's spent the last ten years clean and sober. He credits his faith in God for his sobriety. "I could not have stayed sober for this long without Jesus Christ in my life," he says. Now, he is a husband and a father who takes his commitment to his family very seriously. "It is the most important job I have," says Guy. It's his joy to offer a place for families to come, be electronic free and engage in making memories with their loved ones.
The Steele's journey to owning Lewis County's fun center all started with an exercise ball pump. Guy and his wife Tessa received a box of miscellaneous things from Tessa's aunt when she was moving.  In that box was an exercise ball pump. Guy didn't see it just as a pump, he saw it as an avenue to impress his children. After spending thousands on balloon resources that taught him how to make balloon animals, Mr. Twister was born.
With an enthusiastic and entrepreneurial heart, Guy had an even bigger vision. He wanted to bring inflatable bounce houses to the area. While looking for places to find inflatable bounce houses, he found out that Shankz was for sale. The Steele family officially became the owners of Shankz in October 2018.  Since taking over the business, they've added to the fun center including bounce houses, two escape rooms and the ever-famous unicorn cotton candy taco.
It's evident when walking into Shankz the Steele's desire to serve the community and to make a difference for families. A visit to see the fun reveals a father and his teenage son playing a friendly but competitive game of Donkey Kong. Around the corner was a little girl in a tutu surrounded by her family, jumping up and down happily as she prepared to celebrate her fifth birthday. In the middle of the room was a family planning to go into the Dinosaur Research Facility Escape Room. The entire place is always filled with laughter and excitement.
Shankz boasts its fun 3-D golf as the best golf in the universe. The 3-D glasses and the glow pack available makes a trip through prehistoric times and traveling under the sea fantastic. As a family affair, the Steele children, Allisyn age 11, Guy age 8, and Shiloh age 3 are there helping and greeting customers as they come in.
Do you get nostalgic at the thought of old school arcade games? They have everybody's favorite classic game – Ms. Pac-Man. With a plethora of classic arcade games to test your awesome skills, Shankz is a gamer's dream. Even if you've been there before, they rotate games in and out to keep it interesting and fresh.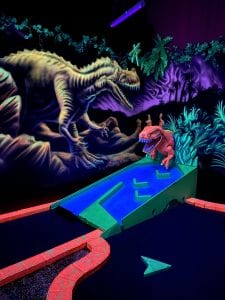 Are you looking for a new idea of where to host your child's birthday party? Shankz has three packages to choose from. Purchase the Volcano Package and also get a visit from Mr. or Mrs. Twister to the delight of partygoers.
Sometimes Shankz holds special events and recently held a sold-out princess party. With appearances from Miss Lewis County and Centralia Ballet Academy, the event was every princess's dream come true. The princesses in training also made jewelry, painted and listened to story time.
In the spring, Shankz will host a spy class. Kids will investigate and solve a crime, as well as interact with public law enforcement and take part in a police academy like obstacle course.
Remember Guy's desire to bring inflatable bounce houses to Centralia? Shankz has them available for rent. Find sumo wrestlers, a huge inflatable twister, medieval jousting and so much more. Visit Shankz website for prices and availability.
From ages one to one hundred, Shankz has fun for every one of all ages. Make the best memories with family and friends with 3-D golf, an escape room or an unforgettable birthday party. Stop in and say hello to Guy, Tessa and their children. You will be welcomed with open arms and treated like family while making memories with your own family.
"We didn't realize we were making memories, we just knew we were having fun," Winnie-the-Pooh.
Shankz is open Thursday and Friday from 4:00 to 9:00 p.m., Saturday at 12:00 until 10:00 p.m. and Sunday from 12:00 to 6:00 p.m.
Shankz 3D Black Light Miniature Golf
2100 N. National Ave.
Chehalis
360-880-1842