Herbert Hoover, the 31st President of the United States, once said, "Children are our most valuable resource." The Boys & Girls Club of Chehalis works to cultivate and care for this resource, molding children into the future leaders of Lewis County.
The Club promotes academic success, good character and healthy living. They want every child to graduate from high school and have a plan for their future. Good character is encouraged by teaching kids to be respectful, responsible and to have integrity. Healthy living is cultivated by teaching members to live active lifestyles and practice making good decisions for themselves.
It's apparent when walking into the Boys & Girls Club that children's safety, happiness and well-being are the number one priorities. The bright and roomy facility includes a game room, gym, art area, STEM room, kitchen and a Teen Room. The neighboring Pacific Athletic Center also provides Club leaders and students access to their gyms for programs. Members have Chromebooks available to use for homework and special projects. The Club has been serving school-aged children, kindergarten through high school, for the last three years.
For the past two years, there has also been a Teen Program for older kids. With their own designated space, the teen room is complete with comfy couches, computers, a Wii and places to do homework. This offers teens a safe space in which to grow into adults and make new friends. "It's an awesome program," says 16-year-old Rome Zucati who attends W.F. West High School. "My favorite thing about the program is getting to know people you wouldn't normally have a chance to hang out with at school."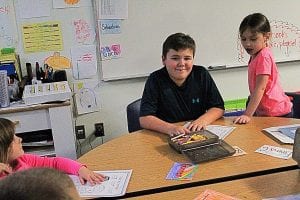 Karsen Morris oversees the Teen Room and implemented a Junior Staff Program. To prepare students for employment, there is a list of jobs available on the Teen Room board. Teens simply sign up for jobs they're interested in. Then they go through an interview process with staff members. It's a lot like applying and interviewing for a job. "The one problem is you get to pick only one job," says Karsen. That was a hard decision for Hayden Steele who wanted to sign up for everything. Now, he has narrowed it down to be the room manager for the kindergarten and first graders.
This year will be the first year that the Chehalis Club gets to send a teen student through the Boys & Girls Club of America's Youth of the Year competition. All Clubs across the nation have an opportunity to participate. Each Club selects a teen to represent them, first competing against other Club teens in their local region, then at the state level and beyond depending on how well they do. Teens must model the Club's three priority outcomes (academic success, good character and citizenship and healthy lifestyles) as well as complete a lengthy application, essay, speech and receive letters of recommendation from community leaders.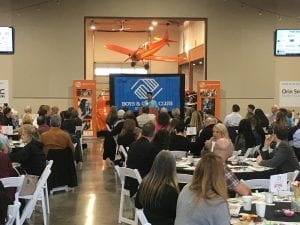 Washington's state competition takes place in Seattle, but the event kicks off with a day at the capitol meeting state leaders like the governor, before journeying to Seattle for fun experiences and tours of sponsoring businesses and the final competition. Contestants have opportunities to earn fun prizes and scholarships along the way.
The Boys & Girls Club is staffed by a team of unique, compassionate and vibrant individuals. One factor they all share in common is a love of helping the community. Believing that no child should be prevented from being a member due to financial struggles, the Club offers scholarships to qualified individuals as available. Only 20 percent of the Boys & Girls Club's funding comes from membership dues.
Eighty percent of the Club's funding comes from grants, events, and individual or corporate giving and fundraisers hosted throughout the year. One of the most crucial fundraisers is the Most Important Meal of the Year event. "Rome emceed this year's event and did a great job," says Director Lauren Day, "It's been really fun seeing the teens jump in this past year to help in any way needed to make sure our events are a great success."
Another fundraiser is Harmonies for Hope, where the teen members oversee Minute to Win It games. This was one of Hayden's favorite memories. He had the best time overseeing the spoons game.
If you want your child to be surrounded by people who inspire and encourage them to succeed and give them the tools to do so, the Boys & Girls Club is the place. Interested families are invited to join their waitlist. With an average daily attendance of 125 members, the Club's total membership can be over 200 members ages 6-18.
Interested in helping? The Teen Program is always looking for people to come in as either a consistent volunteer or as a one-time presenter to discuss a career path. They would love for you to come, share and mentor.
If you would like to donate to the Boys & Girls Club or learn more about the program, visit their website, give them a call or send an email.
School year hours are Monday to Thursday from 2:30 to 7:00 p.m. and Friday from 2:30 to 6:30 p.m.
Boys & Girls Club of Chehalis
2071 Jackson Hwy.
Chehalis
360-345-1700
info@bgcchehalis.org