The Twin Cities Sports Commission recruits, coordinates, and sponsors events that promote sports tourism within Centralia and Chehalis while working to make the area the sports capitol of the Northwest. With a mission to bring people into the Tax Promotion Area, the commission brings tournaments to all the sports applicable facilities in Centralia and Chehalis. They include NW Sports Hub, Pacific Athletic Center in Chehalis, Southwest Washington Dance Center, Southwest Washington Fairgrounds, Centralia Rollerdrome, Centralia and Chehalis schools, and outlying schools when more fields or courts are needed.
Elijah White Executive Director with the Twin Cities Sports Commission enjoys the positive impact of the commission on the community he grew up in. The W.F. West High School graduate returned to his hometown after leaving to pursue a career that was financially sustainable. His son now plays on the Chehalis Middle School football team as the third generation to come through the district.
"I owe a lot to Chehalis, the schools, the great teachers and community for helping to bring me up," White says. "I had to leave after the mill closed. I want the next generation to not have to leave if they have ambitions. I want to bring those opportunities here and think the sports commission is a great avenue for that."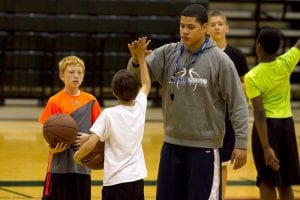 With his love of sports, White understands why families spend the money to travel for their kid's endeavors. "First off, it's recession-proof," he says. "People are willing to cut a lot of things out of their life before they are willing to cut their child's future out. That's how they see these select and travel teams. It's a really good opportunity for their children to get the proper coaching and training that they need to get a collegiate scholarship."
"Sports tourism is the new gold rush in many senses," says White. "We have an opportunity for the leadership of this community established and laid the groundwork for. To bring more large sporting events here is impactful for a lot of people in many ways."
Thousands of people come to stay in the area from out of town for various sports events. Last year when the commission started tracking, they found over 2,000 room nights came from their efforts. "This year we are on pace to get closer to 2,500," says White. "With the new technology that we just installed, we will be able to track all the data in-house and I expect closer to 3,500 room nights brought here directly."
Those families filter out into the local area for shopping, events and to eat at local restaurants between games. On average families coming in from out of town will spend $135 a night per person. "With 2.5 people per player typically, you can see how that 3,500 would extrapolate out into the community," says White. "Those are just the people who stay overnight. Those who live less than two hours away would drive here. So, it's bigger than that really."
The commission is funded by the local hotels travelers stay at with a $2 per night TPA tax that funds the sports commission. "The hotels are the ones that make this all possible," says White. "They, by themselves, signed a mandate that says they are willing to give up more money out of their pockets so they can bring more people to town. Even though it is going to affect everybody in this community, that small handful of people is very philanthropic. We have one of the best groups of small-town hotel proprietors that exist for that very reason. I am very thankful for them."
Beyond teams from out of the area, the commission also incorporates the local community and leagues. Hosting events like the Home and Garden Show, the large space at NW Sports Hub is also used sometimes by Centralia High School for their graduation ceremony when the weather does not permit it outside. They also host several wrestling events for the Twin City Wrestling Club. The PAC in Chehalis and NW Sports Hub also often has local teams practicing at the facilities during the week.
White expresses the importance of sports for young people to build character. "You are not guaranteed a great family out of the hospital," he says. "The one thing that I think is pretty consistent and universal is a strong infrastructure of sports, coaching and teamwork develop all of the characteristics that you need as a human being to function well in a community. Sports are vital."
With sports tourism's popularity and the influx of visitors, there are some challenges, but the benefit outweighs those issues. "You are going to have people coming in and looking to enjoy the town," says White. "I would want everybody to embrace that. It's going to come with frustrations, like traffic. It's also going to come with an economic boost that is going to make your neighbors richer and put a little money in your pocket. Everybody's going to be able to recycle that money in the community and build things up to better than they were before."
Sponsored