A trip to the Brooklyn Tavern is, in many ways, a trip back in time with logging history spilling out of the cracks with no television on the wall, and no cell service so that people sit glued to their phones. People actually interact with each other, present in the conversation or their beer. Located about 20 miles west of Oakville along a gravel logging road, this offbeat bar is definitely worth the drive. Take some time to explore this notable spot as so many Lewis County residents enjoy doing.
Established in 1927, the locale voices its rich history at every corner. Black and white photographs of lumberjacks and felled trees adorn the walls, as do chainsaws, axes, and other tools. Snoose Creek sits just below the bar—a water trough where loggers could spit while chewing tobacco. Meanwhile, an old steam engine bell rests near the ceiling, but be warned that ringing it means you will buy a round for the house.
Not all the design is old-fashioned. Funny signs, many sarcastic, pepper the walls, and there is a whiteboard where regulars share messages and jokes. A "red neck wind chime" hangs near the pool table, and signed dollar bills paper the ceiling.
While the Brooklyn Tavern's history might be the initial draw, its people are the reason to take off your coat and sit a spell. "I really enjoy the camaraderie with the good people here in the valley, and meeting people from other parts," says one longtime regular. Locals even hold a weekly potluck dinner on Thursday nights, sharing seasonal dishes from their gardens or hunting trips. Rumor has it, strangers are welcome too.
One person you will certainly want to meet is the owner, Larry Viguerie. He purchased the bar after feeling the need for more purpose a few years into his retirement. Rather appropriately, Viguerie worked for a sawmill in Tacoma for about 40 years. He and his wife Linda own a cabin in Oakville and he would make solo trips there once a year. "You can only read so many books before cabin fever sets in," Viguerie says. Then he would find himself heading to the Brooklyn Tavern.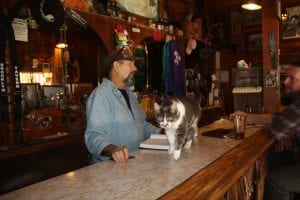 Viguerie tossed around several ideas for his post-retirement plans, including an RV park, house sitting and a food truck. Other people talked him out of each idea, so when he started the process of buying the Brooklyn Tavern, he kept it secret for several months…even though word eventually leaked. Once the sale closed in June 2016, Viguerie made the necessary repairs but worked hard to keep the essence of the bar intact. He also refurbished the cottage next door, a place for him and Linda to stay when they split their time between the house in Tacoma, closer to the rest of their family.
Viguerie keeps a guest book of all his visitors, noting that about half the customers are regulars and the other half from other places like Lewis County. He likes to hear people's stories and know that he has a purpose. Watching him laugh with the customers or trot over when someone honks the horn for a refill, it is clear to see he is truly living his dream.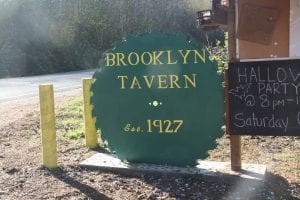 Though isolated, the Brooklyn Tavern still feels very much of the community. While the Vigueries are in Tacoma, local schoolkids feed the tavern cat, Cubby. If they want to take a longer trip, such as an out-of-state family reunion, regular Rhonda Hodge fills in behind the bar. "I'm friends with everyone here and still have a great time, even when I'm working," she says.
The tavern sponsors Saginaw Days in September, complete with contests such as ax throwing, speed climbing, tug of war, and even a scavenger hunt for the kids. The bar holds other events, such as a costume party for Halloween. There's a bike run a couple of times a year and a band that likes to come to play annually. They even get the occasional party bus.
The hours at the tavern are not always set in stone. Occasionally, they close earlier. Sometimes, if they see someone waiting out front, they open the doors early. A limited food menu is available for hungry patrons. Grab a friend and make the drive to the Brooklyn Tavern. If you show up solo, you will likely have a friend or two by the time you leave.
Brooklyn Tavern is open Thursday noon to 8:00 p.m., Friday noon to 12:00 a.m., Saturday noon to 12:00 a.m. and Sunday noon to 8:00 p.m.
Brooklyn Tavern
2611 N. River Road
Cosmopolis
360-533-2324