After 22 years of service in the Navy, Russ (Louis) Frogner got a big thank you from Honor Flight, a non-profit organization dedicated to flying World War II, Korean and Vietnam veterans to Washington D.C. There, they visit sites honoring members of all branches of the military.
Russ, a 100-year-old resident of Adna, learned about the free flight from his oldest son, Les, whose boss is a captain in the Washington State Patrol and a member of the Puget Sound Honor Flight board. The trip takes place four times a year. Russ signed up for the October 2019 trip.
With Les and another son, Gary as his escorts, Russ boarded a special Alaska Airline jet along with six other World War II vets, 17 Korean vets and about 50 other vets who served in Vietnam or suffer from a terminal disease. Uniformed Coast Guard members and a TSA honor guard cheered and held cards spelling thanking them for their service as the airplane taxied down the runway.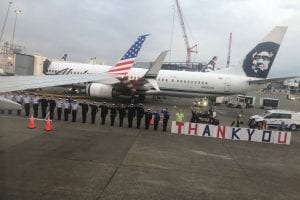 For the next three days, the men visited the Washington Monument, the Lincoln Memorial and other memorials recognizing participants in World War II, Vietnam War, Korean War, Navy, and  Air Force as well as the changing of the guard at the tomb of the unknown soldier.
Everywhere they stopped they saw thank you signs and shook hands. "The neatest thing was seeing these young kids lined up to shake his hand," Les said of scouts eager to meet the veterans.
"It was something that had never happened to me before," Russ said. "It was very interesting. I was very thankful that people cared for my service. I was in the military for 22 years and most of the time it was good."
Although Gary served for 20 years aboard Navy submarines, he didn't know much about his father's service until he reviewed his record. "They just don't talk about it," Gary said about men of that generation. That is until they get together with other veterans.
Russ enlisted in the Navy in 1939, two years before the United States was engulfed in war. He left boot camp with an E1 rank and was promoted to Lieutenant JG (junior grade) in 1944. For most of his career, he was a chief petty officer in the Sea Bees. They built the runways, roads and infrastructure needed for the main military operations.
His first ship was the USS Saratoga, one of two American aircraft carriers that played an important role in the war after the destruction of battleships at Pearl Harbor. In April of 1941, Russ was transferred to the Bremerton Naval Shipyard where he operated engines aboard the tugboats USS Wando and USS Hiawatha.
He missed sailing on the Saratoga which was just entering San Diego when Pearl Harbor was attacked on December 7, 1941. Airplanes were loaded overnight, and the ship headed out to war the next morning. Five weeks later the Saratoga was hit by a torpedo and three men were killed in the boiler room where Russ would have been working.
Gary learned about his father's involvement in the invasion of Okinawa by reading the flotilla commander's day-by-day war diary. "With over 1,300 ships, it was the biggest armada ever assembled in the history of mankind," Gary said. "Every warship in the Allied forces throughout the Pacific converged on that little island."
Russ was made an engineering officer on a LCI (landing craft infantry) ship loaded with rockets. By the end of the initial bombardment, 44,825 shells, 22,000 mortar rounds and 32,000 rockets had been fired by allied forces. When 450,000 Marines and infantry came ashore, they met little resistance because the Japanese had retreated into tunnels and caves.
The real fighting came later. Each foot was gained by an intense battle and loss of life. The fighting on Okinawa went on for 82 days. The war finally ended on September 2, 1945, after atomic bombs were dropped on Hiroshima and Nagasaki and a treaty of unconditional surrender was signed by the Japanese. Russ was sent to Japan as part of an occupational force and returned home in mid-October.
After World War II ended, Russ continued to serve in the Korean and Vietnam wars. His travels took him to San Diego, California; Bremerton, Washington; Guam, Saipan; Adak, Alaska; Washington DC; Port Lyautey, Morocco; Port Hueneme, California, and Da Nang, Vietnam.
He met his wife, Joyce, in a drugstore while he was on leave and she was taking a break from her job. She had a choice of sitting between two men and chose the handsome young officer. He asked her what there was to see, and she volunteered to show him around. They have been together now for 67 years and have six children.
"It's a long time, but we love each other," Russ said.
When Russ and his sons returned to SeaTac after their whirlwind trip to Washington D.C., they were greeted by an honor guard, a band and a large crowd of people waiting to welcome them.  They also received a stack of cards and letters thanking them for their service.
In particular, they enjoyed the letters from Tracy Tak's second-grade class at Lintott Elementary in Chehalis. Each began, Dear Veteran. "It really tickled us," said Joyce Frogner.