Winter marches ever closer, which means holiday gift giving is just around the bend. Whether you celebrate Christmas, Hanukkah, Kwanzaa, or even Festivus, your shopping list likely includes family, friends, and co-workers. Instead of searching online for hours or wandering aimlessly down aisles, why not make gifts extra special this year? A handmade present is not only unique, but it shows that you put time and effort into honoring the recipient. Luckily, Lewis County offers many options to explore your creative side.

If you have not been to Ewe and I in downtown Chehalis, several upcoming classes should tempt you to the cozy location. Cherié Davidson teaches needle felting, with the result being adorable products anyone would love to receive – if you can bear to give them away.
On November 22, the focus is a playful felted plant that will charm any gardener or flower lover on your list. December 6 offers the chance to make a wool nativity painting featuring a dramatic night sky. On December 7, craft a darling 3D ornament, choosing between a Santa, reindeer, penguin, or angel. All three classes start at 1:00 p.m. and cost $50 per person. Bring your own felting kit and needles, with other supplies provided.
For the slightly more adventurous, look no further than Central GlassWorks in Centralia. Saturday morning classes from 10:00 a.m. to noon (every weekend) allow attendees to choose between shaping two small pieces, such as ornaments, paperweights, or votive holders, or one large item, such as vases, pumpkins, or bowls. The cost is $70 per person. Another option that would be fun for a group is a private lesson for one to ten students, with the number of students determining how much each person can produce. These two-hour lessons are available Wednesday through Saturday, with both morning and evening options. Weekday prices are on sale at $150 and Saturday and Sunday run $170 for the lesson, not per person.
Heavenly Quilts & Fabrics Redeemed in Onalaska has a few classes on their calendar that should appeal to someone on your list. On November 5, create beautiful six-point and eight-point stars that make beautiful gifts or holiday décor for $30. On November 13, try your hand at a festive snowflake table runner for $35. Both classes start at 10:00 a.m. and include the patterns. Be sure to read the descriptions as to what materials and tools you should bring.
If you like a little more creative freedom, check out the art and craft lab at White Pass Country Historical Museum in Packwood. On November 14 and December 12, swing by from 10:30 a.m. to noon with any projects you are working on, for the chance to seek advice or assistance from other crafters. These sessions are free and open to all ages.
In addition, look into some more places that inspire creativity in Lewis County. Book N' Brush in Chehalis offers classes in drawing, watercolor, pastels, and more. Black Dog Pottery in Centralia allows you to paint ornaments, mugs, home décor and more to your heart's content. Morgan Arts Centre in Toledo presents Santa's Workshops in early December for kids ages 6 to 16.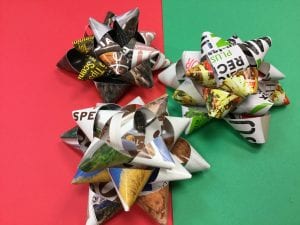 Even if you are not up to making your own gifts, you can still top off your present with something special. Head to the Vernetta Smith Chehalis Timberland Library on December 7 at 2:00 p.m. to learn how to make cool bows from colorful paper. Amy Flugel, a longtime library employee, will teach attendees to use pages from books, posters, and photos to make fun gift toppers. The class is free and open to teens and adults.
While you're at it, think outside the box… literally. Your gift could actually be inviting someone to join you for one of these classes. Going together will not only allow you and your guest to create something one of a kind, but the experience will be a fun memory to carry with you, perhaps even lasting longer than the object itself.
Making your own holiday gifts is a winning combination. You get to learn or improve upon a skill, make the recipient feel valued, and you might even make a new friend or two in the process. An added bonus is supporting local businesses. So, go on, and get crafting!