Whether soaking in views of sailboats and the Washington State Capitol while paddling down Budd Inlet, or launching out into Millersylvania State Park's Deep Lake, paddleboarding is a unique way to experience the diverse landscapes of the Pacific Northwest. You can bring your own or rent stand up paddleboards and then launch from numerous regional waterways, including the gorgeous Puget Sound. Check out this list of popular locations to paddleboard in Olympia, Lacey and throughout the Olympia region.
Paddleboarding in Olympia Paddleboarding in Lacey Paddleboarding in Tumwater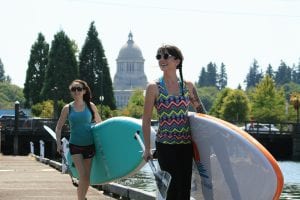 Swantown Marina and Port Plaza
Address: 1022 Marine Drive NE, Olympia
Launch Site: Paddleboards can be launched out of the Swantown Marina boat launch.
Cost: There is no launch fee if paddleboards are put in the water by hand. Launching using a vehicle is $5.
Parking: Day parking can be found in the boat launch parking lot (between the launch ramp, KGY Radio Station and Anthony's Hearthfire Grill). Day parking is free. Overnight parking is located between docks GHI and DEF there is $3 for each night, up to 29 nights.
Along the way: Rest stops include the Port Plaza dock, downtown Olympia, and Priest Point Park.
Deep Lake at Millersylvania State Park
Address: 12245 Tilley Road SW, Olympia
Discover Pass required: buy online or at the automated pay station at Millersylvania. One Day and annual passes available.
Launch Site: Paddleboards at Millersylvania State Park are launched into Deep Lake and can be rented from Lakeside Grill & Boats. If paddleboards are rented, they can be launched from the dock across from the Lakeside Grill & Boats concession stand. Those bringing their own paddleboard can take off from Millersylvania's boat launch.
Cost: When renting from Lakeside Grill & Boats, stand up paddleboard rental is $17 per hour. There is no cost to launch your own.
Parking: There is a parking lot located adjacent to the concession area and dock within the state park. Overnight parking is located on the park's campgrounds.
Along the way: Paddleboarders looking for a rest can come back to Deep Lake's shore by the Lakeside Grill & Boats concession stand.
Reservations: Paddleboards can be reserved from Lakeside Grill & Boats day of, but for longer reservations or multiple paddleboards, it is recommended to call ahead to reserve a paddleboard.
Long Lake Park
Address: 2790 Carpenter Road SE, Lacey
Launch Site: Paddleboards are launched from the south side of Long Lake's swimming area, near the lifeguard shack.
Cost: There is no cost for those launching their own paddleboard. Paddleboards can also be rented onsite from Northwest Paddle Surfers. Paddleboard rentals at Long Lake cost $25 per hour and $40 for two hours for a single stand up paddleboard (SUP).
Parking: Day parking can be found in Long Lake Park's lot, located on the top of the park hill.
Along the way: Kirby Island, located in the middle of Long Lake, is a highlight while out on the water. On the north side of the lake, paddleboarders can also view natural landscapes and wetland areas.
Reservations: Paddleboard reservations are highly recommended a day in advance and can be made on the Northwest Paddle Surfers website.
West Bay Marina
Address: 2100 W Bay Drive NW, Olympia
Launch Site: On West Bay, bring your own paddleboards and launch from the Tugboat Annie's kayak dock or West Bay Marina.
Cost: none to launch.
Parking: Daytime parking is located at the Marina and shared with Tugboat Annie's.
Along the way: Paddleboarders can stop and rest at West Bay Park, complete with a bathroom and beach access.
West Bay Park
Address: 700 West Bay Drive NW, Olympia
Launch Site: Near parking area
Cost: No cost
Parking: There is free parking in the park.
Along the way: Paddlers can head north to West Bay Marina and enjoy refreshments at Tugboat Annie's. Head south to Port Plaza dock or downtown Olympia. Head east to Priest Point Park.
Reservations: Paddlers need to bring their own paddleboards.
Sponsored