Alright, folks, show of hands – who likes amazing views, smores, heated pools, mini-golf, and indoor plumbing? I'm going to take an intuitive leap and say there are a lot of us that enjoy all of the above, if not four out of five, which is why I thought it was a great time to tell everyone about Thousand Trails Chehalis!
Yes, that's right, mister "Perfectly Primitive" is also a member of Lewis County's long-established camping club, and while I do enjoy the simplicity of primitive camping, let's be honest, with a wife and kiddos, there are real benefits to "smoothing it" for a day, weekend, or even longer at Thousand Trails Chehalis' amazing facilities.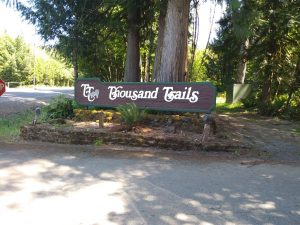 Now, many of us have probably heard of Thousand Trails. Maybe you have been there or have a friend who has, but for those who haven't, I'd like to tell you about a place that has been a big part of many great memories for me and my family.
Located at 2228 Centralia Alpha road in "technically" Chehalis (although I think of it more as Onalaska area) Thousand Trails Chehalis is just a quick jaunt off the beaten path, while being close enough for a quick day trip.
The "Camping Resort" boasts two clubhouses, outdoor heated pools, a mini-golf course, game rooms, day-to-day activities like hayrides or face painting, a small country store, plus a multitude of tent and full-hookup campsites AND rental cabins.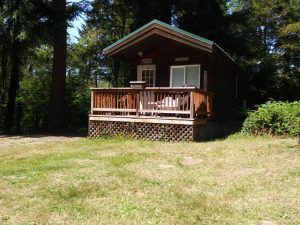 What amazes me is that all of these amenities are really just a fraction of the Thousand Trails Chehalis experience. See, for me, Thousand Trails has been a destination for our family since childhood. Roaming all over 13 miles of trails (6 of which are groomed), riding our bikes up but especially down all of the hills, and making friends with neighboring campsites are just a hand-full of memories I've made at Thousand Trails.
Since I've grown, the memories I have and continue to make seem endless. Pushing our daughter in a swing at one of the playgrounds seems like something we do almost weekly now. Meeting up with family or friends, big barbecue suppers, watching the shadows fall on the surrounding hills from the amphitheater at sunset, and a thousand more memories in the making keep me coming back.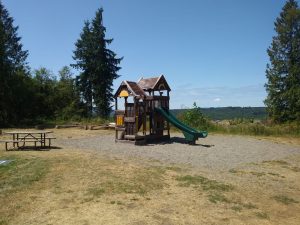 Now that I've had a good time looking back on what this place has meant to me, let's talk about what you can look forward to with Thousand Trails.
Thousand Trails is currently celebrating their 50th year, (the Chehalis property was bought in 1969, and opened to membership in 1972) so they have some experience in what a great getaway entails. The staff are incredibly helpful and diligent, which is reflected by the resort's amazing condition. They're friendly as well, which makes for not only a great experience, but leaves you feeling better about the community you're spending your leisure time with. The sites are well cared for and most have power and water, including some with 50 amp hookups. And, while you're close enough to get to know your neighbors, it doesn't feel crowded. The resort is pet-friendly, with a dog park no less, and has no age restrictions on RVs, which is rare these days.
There are tons of reasons to enjoy Thousand Trails Chehalis. Even with as much as I could list, there's even more value in membership with everything Chehalis has to offer. Plus, as it is a membership club, you have access to more than just Chehalis! Just to name a few, there are Thousand Trails properties near Ocean Shores, Long Beach, Seaside OR, and even Leavenworth. Those are all included in your "zone" with just a basic membership.
You don't have to take my word for it. If you're interested in a membership, or even checking it out with a day pass, give our friend Beth a call at 360-790-5280. As the membership specialist on staff, she's a wealth of knowledge and experience. But let's be honest here, once you're at Thousand Trails Chehalis, you'll be sold. After all, there's a thousand memories in the making right here in our own backyard.