Just down highway 12 off exit 68 in Silver Creek is the birthplace of the International Mountain Trail Challenge Association (IMTCA), Bolender Horse Park. This gorgeous facility, which is constantly being updated and maintained by owners and IMTCA founders Mark and Lee Bolender, is a mecca to anyone thinking of mountain trail. Regardless of rider age, breed of horse, or whether you ride western, English or Spanish, you are welcome at Bolender's. It's this welcoming spirit (and the fact that mountain trail is so much fun) that has helped it grow into an internationally known Horse Park since 2013, when IMTCA was formed.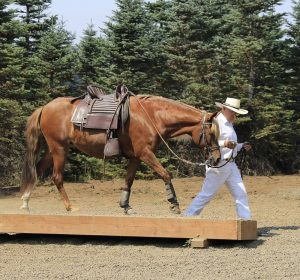 In just six years, the mountain trail sport has made its way around the world. Mark helped build Horse Parks in Italy, Germany, Australia, Canada and France, as well as several in states across the U.S. In 2018, Bolender Horse Park hosted the first Northwest Regionals and Creek Side Horse Park in Ohio hosted the first Midwest Regional. "We are continuing to grow membership and next year plan on having more regionals," shares Lee. There are also plans to have a Worlds in the near feature as they continue to grow.
Bolender Horse Park is the original, premier facility for the sport. Set on a little over two acres, the course is the result of years of refinement and planning by Mark and his team. All the obstacles are first designed using CAD software and are certified obstacles for the safety of horse and rider/handler. With plenty of covered seating for viewing and gorgeous landscaping, it's a beautiful way to spend a day with your horse, or watching your child compete. Forget about hard benches in an arena, at Bolender's you can relax in a lounge chair while you wait for your child's go.
Everyone is Welcome
One of the biggest points Lee is always telling people, is how inclusive mountain trail is. "You can show your miniature horse, donkey or pony in-hand," she explains. "You can ride in whatever saddle you wish, bitless, bridles or bitted, and any breed of horse, from the gaited Pasos and draft crosses to mules – any equine can excel at this sport." In fact, there is a miniature equine and pony division, with a regional champion named at the end of the show season.
Age is also not a factor when it comes to participants. A youth division lets kids get in on the fun at an early age. Ashton Ewing, now 9-years-old, started doing in-hand and leadline at Bolender's in 2018. "I like it and it's fun, so many fun courses," she says. Ashton was 3rd overall novice for 2018.
"It has taught her how to be a better rider and how to lead horses," adds her mother, Leslie Asbra Ewing.
Another great thing about mountain trail is you don't need to have show experience to learn this sport, nor do you need to have all the expensive tack and attire that usually goes with showing. "We don't expect people to have show clothes or saddles covered in silver," you will hear both Mark and Lee say over and over again. Your trail saddle is just fine, and so are your clean jeans and shirt you normally where out on a ride. Your horse doesn't have to have a fancy pedigree, or even be registered. They have many rescues and crosses that compete, including a blind horse!
Rio's owner, Lynda Littlefield Allen, brought him to Bolender as a bucket list item. She was surprised at how well the five-year-old Andalusian cross did, and not because of his breed. "I never would've guessed this would be an option but he surprises me," she says. "He comes from a severe abuse situation which is why he is visually impaired. He can see shadows in one eye, which actually causes more problems than the blind eye." Rio and Lynda are taking it one step at a time and, like everyone at Bolender's, have learned the entire sport is really about a journey in partnering with your horse; trusting each other and learning how to communicate. "It has strengthened our bond," she adds.
Join the Fun
Ready to get out and try mountain trail? Bolender Horse Park has several play days coming up, where you can spend all day at the park, trying the obstacles for just $35. Other trail courses in the Oregon-Washington area charge $30 an hour, so this is really a great deal. "We also have clinics and lessons for anyone who is interested in learning more how to get started in this sport," says Lee. And what better way to learn the sport than with the couple that created it? "We can even schedule a private clinic for your 4-H Club or riding group. The comradery here is like nothing else in the equine sport world."
Then, attend their last schooling show on June 23 before the official season starts starts in July, with the first of two regional qualifier shows, the second happening in August. The Northwest Regionals follows in September.
New this year is a world-wide overall high point champion. One winner in each division – in-hand and riding – with the highest score from the official season will win a gorgeous buckle.
Now is the time to get involved for a fun-filled summer at Bolender Horse Park and teach your horse new skills, with the end result of a safer trail horse! You can find the official rulebook on the IMTCA website and can learn more about upcoming events on the Bolender Horse Park website.