The Centralia College fastpitch team never had a player named to the National Fastpitch Coaches Association NWAC All-American team prior to this season. The Blazers ended that drought in a big way.
Centralia College had three players – sophomores Dakota Brooks and Britzy Hockett and freshman Olivia Dean – earn a spot on the 16-player All-American team following the Blazers' 30-13 campaign.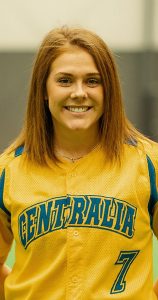 "I think it says a lot about how hard our players work to get where they are," said Centralia coach Kevin Slorey about the accomplishment. "I think it says this program is going to be a contender."
After finishing second in the NWAC South with a 21-7 record, the Blazers were seated fifth in the NWAC softball championship tournament. Centralia dropped its opening round game to No. 12 Clackamas, 13-8, before winning four consecutive loser-out games. The season came to an end following a 4-3 loss to Walla Walla.
This year's win total marked a six-game improvment over last year with the 30 wins representing the most for the program since 2016 when the Blazers won 31 games.
Brooks, who led Pe Ell-Willapa Valley to the 2B state high school fastpitch championship two years ago, capped her sensational two-year career as a Blazer by being named to the NFCA NWAC All-American team as a utility player.
Brooks was fifth in the conference in wins, posting a 22-8 record with 157 strikeouts in 185.2 innings of work. Offensively, Brooks was second in the NWAC in RBI (86), and seventh in both batting average (.494) and home runs (18).
She finishes as the program's all-time leader in career home runs (38) and RBI (165) and won 34 games as a pitcher.
"She has been a blessing," Slorey said about Brooks, who was also named the 2019 NWAC Softball All-Star Southern Region Most Valuable Player. "She puts in 110 percent day in and day out [and she is] always wanting to get better."
Dean, a 2018 graduate of W.F. West High School, kicked off her collegiate career in grand fashion. She made the All-American team as an infielder and finished third in the NWAC in hitting with a .531 batting average.
Dean posted 86 hits with 16 home runs and 78 RBI. She also scored 76 runs and finished with a .591 on-base percentage, which was third best in the conference.
When asked what impressed him most about her play, Slorey said, "Her outstanding play on defense. She made incredible plays game after game."
Hockett, an outfielder, rounded out the Centralia All-American trio. She was second in the conference with a .533 batting average and led the NWAC with 90 hits this year. She added 18 doubles, three triples and two home runs while driving in 32 runs.
"She brought leadership day in and day out, leading by example," Slorey said about Hockett.
The Blazers smashed 81 home runs in 2019, which is a program record and 59 more than they hit as a team the previous year. They also finished with a team batting average .402 with 437 RBI. Both numbers were good for fourth in the NWAC.
In addition to receiving NFCA NWAC All-American honors, Dean and Hockett were both selected to the 2019 NWAC Softball All-Stars first team. Joining them on the first team was catcher Jamie Carlson.
Carlson, a freshman from Mossyrock, was sixth in the conference in home runs (19) and seventh in RBI (69), hitting .422 during her first season with the Blazers.
Centralia also had three players named to the second team with infielders McKenna Smith and Shelby Levang and outfielder Jayden Benson.
Smith, a graduate from Centralia High School, hit .351 during her freshman season, driving in 41 runs with 7 home runs.
Levang sported a .411 batting average with nine homers and 51 RBI, while fellow sophomore Benson hit .256 with 23 RBI.
"This group was the most close-knit team I have ever coached," Slorey said. "They came to practice ready to work every day, always holding their teammate accountable to work hard but still having fun at the same time. It made my job easy as a head coach."