It beckoned me the moment I walked into Packwood's Presbyterian Thrift and Gift. "Nineteenth Century Canterbury, $75.00" read the label. "Isn't it beautiful?" gushed the saleswoman behind the counter. "A couple clearing out their mom's house brought it by."

A low piece of furniture meant to hold sheet music, the Canterbury seemed perfect to hold my record album collection. In authentic 19th century style, it looked like it would wander around the house at night while people slept. Although one dividers' top had broken off, I thought it could be easily repaired. I bought this treasure, repaired it, and now it holds records at my Packwood cabin. Although it may wander around the house at night, by morning it always finds its way back to where it started.
Packwood's Presbyterian Thrift and Gift yields some oddities. The staff mentions a glittering accordion – surly a veteran of many stellar performances – and a bench made entirely of moose antlers and hide. But generally, useful clothing, furniture, collectibles, sporting goods, kitchenware, building materials, and Christmas items abound.
The Thrift and Gift supports Packwood Community Presbyterian Church missions for the White Pass Food Bank, White Pass Schools, Hope for Kidz in Haiti, Stoves for Guatemala, and Packwood community events. The staff are all volunteers. They happily take donations of any usable items. And they take oddities as well.
Pastor David Germer works at the Thrift and Gift on Wednesday. You may find him behind the front counter or out back helping receive donations. He began as pastor in July, 2018. Soon after he arrived, the community urged him to work in the Thrift and Gift. David is happy to do so. "The thrift store has been a huge gift to the congregation," he explains. "It's such a central part of our church and it's a great way to meet people in the community."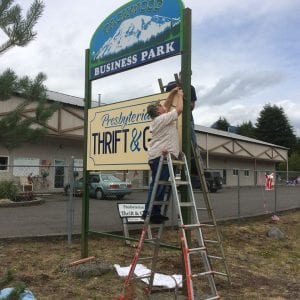 David serves the entire Packwood community. He recently attended memorials for deceased residents, none of whom were members of the Presbyterian congregation. One memorial was in the church; another occurred at Packwood's Blue Spruce Tavern. He said the benediction at the flood control project completion on Coal Creek Drive that saved two dozen homes threatened by the Cowlitz River.
His community includes the greater Packwood and Randle faith communities. "The other churches in town are doing amazing things," says David. Supported by the Thrift and Gift, Packwood's Presbyterian Church has partnered with the other churches in Packwood and Randle to aid White Pass School district students through a mentoring program. They're discussing opening a structured gym where kids can hang out near adults who care.
David, wife Tracy, and children Titus and Josiah, came to Packwood at the culmination of David's journey to becoming a pastor. Tracy grew up in Renton and David studied Theology at Whitworth University in Spokane, so returning to the Northwest was a sort of homecoming. "We were committed to getting back to the Northwest after being in Texas for 11 years," he says.
David discovered his calling at a church in San Antonio. While working as an assistant, his pastor and mentor died from a sudden illness. David was quickly thrust into the main pastor role. He was ordained in San Antonio in June 2018.
When looking for Presbyterian churches in Washington, Packwood's was one of only four the family considered. Neither he nor Tracy had heard of Packwood when they arranged a visit. They drove over Cayuse Pass through Mountain Rainier National Park, and were overwhelmed by the beauty. They roamed through Packwood and walked around the church, noticing the ubiquitous elk and gushing streams. "This is a magical place," he says.
The whole family values the outdoors. Recently David re-read "A River Runs Through It." Its central character is, like him, a Presbyterian Pastor with two boys. He hopes to begin fishing with his family. On his day off, he takes the family hiking. "Some of the most amazing places we've found started right from our front door," he says.
When David met people in the church, he noticed a pattern. "The words they used over and over again were community and joy," he says.
He describes Packwood as an eclectic mix of people, some who've lived their whole lives in Lewis County, new arrivals who come for the affordability, and others who come for skiing and the outdoors.
The Packwood church is smaller than David's San Antonio church. But the congregation acts on both local and global missions. "We have a family that has gone to Haiti every year," David says.
A faith community also comes with challenges. In Packwood, he's found some people's views challenging, as some have found his. The art of listening and conversing with people you may not agree with should be cultivated, David emphasizes. "We gather every week to sing, pray and worship together."
The Thrift and Gift bustles with buyers and donors on typical days. The staff busily rings up sales, receives donations, and arranges new items in the store. David cautions they can't do everything; they must be careful not to burn out. But they dream of doing much more. Items odd and ordinary come and go. Community and joy remain.