When the Centralia-Chehalis Chamber of Commerce selected this year's Business of the Year award recipient, one company stood out for their exceptional practices and community involvement. I-5 Cars' motto is: "Be Bold. Be Kind. Be Awesome." The company practices that mantra in everything they do. Winning Business of the Year is a well-deserved acknowledgment of their contributions to the community.
At the awards ceremony, owner Heidi Pehl was quick to share her pride for her employees, inviting them on stage to accept the recognition with her. "I have the best employees and they're the ones that really won the award," she says. "Our employees are great and I'm proud of them – they deserve it."
Pehl, who grew up in Chehalis, has a deep love for the area and its people. "It's a wonderful place to live," she says. "It's unique, how we help each other when we go through tough times. We live in a really great place."
I-5 Cars is family owned and operated. Pehl's son Robert joined the business full-time two years ago. He started working in the dealership at age 12 detailing vehicles. "We're very blessed," says Pehl. "He has a passion for it and has grown up in it. He's really smart and brings a great perspective."
Many of the auto group's employees started in similar positions, working their way up in the company. Employment longevity is common here, and Pehl makes a point of hiring from within. "We are very fortunate to have people who have been with us and our family for a long time," she says. "I view them as friends and family. We care about them."
I-5 Cars' outstanding staff sets them apart. "You can hire people with skill but you can't teach people customer care and concern," shares Pehl. "We've always tried to hire people for their character. We can teach them the automotive stuff, but if they don't care about the customer or the company, then that won't translate to the customer and it doesn't make work much fun. With our employees, character is predominant."
Pehl also thanked I-5 Cars' customers. "We've been blessed to have them," she says. "It was not just employees and friends that helped me through tough times, and enjoyed wins and successes; it's the people and customers."
Along with community, education is especially important to Pehl. Since 2006, the I-5 Back to School Dash 5K has raised scholarship funds for local teens. Pehl knows the value of a scholarship to hard-working youth, having received them herself. The event is designed so anyone can participate and is a staff favorite.
The entire I-5 Cars team supports youth sports and clubs through coaching, team sponsorships, and projects like park and facility improvements. Every year the company donates a new car to local schools. Various scholastic programs sell $10 raffle tickets for the car, keeping all the proceeds. In total, the event has raised around $750,000. This year, the auto group hopes to reach over $1 million from all raffle vehicles.
Join I-5 Toyota for the unveiling of this year's car at their annual I-5 Valentine's Wine Mixer on February 27 from 6:00 to 8:30 p.m. The fun evening includes hors d'oeuvres, beverages, a fashion show and silent auction. The night is highlighted by the unveiling of this year's car. Make sure to buy raffle tickets with the Boys & Girls Club.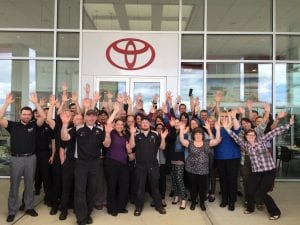 Community service is important to the employees of I-5 Cars. "A lot of our people are involved in the community, which I love," says Pehl. "We like to see them involved and enjoying the community." All 270 employees can take a paid day off to volunteer for their favorite organization or cause, known as the "Day of Giving."
I-5 Cars' outstanding efforts benefit everyone in Lewis County, and their recent award was well-deserved. "It was an honor and I truly believe all the honor goes to my employees," says Pehl. "They are incredible. It's a fun place to work even though it's challenging and not always easy. They deserve the award; they've done a good job serving the community."
I-5 Cars
1950 N.W. Louisiana Ave.
Chehalis
360-740-9300
Sponsored