Jeff Bartlett stood atop the Russell Glacier, the cool wind rustling his hair. His eyes scanned the horizon, taking in the expansive view. His skis cast long shadows on the sparkling, new-fallen snow. He relished the moment and prepared to launch himself downward into the unknown.
This is one of Jeff's favorite memories from his adventures in the greater Mount Rainier area. "We trudged and hiked seven or eight miles each way, with skis strapped to our packs, through peak wildflower season in Spray Park," he recalls. "After enjoying the wildflowers, we stepped into skis and scored a couple thousand vertical feet of turns in perfect corn snow on a bluebird day. The views were incredible and it was easily one of the best days I've ever spent in the mountains."
The greater Mount Rainer ecosystem is an amazing place. Full of breathtaking landscapes, jaw-dropping vistas and endless recreation opportunities, it's no wonder it attracts outdoor enthusiasts of all kinds. Mount Rainier is the ideal place to explore the beauty of the wilderness during short or long adventures. While it's best known for hiking and climbing, Mount Rainier is also perfect for those modern explorers whose adventures are a bit less orthodox, like Jeff.
Often found on the saddle of his bike or canyoneering into deep river valleys around the majestic mountain, Jeff inspires other adventurers through his pictures and writing. He's relatively new to the region, but knows the greater Mount Rainier area better than most lifelong locals.
"I quickly fell in love with the area, especially the Forest Service mountain bike trails off SR 410 in the White River Valley," Jeff says. "I climbed Mount Rainier with some friends that first summer, bought a pair of skis and I've never really looked back."
Jeff recalls the first time he tried to ski the Muir Snowfield. The forecast that day called for bluebird conditions, perfect for the adventure that lay ahead. But anything can happen in early spring on Mount Rainier and Jeff and his crew soon found themselves skinning uphill in a total whiteout, hoping to break out above the clouds.
Onward they trudged, waiting for the sun's warm rays to break through and for visibility to open up. But, as the minutes passed into hours, conditions continued to deteriorate. They finally decided to turn around halfway. Visibility was so bad, they couldn't ski down safely. They were forced to carry their skis while post-holing downhill in deep snow.
While many wouldn't consider this a good memory, Jeff enjoys it as a good reminder that the mountain always decides whether your plan will be a success or not. You have to respect that if you want to avoid getting into a bad situation.
As an avid mountain biker and a well-respected member of the Pacific Northwest's growing canyoneering community, Jeff has explored the region in ways few have. While mountain bikes aren't allowed on any of the trails within Mount Rainier National Park, as is the case with most National Parks, Jeff enjoys the mountain bike trails off of SR410 in the White River Valley, which he considers absolute must-rides. They're perfect for those who don't mind earning their turns and are looking for a real backcountry mountain biking experience.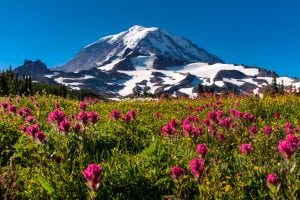 He strongly recommends climbing FS 7315 to the Suntop fire tower, then riding the Suntop Trail along the ridge and back down to the White River, returning to your car via Skookum Flats.
On the other side of the road, Jeff highly recommends climbing Corral Pass Rd (FS 7174) to Dalles Ridge. Head along this classic trail, descending the Ranger Creek Trail, with a return along the White River Trail. The route is awesome despite last year's fire.
While mountain biking is common around the region, canyoneering is an often overlooked activity. Jeff started out canyoneering in Zion National Park, but Pacific Northwest canyons are very different. They're flowing-water challenges more akin to the European concept of "canyoning" or how cavers explore in the American southeast.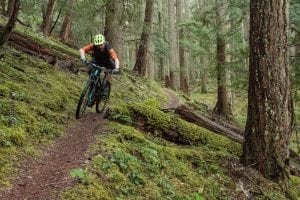 Dangerous and technically challenging, canyoneering around Rainier is not for beginners. That being said, in an area known for its many beautiful waterfalls, Jeff can think of no better way to experience beauty than to commit to a watercourse and follow it down through the channels it has carved in the surrounding rock.
While his adventures lead him to places few may ever see, Jeff encourages everyone to find their own awesome experiences in the wilds of Rainier.
"I think the trick is to determine what an 'adventure' is for you; then start there," Jeff says. "If going for a short hike pushes your boundaries, then that's awesome and you should do that. I'm not doing anything ground-breaking or particularly fast, and I'm hardly an athlete. If a given objective is challenging for me to complete and I find that fulfilling, that's all that matters. Just start by visiting the park, go to whichever trailhead suits your fancy and see if you can hike far enough away from the parking lot to get away from the crowds. Once you're there, it's easy to daydream about what you might like to try next, or what the view from that mountain in the distance might be like, or what adventures might be within your grasp with the proper training and skills."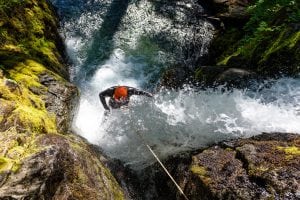 Mount Rainier is a place for adventures and vacations, memories and meditation. The region is fully accessible, thanks to the great hotels and lodges surrounding this majestic wilderness volcano. With fantastic hotels open year round, HC Lodging provides ideal places to stay within just a few miles of the National Park and National Forest Service lands. Whether you want to stay in Morton or Eatonville, Packwood or Ashford, you'll have a great room, quick Wi-Fi and fantastic meal options at HC Lodging. Once there, your opportunities for adventure and exploration are endless. Stop by a visitor center, pick up a guidebook or search online to find the perfect destination for you.
"Just pick a random section of the Wonderland Trail and hike it," Jeff says. "You won't be disappointed. The idea that visiting a National Park should mean visiting the classic thing that everyone goes to is embarrassing; so throw out those "10 best" lists and just put boots to dirt out there. There's something magical around nearly every corner."
Sponsored