Situated in picturesque downtown Morton, The Barbara Clevenger Johnson Gallery is a lovely place to find creative works of art from regional artists. Their collection includes pottery, paintings, photography, hand-woven baskets, jewelry, quilts and more. The various mediums offer an array sure to delight the senses and inspire appreciation.

How the gallery came about is a sweet love story. Barbara Clevenger went to school in Morton along with her future husband Ladd. They married, earned doctorate degrees and were teachers for many years in Chico, California. After retiring, Barbara and Ladd traveled the world. Barbara started painting watercolors and became a talented artist. When she passed away, Ladd provided the funds to build and sustain the gallery in her name. "They had a wonderful relationship," says Bonnie McBride, Docent of BCJ Gallery. "He said 'Please fill it up with local art and friends.' He is a sweetheart and comes and visits every year."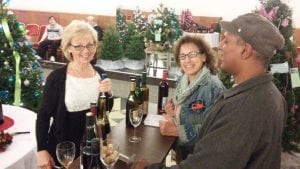 Featured now at BCJ Gallery is Sarah deLendrecie. Sarah is a watercolorist hailing from Woodway near Edmonds. She spends most of her summers in Morton, enjoying friends, her children and nature. Her dramatic landscapes grace the gallery walls until October 27.
"I think art is for everybody," says Sarah. "If it's just in the large cities people miss out and may only see it in magazines. Art, in a way, is getting lost with reproductions. Not that many people own an original painting. It's good for people to find something they love and it doesn't have to be expensive. It's also good for the artist to have exposure to different groups of people."
Sarah is not just a featured artist of BCJ Gallery, she's also a customer. "Years ago I remember going to The Roxy for a show, saw the gallery and one painting just struck me," she says. "I knew by the time intermission came I had to buy it. It's in my house still. I love it and it's one of my favorites."
The next new artist to be displayed at BCJ Gallery will begin on November 2. Carol Adkinson has been commissioned by the Federal Bureau for oil paintings of National Parks all across America. "I was pretty amazed when she brought things in for me to see," says Bonnie. "Everybody working here saw and said, 'Oh yes, we've got some quality work here.' We are thrilled to have her."
The mission of BCJ Gallery is to keep art alive in Morton. "That's why we started here; because they had taken art out of the school. So it was really important for people as a community to have a place for people to see art," says Bonnie. "And for artists to have a place to show their work."
Many people visit the gallery while traveling to Mount Rainier or Mount Saint Helens in the summer. "People come in from all over the world," says Bonnie.
A couple from Germany stopped in on their way to Mount Rainier. They had brought a sailboat from London on a ship to the East Coast and eventually to Florida. The sailboat was then transferred to an airplane and flown to the West Coast for the couple to travel north in, through the islands and on to Canada. The woman found a painting she loved at the gallery and had Bonnie measure it to make sure it would fit on the sailboat.
Under the umbrella of The Fire Mountain Arts Council, BCJ Gallery, The Roxy Theater, OnStage Children's Theatre Education Program and Tiller Arts Center work together to support the arts in Morton. "There are all kinds of things that happen here all the time," says Bonnie. "Art needs to grow here. I'm hopeful that more artists, artisans and musicians come and see the whole town become an art town. It's on the cusp from the timber industry to a tourist destination. I can see that coming and I want to see it grow."
The perfect gift for all occasions can be found at BCJ Gallery. "We have something for everyone from $10 and up," says Bonnie. "People say they have lived here all their lives and had never been in here. They come in and say you have lovely things."
"Come and visit us," implores Bonnie. "We want people to see the art. People get inhibited by the words 'art gallery' and think it's too high brow and they get kind of afraid to come in. Everybody come in, of all ages. We won't ask you to buy anything. It's an enriching experience and good for the soul. It's expanding knowledge and another window into the world."
Barbara Clevenger Johnson Gallery
231 W. Main Street
Morton
360-496-0542
bcjgallery.manager@gmail.com
Open Wednesday to Saturday
11:00 a.m. to 4:00 p.m.