Len Noble is an unstoppable, spit fire, human tour de force. A riotous sense of humor and flashing wit have long set this 77-year-old Windermere Centralia Realtor apart from the crowd. Her story is one of, ingenuity, overcoming adversity, growth, adventure and perseverance – and it's anything but ordinary.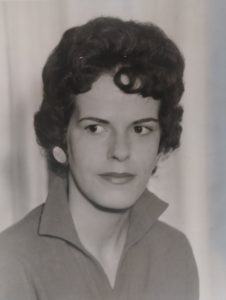 Born in Tacoma, Noble found herself in an orphanage along with her three siblings within her first year of life. At the age of two she and her family were taken into foster care by a woman whose idea of punishment included the biting sting of a Cat o' Nine Tails whip. The next eight years were filled with the typical highs and lows of childhood mixed with the deeply wounding struggles of poverty and abuse.
At 10, Noble and her siblings were sent to live with their birth mother in Missouri. They were hopeful and glad to escape a fraught situation. Unfortunately, their mother had long struggled with mental illness and addiction. Just a few weeks after Noble's 14th birthday, her mother left her at a boarding house in Kansas City, never to return.
"When she realized [my mother] wasn't coming back, the boarding house owner looked at me and said, 'What are you going to do?'" Noble recalls. "I said, 'I don't know – what am I going to do?'"
The woman helped Noble devise a plan. Posing as the young girl's grandmother, she went to the social security office and procured a social security card for Noble, claiming she was two years older than she actually was. This allowed Noble, who had graduated from the 8th grade but not yet completed high school, to escape truancy officers and go to work. "In 1954 the truancy officers were really at you," Noble says. "If you weren't in school, you went to juvenile hall – especially if you had no family."
Noble found employment as an usherette at a local movie theater making 25 cents per hour. "I was there in my uniform and pill box hat, using my flashlight and – at 14 – telling these 16 and 17 year-old kids to shut up," she laughs.
She'd get off work at midnight and catch the 1:00 a.m. bus back to the boarding house where she paid one dollar per day to live. In between, she'd kill time at the diner across the street. Eventually the owner said, "If you're just going to hang around, you may as well do something." So she did.
She learned the ropes and was soon working as a car hop. When the restaurant closed, she went to work at another drive-in where the car hops wore skates. "So guess who learned to skate," she laughs.
Young Noble was making it, but it wasn't easy. Other kids taunted her about her abandonment. One Thanksgiving Day when she was feeling particularly sorry for herself, the boarding house proprietor told her something she would always remember. "She looked at me and said, 'Len if you took your problems, wrote them down, threw them in the pile with everyone else in the world's and picked something else out, you'd always wish you had yours back – because someone else's are always worse than yours. You have hands and legs – now what do you want to do?' I said, 'I don't know, I just want to be successful.' And she said, 'In order to be successful, you've got to want it.'"
Noble did want it. She started reading the newspaper every day – every single word from front to back – and completing all the crossword puzzles. In this way, she gave herself the education she had missed.
Noble's teenage years were a rush of excitement and exploration. Waitressing gigs were interspersed by more exotic employment as a magician's assistant in a traveling carnival, an elevator operator and a big city receptionist, among others. She and her friends often took off to spend a month waitressing in and exploring cities like Detroit, Dallas and Denver. She got involved in a Kansas City drag racing car club and sang country western at night – often in clubs she was technically too young to be in – if anybody had thought to ask.
Noble married at 18 and moved to Georgia where she had two sons, Dave and Randy. The marriage was ill-fated and ended in divorce a few years later. The young, newly single mother left to find work and a new start with her children in California. There she waitressed and met her second and life-long husband, George, with whom she had four children; Rob, Dan, Clay and Jody. She also began to intensify her focus on learning and growth. "I loved listening to older people I waited on in the restaurant," she says. "I learned from them. I'd ask them questions and they'd give me advice. It all went back to being honest with yourself, knowing what you want and never hurting anyone along the way."
Noble learned to figure things out for herself as a child – a skill she's repeatedly put to good use. Being spunky helped a lot too. When she was fired from a waitressing position because the company considered 36 "too old," she organized a class action lawsuit and took them to court. "I was mad," she recalls. "Then I heard one of their lawyers refer to me and my lawyer as 'the waitress and the hayseed' and that was it."
She committed herself to the cause, learned her way around a legal library and refused to give up. The opposition's lawyers delayed the case until the five year cut-off mark, thinking she'd never last. The joke was on them. They finally settled with Noble and her fellow plaintiffs two weeks before the deadline. "One of their lawyers told me, 'I didn't think you'd make it,'" Noble laughs. He clearly didn't know who he was dealing with.
Noble went into real estate in 1989. When her husband retired, the couple moved to Centralia where she went in search of a new brokerage. She looked everywhere but nothing felt right. Then she found Windermere. "I walked in and I just knew," she recalls. "I told [the owner] Max, 'I just wanted to let you know I'm coming to work for you.'" It was a great match from the start.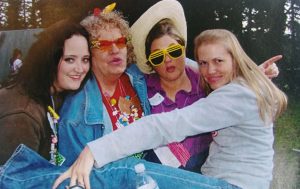 Noble had long enjoyed giving back, particularly through her volunteer work at the Church of Jesus Christ of Latter Day Saints, but at Windermere she found another charitable outlet – the Windermere Foundation. She personally contributed funds from every paycheck and helped organize the company's Day of Giving. Together, the team cleaned up Washington Cemetery, Borst Park and the Fox Theatre.
Then Windermere Centralia Owner Max Vogt had the idea of filling backpacks with school supplies for kids in need. Noble made it a success. For her, it was personal. "I can see those kids in my mind," she explains, "and I see myself sitting in a Kindergarten room – all the other kids with their new clothes and I've got overalls and a flour sack blouse from the 40s – and I thought, this is worth it. I can take my feelings I had then and give happiness to these other little kids."
Noble's personal experience has proven an invaluable resource in helping others. When she was asked to teach the teenage girls in her church, her Bishop explained, "These girls already know religion but you know life." That she does.
"I think if you learn something from hard experiences to share with others, it's worth it," Noble explains, "but if you don't, it's just wasted."
For Noble, helping others is key to a happy and fulfilling life. "It's amazing what a smile and a hello can do," she says. "If your heart tells you to do something for someone, just do it. Don't wait."
Noble says she used to allow her busy life to stop her from following the urge to reach out or help someone. Then, in 1998, she felt the urge to visit a friend whose husband had recently died. She arrived just in time and unknowingly stopped her friend from committing suicide.
"I went over there and helped every day after that and things improved," Noble says. "That taught me if that thought pops in your head, follow through. I never set those thoughts to the side again."
Noble is living proof that with optimism and tenacity, anyone can improve and overcome. "Can't never went nowhere," she says with a laugh.
From an orphanage to foster care and teenage homelessness, Len Noble has chosen to learn from her experiences. She shares that knowledge – along with her time, talents, money and sense of humor – with others. The latter may be the most powerful of all. After all, for Noble, "Laughter is the key."
Sponsored