James Thielges, better known as "Kimo," has a passion for Hawaiian music. His love for this sunny art form blossomed in the arctic temperatures of Minnesota, where he was born and raised. It was as a child that he first heard the exotic sounds of Martin Denny's "Quiet Village," Arthur Lyman's "Yellow Bird" and Don Ho's iconic ballad, "Tiny Bubbles."
It was fortuitous then that his navy ship, the USS Preble, would one day pull into port at Pearl Harbor, Hawaii. Here, Kimo found a home and part time work between his Navy deployments at the Record Museum in Kalihi. He was an oldies music expert at the time but soon became tutored in the school of Hawaiian music by several locals, including Harry B. Soria Jr., who went on to launch Territorial Airwaves on KCCN, All Hawaiian Radio in 1979.
Kimo threw himself into the experience of Hawaiian music, attending concerts on Oahu whenever possible. He went on to study broadcasting and journalism at the University of Hawaii-Manoa. During his study of Hawaiian language here, he was given the name "Kimo," which he would use both on and off the radio from then on.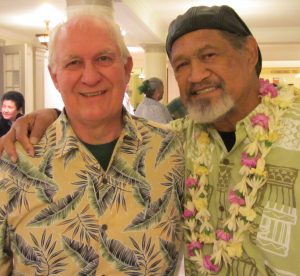 After graduation in 1979, Kimo was one of three applicants selected from a pool of 60 for a broadcasting job at International Community Radio Taipei in Taiwan. He would work as a broadcaster and music director here for the next six years.
In 1986, Kimo, his wife Fu-Mei and their son and daughter relocated to Centralia, Washington, a place they discovered through one of his coworkers at the radio station. They fell in love with the area in general and Centralia in particular, due to the small town feel.
Kimo went to work at KELA/KMNT Radio as a relief announcer, then a sports engineer. Then in 1987 he became a rural letter carrier for the US Postal Service in Chehalis, where he stayed until his retirement in 2009. Retirement, however, was not the end of Kimo's ambition.
After attending a class reunion at UH-Manoa, Kimo reconnected with Tim O'Hanlon, who he had worked with at both The Record Museum and Records Hawaii. Tim had a dream of compiling an online Hawaiian Music Store called "Music of Aloha," and he asked Kimo to help.
Kimo agreed and set about researching and compiling information. It soon became apparent that there was a lack of information on the internet about Hawaiian music and musicians. Kimo decided that he would help remedy the problem.
Flash forward eight years and the results are astounding.
To date, Kimo has compiled an Excel database of over 33,000 entries to be used in the online Hawaiian music store. It covers MP3, CDs, EPS, and singles, along with album and song titles. He has also compiled an extensive list of data on Hawaiian musicians, including their birthdates. In order to entertain as well as educate, he has written 1,100 Hawaiian music trivia questions and answers, with many more to come, and an Akamai Challenge matching game. He has created nearly 100 Hawaiian music playlists and a Hawaiian music internet resource guide. He has completed 51 biographies on Hawaiian musicians and later wrote an additional 286 "bio highlights," designed to be more quickly and easily digested.
"The human attention span in the digital generation has decreased from 12 to eight seconds," Kimo says, then adds with a laugh, "a goldfish's attention span is nine seconds."
Kimo's work is categorized into seven projects – the challenge (matching game), Hawaii Music Hall of Fame, Hawaii Music Bio Highlights, Hawaii Music Almanac, Hawaii Music Birthdays, Hawaii Music Trivia and Great Kanikapila. The latter focuses on those that have passed on and are now performing at the Great Kanikapila.
Kimo has focused his biography highlights on Hawaiian Music Hall of Fame inductees, largely due to a cultural respect for "Kupuna" or elders. So far, he has written bio highlights for 80 percent of inductees, and is closing the gap on the remaining 20 percent.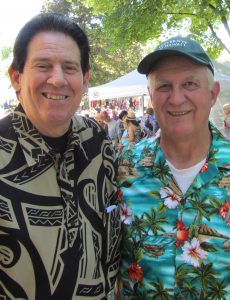 Kimo's commitment to his passion project is inspiring. He works between 90 minutes and two and a half hours every day to research, compile, write and share. This is especially impressive considering that he and his wife also care for their two young grandchildren every weekday.
He collects Hawaiian music albums and cds, many of which he finds in thrift stores right here in Lewis County, and continues to attend Hawaiian music concerts throughout western Washington and Oregon. These are both enjoyable and a source for further research for his growing collection of meticulously sourced data and fun trivia questions.
Kimo's dedication to his work is inspiring. The amount and breadth of his research is astounding. But for Kimo, it is a labor of love, part of his life legacy. "You try to do positive things in life – share with your community and church and find projects that give back," he says. "This is a give back project. It's my love."
Kimo also credits the project with keeping him alive and thriving. In 2014 he suffered a heart attack and underwent bypass surgery. "I was very grateful to survive," Kimo said. What did he do while he recovered in the hospital? Listened to Hawaiian music. "It was 'nahe nahe' – sweet and gentle music that the cowboys would use to put their cattle to sleep at night," he recalled. A month after his release, Kimo was at a Hawaiian Music festival with friends.
Kimo's dad, who spent his career working at a VA hospital in Minnesota noticed that those who dedicated their lives to their careers died shortly after retirement. "They didn't know what to do," Kimo related. He understood that it was working in something they loved and giving back that kept people thriving. And that struck a chord with Kimo. "I'm always thinking about [the Hawaiian music project]. It's enhancement, something I love. It's a senior legacy."
Ideally, he would like the information he has compiled to be available online, in print, at the famed Bishop Museum in Honolulu or the University of Hawaii Press. He has a wealth of stories to share.
He told the tale of Dennis Kamakahi, who composed over 500 songs in his lifetime. One was written after he performed for Hawaiian inmates at McNeil Island Federal Prison, where he determined that incarceration would never be his life. He called his song "Pua Hone" (Honey Flower), which he then sang by phone to his girlfriend to propose marriage.
Kimo explained how Hawaiian slack key guitar tuning was a prized secret that was closely held by individual families. "Cyril Pahinui's dad, Gabby, taught him slack key, but he would off-tune and keep the guitar in the closet after each lesson," Kimo said. "It was very secretive. In the 50s and 60s, slack key was dying because those secrets were dying with those that passed on. Keola Beamer was a renegade who published one of the very first slack key tuning books. He broke tradition and saved slack key. His mother Winona did something similar. Winona Beamer taught at Kamehameha Schools, when you could not teach hula, but she broke tradition and taught hula. Keola and Winona should both be in the Hawaiian music hall of fame."
Kimo is driven by his desire to document the unique and treasured stories of Hawaiian music, both to inspire others and to ensure they aren't lost to time. "Aloha means sharing," he explained, "and that's what this project is for me. It's giving back."
We could all use a little more Aloha.