The Adna High School girls' soccer team elected to go with two mantras this season. "We printed both of them on our team shirts. We went with, 'We are family' and 'We won't back down,'" Pirates coach Juli Aselton said. "It's just been one big family this year. We may not have the biggest, strongest players, but we have a lot of heart on this team."
Both characteristics helped Adna collect its fourth consecutive state trophy as the Pirates capped another strong season by placing fourth at the Class 1B/2B state tournament.
"It is a big accomplishment considering we didn't have a team at all a few years ago," said Juli Aselton, who guided the program to three straight third-place finishes prior to this season. "Between the four years you are losing and gaining players. So it's not like you are keeping the same team. I am pretty proud of the girls each year for doing what they can and getting better. Just getting here is huge for us. We're so thrilled to be here."
The Pirates, led by a talented and deep sophomore class, finished the season with a 16-4 record, losing to Brewster (19-1) in their final match, 2-0, on November 18 at Sunset Chev Stadium in Sumner.
The Bears received goals in the 21st and 76th minute against Adna and held a commanding 24-4 edge on shots. The statistics were equally lopsided in the number of shots on goal with Brewster enjoying an 11-1 advantage. The Bears also had 10 corner kicks to the Pirates' one.
Sophomore goalkeeper Makaela Meister was spectacular in the net for the Pirates, posting nine saves, including a leaping stop in the 66th minute when the contest was still a one-goal game.
Payton Aselton, who is the daughter of the head coach, was the lone Adna player credited with a shot. She finished with all four Pirates' shots with one on goal.
The defeat came less than 24 hours after Adna dropped a heartbreaker to Life Christian in the state semifinals. The Eagles, who would go on to defeat Saint George's, 1-0, in the finals to claim their first ever state championship, bested the Pirates 2-1 (4-3 shootout) in the semifinals.
"I think we put a lot of it out on the field when we played Life Christian," Juli Aselton said. "We had a lot of sore players today. They were pumped up this morning, but there were a lot of sore legs. Everybody still tried as hard as they could. Even at halftime everyone was excited and still trying to keep everyone pumped up. (Losing in the semifinals) does take a lot out of you. It feels like that's the championship game."
Adna entered the semifinal round a perfect 3-0 this season against Life Christian. The Pirates defeated the Eagles twice during the regular season, winning 3-2 on September 27 and 3-1 on October 23, before knocking off Life Christian, 4-3, in a thrilling 2B District 4 championship match.
The Eagles scored first in the semifinals, getting a goal in the 11th minute.
Payton Aselton found the equalizer 10 minutes later, scoring on a free kick from 33 yards out.
The two teams battled through two scoreless 5-minute overtime sessions before heading to a shootout.
Both teams successfully converted their first three attempts with the Pirates getting goals from Payton Aselton, Olivia Rodriquez and Brynn Arrington before both squads missed on their fourth shot in the shootout.
The difference turned out to be the fifth and final attempt as Life Christian was able to find the back of the net, while Adna was turned away.
The Pirates graduate five seniors, Lizzy McAuley, Gwen Wilson, Lizret Rosas, Jenikka Poppe and Abigail Kruger, a first-team all-league defender, from this year's squad, but will return the bulk of their starters next season, including Payton Aselton, who was named the Central 2B League's offensive MVP this year.
Additional sophomore returnees will include first-team forward Cierra Swenson, second-team selections in Alyssa Dougherty (forward) and Arrington (defender) and honorable mention picks Jordyn Swenson (defender) and goalie Meister.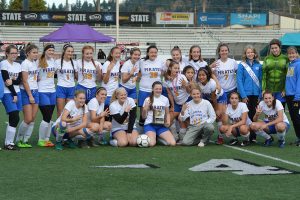 "We do have a great sophomore class but, again, we know it's always a battle to get here," said Juli Aselton, who was named co-coach of the year in the Central 2B League this season. "We will miss our seniors, but we are young and hoping we are going to be back here for at least the next two years."